Catchphrase and Vine Apps Reviewed
Here's the next part of our Show 89 transcript, where we look at the Waze, Catchphrase, Malcolm Tucker and Vine Apps
Listen to, or download, FrequencyCast Show 89 (31 mins)
July 2013 Apps of the Month:
Transcript continues from Show 89 Gadget Show & Boogieboy
Pete:
OK, time for App of the Month. I just want to give a little mention to one of my favourite apps that we've talked about before, Waze, which is a satellite navigation thing. I don't know if you've ever used Waze, Kelly, but it's brilliant. Stick it on your iPhone or your Android phone, and it's a sat nav app, but you can see other people and chat to other people, and see what they're doing on the road - very, very cool. Ever used it?
Kelly:
No, I haven't. Is it safe?
Pete:
Why I've brought it up again, even though it's been out for a little while, is Google has just bought it for one billion dollars.
Kelly:
Wow! - that is a takeover.
Pete:
Well, the service has nearly 50 million users who rely on it, so Waze users, you've just earnt them one billion dollars. Anyway, App of the Month time - I've seen yours, you've seen mine - I reckon mine's better than yours. Go on, you show me yours, Kelly.
Kelly:
Well, I don't think yours is as good as this. I know it's not technically the best app in the world, but this month I have become incredibly addicted to the Catchphrase app.
Pete:
Go on then, show me - where's your tab?
Kelly:
Prepare yourself.
Pete:
OK, right - there's a bloke with a ruler and a runner. You've buzzed in - what have you got to do here?
Kelly:
Now I have to fill in what I think the catchphrase is.
Pete:
OK, so you have a picture of a horse and a skull. Hamlet?
Kelly:
I don't think so, no. I think it's horseplay.
App: You got it right!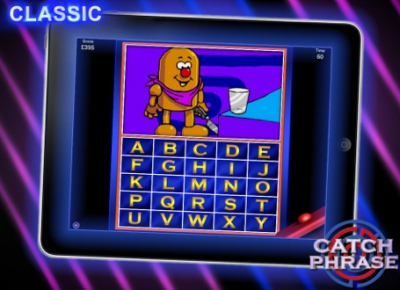 Pete:
Kelly, this is dreadful. Why are you showing me this app?
Kelly:
It is exactly the same as the game show. The amount of times I sat there as a child, wanting to be part of Catchphrase, and now I actually feel fully immersed in the show. You can even, at the end, try to win your holiday, your dream holiday, like you would previously.
Pete:
Right. Can I show you mine, then?
Kelly:
OK, but it's so not going to beat this.
Pete: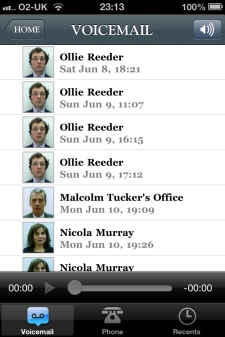 Have you ever watched "The Thick of It"?
Kelly:
I have.
Pete:
Do you love Malcolm Tucker, the sweary Scottish bloke?
Kelly:
Of course.
Pete:
This is his phone. The story here is, he's lost his phone. You install this app, and it gets messages and text messages and emails as if it were his work phone. As you install the app, you get more and more messages, with him getting more and more cross that you've nicked his phone, such as:
Malcolm:
So, it looks like you, dear gentle member of our great British public, have found this phone - my phone. So if you could call me back on this number, I'd be very, very touched and grateful.
Pete:
So that's one of my Apps of the Month. The other one is Vine, far better than Catchphrase, it takes six-second video clips - look, we can do one now, and you touch the screen, and as you touch it, you can see the little six-second bar going up there.
Vine: "... six-second bar going up there."
Pete: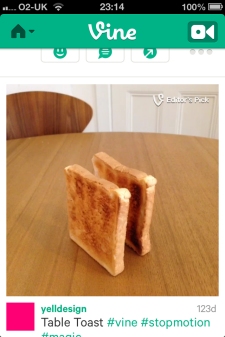 So that is my app of the month, six-second clips, and some of them, you've got to install the app and look at some of the very, very clever video clips people have done. The table toaster that we were looking at earlier gets my vote as the top one.
Kelly:
Well, there's a lot of very, very clever ones, but also it's been in the news a lot recently.
Pete:
And Catchphrase is a very new, cutting-edge TV programme, of course.
Kelly:
The Catchphrase app has only just launched, I would like to say.
Pete:
OK, well Vine gets my vote, and if you're into sweary text messages, then the Malcolm Tucker phone is definitely the one to go. And you're doing some dancing very soon, aren't you? - some very creative and clever dancing. I'm going to Vine you, and put that up on our FrequencyCast Twitter feed.
Kelly:
Well then, let's hope it all goes well, and there's no technical hitches.
Pete:
It's a bit of a technical suit, isn't it? - it's a battery-powered suit.
Kelly:
It is a technical suit. It involves being in the dark, and creating a stick figure out of LED lights that I've stitched on by hand.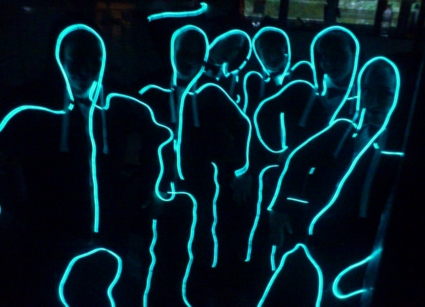 Pete:
And that's going to be up on our show notes, by the time the show hits the airwaves?
Kelly:
Yeah, go on - I'll let you.
Pete:
And you can see Kelly, like you've never seen her before: www. -
Kelly:
frequencycast.co.uk, or .com.
Listen to, or download, FrequencyCast Show 89 (31 mins)
More information: