More Freeview boxes become obsolete
In May 2008, a bunch of Freeview boxes served by the Sutton Coldfield transmitter stopped working. Now it looks like boxes in Scotland have gone the same way.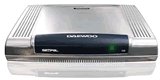 Boxes powered by the SetPal technology, including those made by Daewoo, Labgear, Portland and Triax, lack sufficient internal memory to cope with the number of Freeview stations after a transmitter upgrade, and become useless.
More on the story, including a quote from our sister site, Radio & Telly can be found here: Daily Record 5 July 2008
There are believed to be between 200,000 and 350,000 affected boxes in the UK, and as the transmitter networks get upgraded ready for the Switchover, more and more boxes are set to become landfill fodder