Faulty Freeview Featured on Watchdog
Regular listeners to our podcast will be well aware of the story featured on tonight's Watchdog.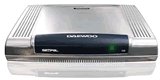 In July and August, Freeview boxes around the UK started packing up.
The reason?
Older Freeview boxes can't cope with the increasing number of channels, and when the boxes scan for new channels, they lock up, effectively trashing the box. Around 250,000 boxes have been affected.
The troublesome boxes are:
Bush IDVCR01
Daewoo DS608P
Daewoo SV900
Labgear DTT100
Portland DP100
Triax DVB2000T – set-top box
Well done to Watchdog for finally bringing this to a wider audience. Here at FrequencyCast, we've been pushing this story online, in our podcasts and on national radio. It seems that some of our listeners helped the BBC with their enquiries for this week's Watchdog show.
For more on the story of faulty Freeview boxes, go to www.frequencycast.co.uk/freeviewlandfill.html.
If you've not tried our podcast, give us a try for the latest Freeview news.