Amateur Radio: Foundation Training Course Explored
If the idea of experimenting with the world of radio, communications and electronics appeals, consider becoming a radio ham. Our Kelly joined a Foundation Course to find out more.
Listen to FrequencyCast Show 85 - Kelly joins Ham Radio Foundation Course
Kelly and the world of ham radio:
Challenged by a listener, Kelly attends an amateur radio training course. Here's the transcript from Show 85:
Pete:
OK, now it's time to talk amateur radio. Now, we've talked about this before, haven't we?
Kelly:
We have, on numerous occasions.
Pete:
Do you think we talk about it too much?
Kelly:
Potentially, yeah.
Pete:
How dare you! - OK, let me talk a little bit more about it. Ham radio's been around for a hundred years.
Kelly:
Seriously, a hundred years? - that's an old hobby.
Pete:
It started out with Morse code, and now, of course, it's gone onto data, and voice and pictures and everything else, and it's a hobby that basically lets you talk to other amateurs around the world. I love it.
Kelly:
You just love talking in code.
Pete:
Ah, you could be right! - seventy-three, Kelly!
Kelly:
And eighty-eight back to you!
Pete:
Thank you very much - that's confused a few of our listeners, hasn't it?
Kelly:
Definitely. So come on then - why do you like the hobby?
Pete:
Well, I have to say, I've been doing the hobby for a couple of years now, and it has got me a load of new friends. Now, as you know, I haven't got that many friends, have I?
Kelly:
No, although you do like to pretend that delivery people and everything are there constantly.
Pete:
And it has introduced me to a few things that I wouldn't normally have had the chance to do, so I worked at a station that was operating for the Olympics. I was part of the Olympic torch staff. I've been on a light vessel, which is something I wouldn't normally get to do, and I was able to operate amateur radio from a secure location that I'm not allowed to talk about, and it is a good hobby, especially for someone like me who's a bit of a gadget geek.
Kelly:
Well, I guess, for people like you, that is quite interesting. I mean, there are some great things to be involved in.
Pete:
So, why are we talking about amateur radio? - well, this all comes back to an email that we had from one of our listeners.
Kelly:
Yes - thanks very much, Chris Andrews. Last year he said, "I would like to see Kelly pass her foundation exam, and make her first call by the next show. This would show listeners how it is quite possible for a novice to get on the air easily."
Pete:
Now, have you lived up to your challenge?
Kelly:
Of course!
VIDEO: Kelly Trains to become a radio ham!
Pete:
Let's find out how well you did.
Kelly:
I'm on a training course, to get my foundation licence.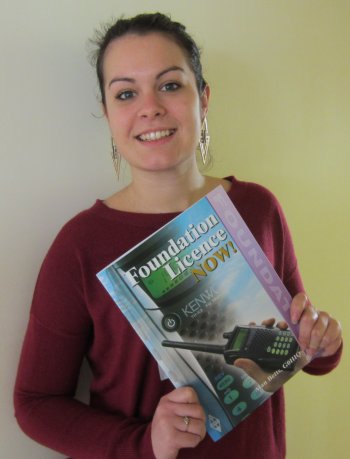 Pete:
How are you feeling - are you confident?
Kelly:
No, I'm really, really not at all.
Pete:
So what do you think you've got in store today?
Kelly:
A lot of techie stuff. It's probably going to fry my brain. It's a Saturday - it really should be the time that I'm laying in bed, not getting up until lunchtime, and yet here I am.
Pete:
But of course, you're doing this for the listeners, aren't you?
Kelly:
I am, of course, you know - anything for the listeners.
Pete:
We are about three lectures into your training. How's it going so far?
Kelly:
So far, it's not been too bad actually.
Pete:
That's good. What have you been learning about, then?
Kelly:
Well, we've been learning about the radio spectrum, lots of Ohm's Law and formulas to calculate everything, and just generally getting the basics really, the technical basics.
Pete:
OK, are you ready for a quick test?
Kelly:
You told me the test wasn't until tomorrow!
Pete:
OK, the VHF band was one of the things in the radio spectrum. Can you remember the frequency ranges for the VHF band?
Kelly:
It's 30 megahertz to 300 megahertz.
Pete:
OK Kelly, we're about a quarter of the way through the course - how are you finding it now?
Kelly:
Well, I've just passed my first stage, so I'm quite chuffed right now actually.
Pete:
Excellent. You've done a practical - what were you doing?
Kelly:
I was connecting all of the pieces up to start my amateur radio.
Pete:
And what bits of equipment were you connecting together there?
Kelly:
Well, we started off with the power, then onto the radio itself, then onto a filter. From the filter, we went into the SWR, which then goes into the ATU, and then out to the antenna.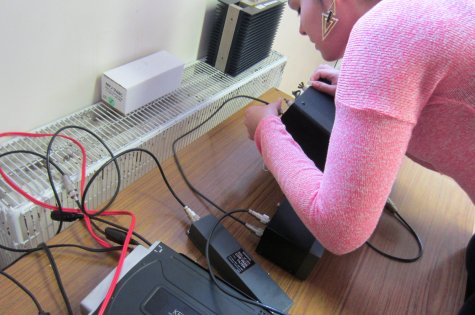 Pete:
Rock and roll! - easy?
Kelly:
Yeah, it was actually. If I can do it, anyone can!
Pete:
If you look at a TV aerial, what kind of aerial's that?
Kelly:
A Yagi.
Pete:
And if a Yagi has a gain of 3dB, what does it do to the power?
Kelly:
It doubles it.
Pete:
Rock on - it's not that confusing.
Kelly:
I tell you though, it hurts - it really, really hurts.
Kelly (over radio mic):
GX0TRG - please change frequency to 145.550.
Man:
QSY14555 - M0MMB.
Kelly:
GX0TRG - thank you for coming back to my call. The first name this end is Kelly, and your report is 5 and 3.
Man:
Yeah, all received, Kelly. The first name this end is Mark, Mike Alpha Romeo Kilo. Your report today is 5 by 7 ...
Kelly:
I have been doing Morse code, so we've been transmitting and receiving. It's actually quite difficult. I've never dealt with Morse code before at all, but I quite enjoy it actually.
Pete:
In the olden days of amateur radio, Morse code was mandatory, and you had to sit an exam. Today, fortunately you don't need to learn Morse, but you do need to appreciate it, so it's an appreciation course. Let's see how good you are - you've got the sheet of Morse in front of you. Could you send a message to our audience, please?
Kelly:
A message? - you want a full message?
Pete:
Just a word.
Kelly:
OK, that's fine - I'll do that for you.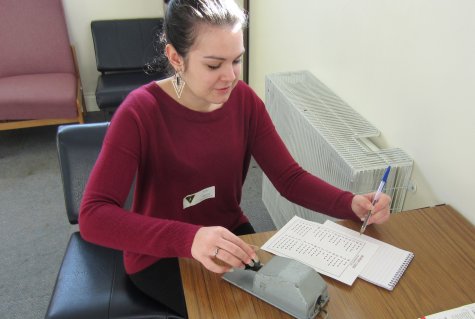 Pete:
She's got her finger on the Morse key here.
Very good - I'm impressed. You're enjoying that, aren't you?
Kelly:
Honestly, I do really like it. If I could take one and just communicate that way, it would probably make my life easier, but quite long-winded.
Pete:
OK Kelly, you have just sat your exam, and in your hand you have a purple slip. What does it say?
Kelly:
It says I passed! I'm so happy, you have no idea.
Pete:
Well, you did very well. It's a good pass. How do you feel?
Kelly:
I feel very, very good - I'm very chuffed, actually. A glass of wine well deserved, come the end of the evening, I think.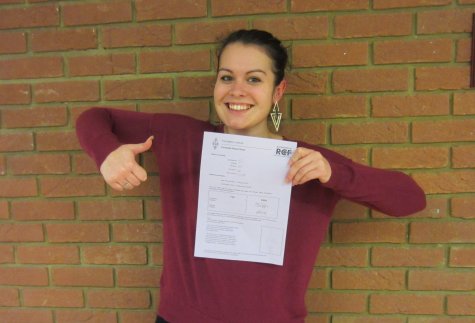 Pete:
So has it been an enjoyable experience?
Kelly:
It has. Do you think I've done well?
Pete:
Look at your smile! - molecules?
Kelly:
Molecules!
Pete:
Very well done there to Kelly, M6KFA. And there's a nice five-minute video of Kelly on her training course up on our site now, as well as on YouTube. It's well worth a watch, just to see Kelly say:
Kelly:
Molecules!
Pete:
So well done, a fully-licensed amateur, and of course it has plenty of benefits for FrequencyCast, especially when it comes to news stories like this one, and this one is all about Freeview interference.
Thanks to the Thames Amateur Radio Group for helping Kelly to get her ham radio licence
Transcript continues: 4G and Freeview Interference
Listen to FrequencyCast Show 85 - Kelly joins Ham Radio Foundation Course
More information: