Mobile Phone Watch review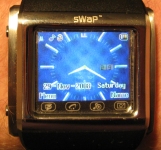 Pictured to the right is the SWAP Mobile Phone Watch, from Dyal. We got our hands on one of these in early November, and now our Carl is wearing one with pride.
If you heard Show 33 of our podcast, you'll know that this watch contains a mobile phone and a 1.3Meg still and video camera. It has Bluetooth, MP3 music player and a video player.
Since our audio review, we've had a stack of questions about the watch, so we've created a page dedicated to the SWAP watch, and to answer your questions. You can see our review, Carl's comments, an FAQ and some screenshots on our SWAP Watch page.
The SWAP is supplied SIM-free, and works with the major UK mobile phone networks, except 3. It's available from I want one of those (Want 5% off? Use code AOFF5 at checkout!).