SWAP Watch - Mobile Phone Watch Review
This has to be the ultimate gadget - a mobile phone, media player and a camera - in a watch. We review this top tech gadget.
James Bond and Dick Tracy eat your heart out!
What is the SWAP watch?
Our podcast team was out and about in October 2008, and met up with the guys from Dyal - who were keen to show off this new gadget, a mobile phone watch called SWAP.
This mobile phone in a watch is unlocked for all UK networks except 3. It comes with Bluetooth, 1.3 Meg camera (for video and still image capture), supports MP3 and MP4, and can be used with up to 2 Gig flash storage cards.
As a phone, it supports loudspeaker hands-free calls, sending and receiving of SMS Text Messages, supports MMS, and has a rated 100 hour standby time.
It has a USB for PC connectivity and charging.
A little chunky, but the ultimate gadget. The SWAP watch was featured on The Gadget Show in August 2009 (just 10 months after we featured it!).
Our presenter Carl was so impressed, he bought one. As FrequencyCast now owns one, if you have any questions about this top tech watch, just ask in our forum and we'll try to help!
UK Availability:
The Dyal SWAP watch launched in the UK in November 2008 for £250. Below is a list of UK suppliers:
Also available on In-flight Duty Free on all Emirates flight
Know of another supplier? Contact us
Dyal SWAP watch Review
Below, you'll find our review of the SWAP mobile phone watch. You can also listen to our audio review, and our interview with the team at Dyal, on show 33 (see below).
SWAP Watch - Audio Review
Listen to our 15 minute audio review of the SWAP Watch and SWAP Watch Active. Download the MP3 file, or listen online using our pop-up player.
Dyal SWAP Specification
Screen: Colour touchscreen 1.5 inch 176 x 128
Camera: 1.3 megapixel still and video
Media: MP3, MIDI, WAV, AAC, MP4 video
Memory: 512 meg onboard. Supports Micro SD cards up to 2GB
SIM: All UK networks except 3. GSM900 / 1800 / 1900
Data: GPRS
Connectivity: USB, Bluetooth v2.0, GPRS data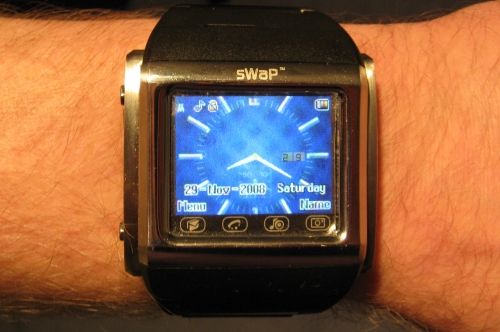 The SWAP watch, made by Dyal
Carl's SWAP Watch Review
You know the future is here when things from fiction become a reality:
"Kitt meet me at the back of the building"... "Okay Michael" - Knight Rider
"Calling Dick Tracey, calling Dick Tracey"
"Come in 7-Zark-7" - Battle of the Planets
Leela and her wrist thingie - Futurama
James Bonds watch from For Your Eyes Only
Were you that little boy or girl that pieced together and fashioned the most stylish watch out of bits of Lego to create the ultimate futuristic time piece? A device that in your mind did not only tell the time but also gave you a direct line to the mother ship and other fictional crew/characters in your otherwise clearly sane world. Well if that was the future when you were 7? 27? 37? ..... then now your a little older? or younger? the future has just slapped us on the wrist in the form of the Dyal "Swap". Oh yes! this is it, and more.
Good for your image
Sold as a Mobile Phone Watch, this is a rather limited dual mode description in my mind. Why? Well whilst the most sophisticated phones of today have mp3, camera, video, organizers, clock, etc... the SWAP has all this and it's on your wrist! I mean how many of you despite the fact you have the time on your phone still when asked "do you have the time?" look at your wrist or even more bizarrely look for the nearest wall clock.
Maybe I should approach this from another angle. Who still wears a watch even though they have the time on their phone? Be honest guys and girls - you wear a watch because it's functional, stylish, sentimental, convenient and makes a cool piece of jewellery. Now this watch is currently available in three colours black, black and silver or even available in a bling accredited gold and black style. What you're really looking at is a device that requires an image. Let's face it you don't want a piece of technology this cool going unnoticed.
With it's almost retro 1970's - 80's look reminiscent of the media portrayal of this kind of device in bygone years you can expect comments from onlookers such as "So what does your James Bond watch actually do?" and of course your naturally response should be "What doesn't it do?" or "It would be easier if I just told you what it doesn't do".
Young ladies I've encountered have been impressed by the touch screen face, the incorporation of the optional but convenient stylus; stylishly located in the watch strap in a very James Bond gadget way.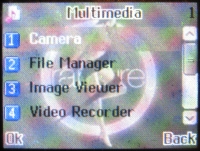 Girls aren't geeks with gadgets - they're gorgeous
If you're a girl on a mission, you will soon realize that ownership of one of these top gadgets is not an exclusively a male thrill because technology of this high spec and calibre is obviously a unisex device. Whilst it is clearly not a dainty product in comparison with Futurama's Leela's device, your timepiece will be proportionally small at only a fraction of the size. If you don't believe that this is designed for both the male and female market look at some of the accessories available whilst the watch comes with a Bluetooth headset, spare stylus, relevant USB cables, mains plug charger and headphones.
You can also get chrome look silver head phones with diamonds (fake) set in them making your headphone look more like a stylish high class pair of earrings than headphones and good quality sound as well by all accounts available from "DesigneAr". Let's face it the packaging of this product alone is in a class that anybody would associate with both sophistication and quality neatly and considerately boxed to entice the consumer into the James Bond world of evolutionary gadgets fit for espionage and intrigue. What else does a girl need for her night out?
Our comments on features and quality
Interface: Most of the functions and operations are achieved via the 1.5 inch colour touch screen or two buttons mounted on the side of the watch. Whilst a stylus located in the watch strap is available for changing the watch functions this is not always essential depending on the size of your fingers. The majority of the user settings can be tweaked, such as the touch screen precision, sensitivity, back light off time etc... Once set-up (a very quick and easy process), the SWAP has a very smooth and slick user system and interface simple to navigate round.


Camera: The SWAP has a built in 1.3 megapixel camera. I personally don't keep the pictures taken on such digital devices for any length of time or purpose so this suits me you can clearly see what the image is supposed to convey and the actually camera has adjustable features which makes it more than a merely point and click device. Of course the use of the lens does not stop here... you also have the video function.


MP3: The mp3 player supports MIDI and formats such as WAV and AAC/MP3. Playback can be heard through the speaker on the watch or via headphones provided. Like any phone external speaker these are suitably loud even annoyingly loud in the wrong environment with a dynamic range expected from a modern speaker of that size. Although any self respecting individual wanting to enjoy their music would use the headphones provided, I mean one speaker mono, two speakers stereo... I know how many ears I've got. Recording: it's not going to be used to make an album, but I feel it's got a slight edge on a Dictaphone if for no other reason this one's on your wrist. Oh, and you can set an MP3 file as a ringtone.


Video: MP4 video looks great considering the screen size even at its smallest I could clearly identify a visual sample of the Matrix and then I discovered the cool full screen function. I actually preferred the mini screen just because I could quite frankly. Again video recording, well, you're not going to make the next big blockbuster with it, are you?


Phone: The Dyal SWAP functions perfectly well as a generic mobile phone e.g. phone calls, missed calls, SMS, MMS and recorded messages etc... There's really not much more to say about it. It's a mobile phone (in a watch) I felt that was important.


Construction: Strap and casing every bit the look and quality expected from such a device. It Looks good, feels sturdy, and is clearly designed for both functionality and style. What I mean by this is that for the amount of technology it contains they have not housed it in some sort of over sized box with lots of empty space whilst also not cramming too much in as to risk product performance. The retro styling is both fitting and almost logical considering the pre-established perception of this kind of "product of the future" thanks to films, televisions and science fiction writers.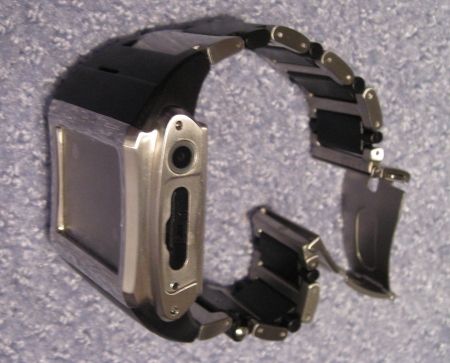 The SWAP Mobile Phone Watch (Right-hand side)
Your questions
Battery life: thebigshazbowski asks "The age old question for every technophile ..what's the battery life? Will this thing last 24 hours? Will I have to spend my life 2 feet away from a charge point? Does it use standard mini usb or generic connectors?"
Good question. Well, the good news is, that on tests, our SWAP watch lasts over 24 hours on a single charge, and quite a lot more. The SWAP has a nifty feature that allows you to send the watch to sleep during your off hours, to conserve power. With this mode in operation, our Carl's squeezed three days of life out of his, and that's playing video and taking calls on it. As for the connector - it's almost, but not quite, micro USB, so it needs a special lead, I'm afraid.
Phone networks: Anthony asks: "I understand that you have to put a SIM card in the watch to make the mobile phone work. Can you put any network SIM, and can it be a pay as you go sim card? I already have a up to date mobile phone on a contract and I can't get the sim card out (iphone) so I would be looking at purchasing the mobile phone watch and put in a different sim card"
The good news is, that the SWAP watch will work with the major UK network operators excluding 3, so you should be able to use o2, Vodafone, T-Mobile and Orange. We've been testing ours with an Orange Pay-as-you-Go SIM and it works perfectly. If you need a second SIM card, you can get one free from either freesimo2.o2.co.uk. or t-mobilesimgiveaway.co.uk. If you want to use the Internet on your watch, make sure you pick a tariff with a decent GPRS data plan
Overseas? A common question we've received... can the SWAP be used outside of the UK?
The SWAP watch is a tri-band mobile phone, so can be used abroad in most parts of the world. The SWAP supports the following GSM network frequency bands: 900,1800 and 1900. This means that it will work in Europe, Africa, and Asia, as well as on some networks in North America (networks that use the 1900 band). If you want to use the phone outside the UK, make sure your target country and network operator use the 900, 1800 or 1900 band.
MMS and SMS: Andrew asks: "Out of all the reviews I have read, none of them have actually said if you can both send/make calls and sms/mms"
Oh yes - the SWAP watch can indeed cope with sending and receiving of SMS Text Messages and MMS picture messages. Pictured below is the MMS screen, showing the MMS Inbox, Outbox and Drafts folder.





Left-handers: "Where is the camera situated? Being a lefty means if it's on a side, I may have a problem" (Nigel)
The camera lens is on the right side of the watch (see the pic further up the page), so, yes, wearing SWAP on your left hand is best for photo taking.
Internet: "Can you access the internet on the Swap watch?" (Tim H)
The SWAP has a WAP browser, using GPRS. It doesn't have a full Internet browser. If you need the WAP settings for the UK networks, see the UK GPRS APN page at FileSaveAs.
Hands-free: "Do you need to use the Bluetooth headset or handsfree wire to make and receive calls or does the watch have a built in microphone along with the built in speaker? (Ben Atkins)
The SWAP watch is supplied with a headset as well as a Bluetooth hands-free kit, but yes, it has a built-in mic and speaker, so you can use it on its own as a hands-free phone.
Email: "Can you receive emails like the AOL inbox on the Nokia N95?" (Tim H)
There's no email client on the SWAP watch, but if your email provider supports WAP access, you can be able to use webmail.
Waterproof? Is this thing waterproof or is it not safe to take swimming? (Paddy)
No. Not waterproof!
Keyboard? does the watch have an onscreen keyboard then or how do you write a message (Leon)
Yes, the SWAP has a pop-up onscreen QWERTY keyboard that you tap on with the supplied stylus.
Ringtones? Can the SWAP Watch play custom ringtones? (Josh The Cool)
We tested this - and we were able to set an MP3 audio file as a ringtone. It also seems to allow MIDI files to be set as ringtones. Nice.
Video clips? Carl wanted to load his phone up with some video, but struggled with the format. Here's how he did it:
Video was extracted from DVD as a VOB file
The software "MediaCoder" was used to convert the video.
MediaCoder's "E900" profile was used, with the settings: .3gp , 15fps, 176x144, 400kbps
We also managed to use Adobe Premier to export video. This was saved as Microsoft AVI, 360x288 at 50% quality, 15fps

Bluetooth: Question from our forum - how do I turn on Bluetooth and pair with a headset?
We agree - it's not obvious, and the manual is unhelpful. Here's how to use and pair with the SWAP Watch Bluetooth:
Go to Settings
Select "Organiser"
Got to Option 7 - Bluetooth
Turn Bluetooth on
Then use "Inquiry Audio Device" to find and pair to the headset
Note that when pairing with the headset, you need to hold down the headset button for over 5 seconds
Screen saver: Nigel asks: "Does the clock face go dark after a while (screen saver on a phone)?"
Yes it does - you can set the interval from 0 seconds to 1 minute. Also, note that you can set the phone to turn off when you're asleep. There are two "Off" and two "On" slots. As for the screens - you can change the interface - there are six options: White, blue, black and grey analogue face, a digital face, or "normal" (like a mobile phone)
Screen Saver:
"Can you disable the screensaver so that the watch always displays the time?"
(Gerard)
Yes you can - Do the following:

From the Menu, press Settings (Bottom left icon)
Select "Phone Setup" (Option 4)
Select "Display Characteristics" (Option 65)
Select Screen Saver (Option 2), then "Setting" (Option 1)
Change "Status" (Option 1) to "Off", and select "OK"
Lock code: Thanks to 'Random User' in our forum for working out that the default lock code for the SWAP Watch is 1122.
SWAP Watch - Audio Review
Listen to our 15 minute audio review of the SWAP Watch and SWAP Watch Active. Download the MP3 file, or listen online using our pop-up player.
More information