Fancy a Lavazza coffee anyone?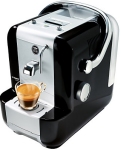 It's jolly chilly out there, so our advice is to stay in and have a nice cup of coffee.
Our Pete considers himself to be something of a coffee connoisseur, and he's been on a quest for a decent home coffee machine for a while. He's tried a generic coffee machine, been sadly disappointed by a Tassimo machine's awful cappuccino capsules, and until Christmas, was happy with a Nespresso machine. He's been craving a decent home Italian coffee solution – either Illy or Lavazza – and now he's found one.
Today, Pete's been playing with an Amodo Mio Lavazza coffee machine (well, it's cold outside), and has recorded a short review of his ability to make a decent cappuccino.
If you're at a loose end, have a listen to 4 minutes of Pete talking about coffee – See and hear our Amodo Mio Lavazza Review.
Into your coffee? We'd love to hear your home coffee stories and preferences.
FrequencyCast Lavazza Amodo Mio Unofficial Guide
[ 5:55 ]
Play Now
|
Play in Popup
|
Download