FrequencyCast Wins Podcast Award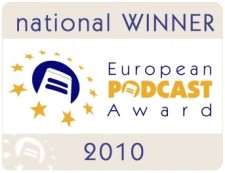 If you're a listener to FrequencyCast, you're now a listener of an award winning podcast!
Yesterday, the results of the European Podcast Awards 2010 were announced, and we were a national winner in the Best Non-Profit Podcast category!
We'd like to extend a huge thanks to our loyal listeners who voted for us in this year's European Podcast Awards. Clearly, your votes counted, and we've been able to bring home our first award, with your help!
If you're interested in seeing the nominations, or indeed finding out more about the awards, you can see the ceremony here: European Podcast Awards 2010 Announcement (Our bit is 9'45" into the video).
Thanks again to all of our listeners for helping us to win our first podcast award!