Microsoft to replace Hotmail with Outlook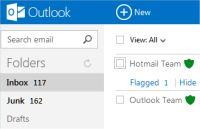 News broke just after we completed recording of the next podcast, that Microsoft is set to switch Hotmail with a new webmail service, called Outlook.com
Hotmail has been around since 1996, and it's set to see some significant changes, presumably due to the threats from the Googlemail service.
With the new Outlook.com interface, gone is the clutter and the ads found on Hotmail, and in comes a cleaner interface. There's also built-in integration to Facebook, Twitter and LinkedIn, with Skype integration coming soon.
The Outlook.com service looks clean and fresh, and is a much-welcomed improvement over the old Hotmail interface. It also contains lots of looks for allow for better filtering of all of the tat that hits mailboxes. Hot on the target list it's what's being called "greymail" – newsletters and offers that you're still happy to receive, but you don;t want it cluttering up the main inbox where your more important emails get delivered to.
We've been having a play with the new Outlook.com interface, and first impressions are very good. It's fast, clean, and does a great job of integrating to the various social networks. It's compatible with smartphones, something that has traditionally been a problem with Microsoft's Hotmail service, causing many to switch to GMail / Googlemail.
How to get Outlook.com
The service is still in "Preview". You can sign up for a free account at www.outlook.com, or if you're an Hotmail or MSN user, upgrade.
You'll still be able to keep your old Hotmail address, at least for the time being.
Tried Outlook.com yet? Let us know your comments, and we'll try to feature them in the next episode of FrequencyCast