BT SmartTalk Reviewed by FrequencyCast
Pete and Kelly discuss BT SmartTalk, then smartphone app that lets you make phone calls on the move that benefit from your home phone bill perks.
Listen to FrequencyCast Show 84 - BT SmartTalk Discussed
Discussing BT SmartTalk:
Transcript taken from FrequencyCast Show 84:
Pete:
Focus Time, and of course I'm with the lovely Kelly. Hello, Kelly.
Kelly:
Hi, Pete.
Pete:
Now, I have to say, I'm a little bit confused. Your purple BlackBerry seems to have turned white, and have the word "Samsung" on - what's going on here?
Kelly:
I've switched phones. My BlackBerry actually died.
Pete:
And what have you moved over to?
Kelly:
I've moved over to a Samsung Galaxy S3 Mini.
Pete:
It is nice - I've seen the Galaxy S3 before, but the Mini, actually it's not a bad little sized phone, is it? - very light as well. How are you finding it?
Kelly:
I think, when I get used to it, it'll be a nice phone, but at the moment, I miss my BlackBerry so much.
Pete:
Oh, bless you, but you've got all these killer apps that you can't get on a BlackBerry - that must be good.
Kelly:
It's good, but I haven't got my emails yet, and that's my concern.
Pete:
So, why can't you get your emails?
Kelly:
It's just proving to be a little bit more of a nightmare than my BlackBerry, that just automatically synchs up.
Pete:
You'll get there. Other than that, though, are you finding it all right? - nice and slim and sexy, compared with the old chunky BlackBerry?
Kelly:
It is very, very sexy, and the one thing that I do feel quite good about is that it apparently won't break as easily as a BlackBerry.
Pete:
Look after that one - don't break it.
Kelly:
I will, I'll try my best.
Pete:
Right, talking of smartphones, this is the first thing we're going to look at today, and this relates to an email we had from Darren Ney. Would you mind just reading me this little email here, please?
Kelly:
I can, he says: "I've been reading about the new BT SmartTalk app for mobiles, that lets you use your mobile like you would your landline. Could you maybe review this app on one of your shows?"
Pete:
OK, now have you heard of the BT SmartTalk?
Kelly:
I've not, no.
Pete:
Right, OK - let me get my little smartphone out here. This is the SmartTalk app. It's a free app from BT. You do have to be a BT customer, but I'm going to try something here - are you ready?
Kelly:
OK.
Pete:
What I'm going to do is, I'm going to ring the FrequencyCast phone number, which is 0208-133-4567 - call.
Answerphone message:
"Thanks for calling the FrequencyCast podline ..."
Kelly:
Wow! - who was that sexy voice?
Pete:
Lovely! So that's our FrequencyCast phone. The reason this is so special is because that call was free from my mobile phone.
Kelly:
Free?
Pete:
Free.
Kelly:
OK, how?
Pete:
This little app from BT is rather clever. Basically, it uses the internet for your phone calls which, OK, we've seen for a while; Skype does all that kind of stuff, but this actually links into your home phone account. So what you do is, you download the app. If you're a BT customer, you put in your account details, and it registers you and up to four other users to use the smartphone app. Now, if you dial using that app, over Wi-Fi or 3G, it does it through your home phone bill.
Kelly:
So it's not technically free?
Pete:
Well, what it does, if you have a BT package that gives you free calls, you can use them on the mobile.
Kelly:
OK, I'm starting to understand.
Pete:
So my package, I'm on a fairly basic package with BT, and I get free unlimited weekend and evening calls as part of my tariff. Now what this means is, if I'm in any coverage of Wi-Fi, or on my 3G or even 4G network, I can actually make free unlimited evening and weekend landline calls.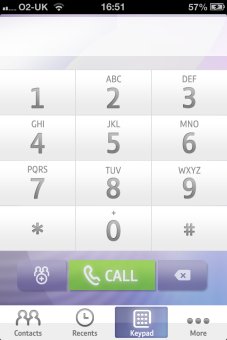 BT SmartTalk App
Kelly:
OK, I have a question. If you're using the internet anyway, then surely you'd have a decent enough monthly contract that would probably give you unlimited calls anyway, no?
Pete:
Well, you get a few free minutes. You might get 600 free mobile-to-mobile minutes, but this is for landlines.
Kelly:
OK, I guess that's not so bad.
Pete:
Also, there's some other little bonuses with this one: phoning 0845 and 0800 numbers are free, because you're doing it through your home phone, and you get those free. At the moment, you can't make free calls from a mobile. An 0800 number is still charged on the mobile networks.
Kelly:
No, that's quite clever - definitely worth a download.
Pete:
But the really clever one is, if you go abroad, and you've got Wi-Fi access ...
Kelly:
Oh, I see! - that's very clever!
Pete:
So you go abroad, you go into an internet café that gives you free Wi-Fi, and you use this app via your home number to call local calls. You've actually got free high-quality voice calls to the UK, unlimited over Wi-Fi.
Kelly:
Nice, but then you still have to pay for the roaming.
Pete:
No, you don't - that's the point. If it's Wi-Fi, you're not.
Kelly:
OK, I'm with you. I'm so with you. I want one!
Pete:
I just think that is a very, very clever little app. You can dial any number, and it comes up on your home phone bill. I've been using it for the last three or four days, and I'm really rather impressed by it, so if you are with BT, and you've got a smartphone, you need to get this app. Impressive!
Kelly:
Indeed!
Transcript continues: Facebook Graph Search Discussed