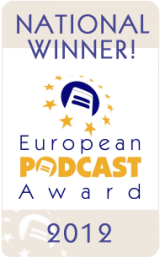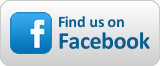 FrequencyCast UK - Show 102
The show notes to go with Show 102 of our technology radio show.
Listen to, or download, FrequencyCast Show 102 (30 mins)
Show 102 NEWS
Here's a look at the news stories covered in Show 102:
Local TV: London Live has been on-air for the capital for just four months, has applied to Ofcom to significantly reduce the amount of local programming, to allow more time to play repeats of TV sitcoms such as Twenty Twelve and Peep Show, and hopefully increase poor viewing figures. As well as London, local TV stations are now live in Nottingham, Norwich, Glasgow and Grimsby... are you watching?


New Sky TV channel: Sky to launch Sky Sports 5 on the 12th August – this new channel is set to become the channel for European football. Customers of TalkTalk will be pleased to note that in a new deal with Sky, they'll be able to get Sky Sports 5 as well as Sky Sports Box Office, and access to Sky's catch-up content


Chatting with Facebook: Next, use Facebook on your smartphone? Expect to see the Messaging feature being removed from the Facebook app any day now. Instead, you'll need to download and install a separate Facebook messaging application. Apparently, Facebook is doing this to "avoid user confusion"


Encrypting your voice calls: Staying with Smartphones – Conspiracy theorists who feel their mobile phone calls are being listened to, now have the option to encrypt their voice calls on iOS. The "Signal" app, from Open Whisper Systems, uses 128 bit encryption to ensure your call can't be monitored or recorded "for training purposes". Android users keen to scramble their words , can opt for the RedPhone app


Quadcopter in Court: The top gadget on most tech lover's list at the moment, is the flying quadcopters. These unmanned remote controlled drones fitted with cameras, are all the rage, but be warned. One quadcopter flyer steered his flying machine over rides at Alton Towers, and posted the resulting video on YouTube. The Civil Aviatition Aurthority r4ecentlt took him to court for not maintaining direct, unaided visual contact with a small unmanned aircraft, and flying a small unmanned surveillance aircraft within 150 metres of a congested area. He pleaded guiltym accepting a £300 fine plus costs. Flyers, beware...


3D Doorkeys: Ever lost your doorkey? The 21st century solution has arrived. A number of services have started springin up in the US that allow you to take a scan of your doorkey from your smartphone camera, keep it as an electronic backup, then use a 3D printer to run off a temporary plastic spare copy. A handy option, perhaps, but one more security threat to worry about – having your keys photo'd and printed when you're not looking.


And finally... Our favourite news story of last month. A motorist pulled over on to the shoulder of the motorway fearing his car was about to burst into flames. A message on his dashboard appeared showing the word "Fire". It turns out that rather than being a warning, it was the "Now Playing" track information from the Adele track, "Set Fire To The Rain."How embarrassing!

And if you fancy a little musical test, which 1985 song by the Talking Heads would cause your sat-nav to say "Turn around when possible" . Answers on a Tweet please!


FOCUS: UK Copyright Law and VCAP
Those illedgally downloaing music or movies from the Internet could start to receive letter from their Internet Providers informing them that what they're doing is a breach of copyright. Up to four letters per year could be sent. Is VCAP, the "Voluntary Copyright Alert Programme" the answer? Kelly and Pete discuss the proposed changes and some alternatives.
FEATURE: The Useless Box
A new project for Kelly. Here's the video that we watched in the show. Bet you'll want one!!
FIRST LOOK: Boosting Your Broadband
Suffering from low broadband speeds... could Boosty be the answer? More details at www.boosty.com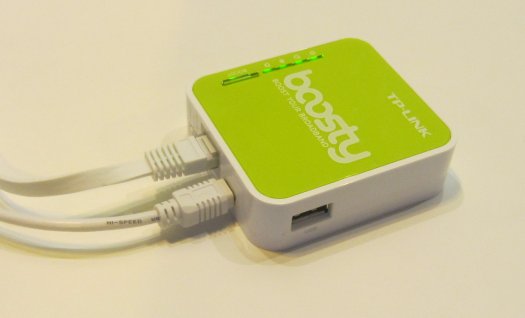 The Boosty Box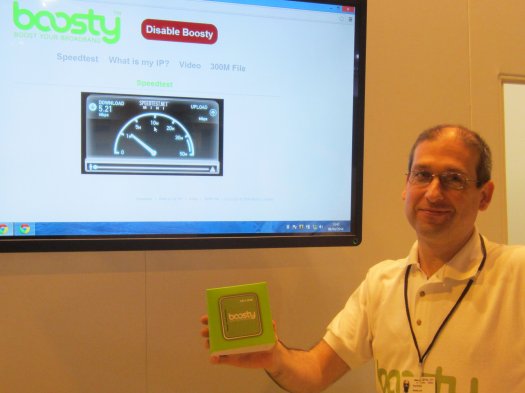 Paul from Boosty
HANDS-ON: Ingress
Get out in the fresh air and attack your local portal. Check out Ingress from the Google Play Store and from the iOS App Store.
Please Use Our Amazon Store!

When you're shopping at Amazon please use the link frequencycast.co.uk/amazon - It won't cost you a penny more, and shopping via our Amazon shop helps to pay for our running costs!
Cast 102: Interaction
Thanks to everyone who got in touch with us since the last show. In this show, we respond to the following mails and calls:
Cheap Powerline Adapters:
Steve Saul asks: "I foolishly bought a cheap powerline adaptor, I'm worried about it as it seems to get quite hot. Can you recommend a powerline adaptor that doesn't use much energy, is quite slim and doesn't get hot?"

The key to power consumption and heat, is the speed - 200Mbps are better than 500Mbps for efficiency, but not speed. See UK Hardware Info's Powerline Adapters Round-up - The TP-Link AV200 comes out well with consumption of 1.1 watts, and costs £20.
NEST Home Automation:
Steve goes on to say: "Incidentally, I've recently updated my smoke alarms and boiler thermostat to Nest. It's great to be able to control essentials in my house from my smartphone. I'd really recommend Nest."

NEST is a nice home automation system that lets you access and control smoke/Co2 alarms & thermostats over the Internet - Details at nest.com/uk
Olympus Voice Recorder File Formats:
Isobel asks: "I'm trying to copy .mp3 and .wav files onto my Olympus VN8500 digital voice recorder (which I've done successfully in the past). When I try to copy from my laptop via the cable, the files show up in Folder A on my computer screen, but the recorder indicates that there are no files saved in any of the folders. If I unplug the recorder and then plug it in again, the laptop shows the sound files in the folder, but the recorder itself continues to display a No Files message... WHY??"

The VN8500 doesn't support WAV or MP3 files. As it can't play them, it doesn't show them. This model of voice recorder only supports WMA Windows Media Audio files, so if you want to plat back recordings, you'll need to convert them to WMA.
IPTV or Multicast?
Kelly: Next, Darren Ney asks: "I have Youview from BT and also have a Samsung LED smart TV in my bedroom and was also wondering what's the difference was between multicast TV and IPTV. Also do you think in years to come IPTV and multicast TV will be the way forward as more of us get faster internet and start to use online services like Netflix/Amazon prime and IPTV/multicast TV more"

Multicast is a method of transmitting "one packet to many recipients", and it's a technology used in IPTV (often referred to as TV over Internet). Don't get too hung up on the terminology. We have very little doubt that Internet TV is the way of the future – TV aerials are not the way to go, and satellite is still largely one-directional for receive-only. High speed fibre is the way – it also frees the content-maker from the traditional broadcaster / distributor model.
Got a comment or question? You can leave us a voicemail by calling 020 8133 4567 or sending us a message. We'd love to hear from a few more of you, so please get in touch and say "hi" - our shows are driven by your feedback - So talk to us!
Want new shows as soon as they're released?
Get FrequencyCast shows automatically, as soon as we've finished them:
Got iTunes? Add FrequencyCast to iTunes


Otherwise, use Juice or another podcatcher to subscribe to our show feed.
Our feed address: https://feeds.feedburner.com/frequencycast