What is Podcasting?
The fact that you're here, means that you've probably heard of podcasting... if you're looking to understand more about podcasts, how they work and even how to make your own, then we can help.
First off... what's a Podcast?
It seems that everyone's now got an mp3 player - the most common of these is of course the Apple iPod, but there are a bunch of others from the likes of Creative, Samsung and Sony. As well as listening to music on the move, mp3 users are looking for something more - news, entertainment and information. It's time for "the podcast".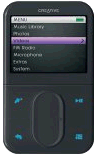 Podcasting is a fairly new concept, and it continues to grow in popularity. The Podcast gets its name from the iPod - Apple's portable music player, and a podcast is basically an mp3 audio file that you can download onto a portable player, or listen to online from your computer. MP3 files are most often associated with a music track, but rather than being an audio file containing a music track, a podcast MP3 file contains a mini-radio show that you can listen to whenever you want.
You can download a podcast as an audio file manually, but more commonly, you'll use a piece of software like Apple's iTunes, or a package called Juice , which will detect new episode of podcasts you like, and download them for you automatically.
FrequencyCast, the site you're on now, runs a podcast, focussing on UK technology including digital radio and TV. You can listen to our latest show online, or download it to your MP3 player.
Need help with our podcast? See our First Time guide.
Where's the UK Podcast Chart then?
A question that we posed in our Blog recently... why isn't there a decent UK Podcast Download Chart? OK, we have the www.itunes.com Top Ten, but where's the British podcast chart, the most popular podcast list, or a decent UK-only 'Best Podcast' Guide?
Anyone know of a decent resource? Just how do new podcast listeners get to hear of new shows, or find their first podcast?

Got a comment on the subject? Please add it via the link at the bottom of our Blog Entry

FAQ
This section includes the answers to frequently-asked questions we've received...
| | |
| --- | --- |
| Where can I get podcasts? | |
| Starting your own podcast | We've added a dedicated page of information on how to create your own podcast - Please see our DIY Podcast page. There's also a nifty podcast kit available. |
| Podcasts on a PDA | See our PDA Podcast page for information on how to get podcasts on your handheld PDA or smartphone. |
| Has PodNova shut down? | PodNova, the web-based podcasting service, closed down in February 2010. More details: What Happened To PodNova? |
If you've got any questions about Podcasting, please contact us and we'll try to help!