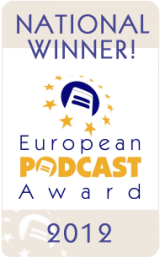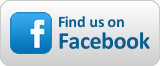 FrequencyCast UK - Show 117
The show notes to go with Show 117 of our technology radio show.
Listen to, or download, FrequencyCast Show 117 (31 mins)
Show 117 NEWS
Here's a look at the news stories covered in Show 117:
TalkTalk Hacked: Lead story of the moment is the announcement that up to 1.2 million TalkTalk customers have had their personal and bank account details hacked. The advice is to change passwords, watch out for scam calls and emails, and to keep an eye on your bank and credit card statements.


BBC Store: November seems the launch of the BBC Store. We already have the iPlayer, which makes the unmissable unmissable. The new service allows to you buy and download shows from the BBC's back catalogue, with the tagline "Making the Unmissable Yours"


Youview on Sony: In other TV news, Sony has become YouView's first partner for the on-demand service on Internet-enabled TVs. From November, connected Sony Bravia TVs will be able to access YouView on-demand content, previously only available with a suitable set-top box


Facebook "Other": How's your other Facebook Inbox? It may come as a surprise, but when you log on from a web browser, there's a second inbox, called "Other". But not for much longer. This was previously used to allow people who weren't your friend to message you. Facebook will soon be retiring this second under-loved inbox, so have a quick look for anything urgent, before it's gone for good.


Nintendo Apps: Nintendo's move into the smartphone gaming market has been delayed. Nintendo, much loved for its family-friendly console games will be releasing their first smartphone app in Match of next year. It won't be a Mario game, but instead something called MiiTomo – a chat app with Mii avatars. Nintendos shares fell 10% following the announcement.


Apple TV & Fire TV: The new Apple TV box is out. As well as allowing you to talk to it using Siri, the streaming TV box can play a variety of games , thanks to its built-in sensors. One feature that's not had much coverage, is that it will allow you to listen to films and TV shows using bluebooth headphones – allowing you to watch TV without disturbing others. The old Apple TV box has dropped to under £60, but you may also watch to look at the new voice-activated Fire TV Stick, due in November, for a third of the price of Apple TV.
Windows 10 Upgrades: Have you made the move to Windows 10? If so, expect a major update this month, including a Windows messaging app, extensions for the new Edge browser and a number of other enhancements. If you've not taken advantage of the free upgrade to Windows 10, note that this is set to become a "recommended update" in Windows Update very soon, me3aning some will see the new OS download automatically just like a patch.


And finally: It had to happen – there's an app that lets you weigh an apple, on your Apple. Making use of the iPhone 6 pressure-sensitive display, this app allows you to turn your smartphone into a set of digital scales. Called the Plum-o-meter, it only works on phones that have been jailbroken, but no doubt a mainstream app is on the way, so we can all weigh our plums on the move.


FOCUS: Show 117
Instagram
Pete's been exploring social media platform Instagram, and not getting it. Kelly tries to help. Any Instagram users out there got any thoughts? Get in touch!
Gadget Show Live, Westfield
Gadget Show Live came to London's Westfield Shopping Centre to showcase a number of exhibitors and products. Pete went along (wiithout Kelly!), and this show (plus the next one) features interviews from the event.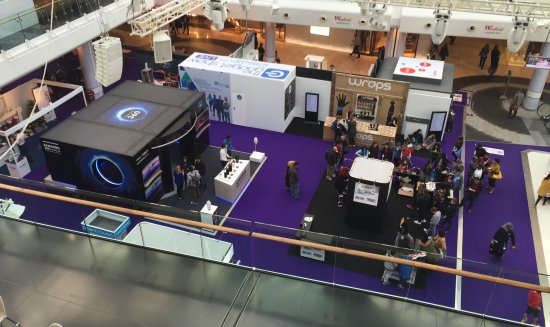 Gadget Show Live 2015 at Westfield London
Gear S2 Samsung
Just out - Samsung's new smartwatch, the Gear S2, was on display, and we caught up with one of the Samsung team, Boris, to find out what's special about this new watch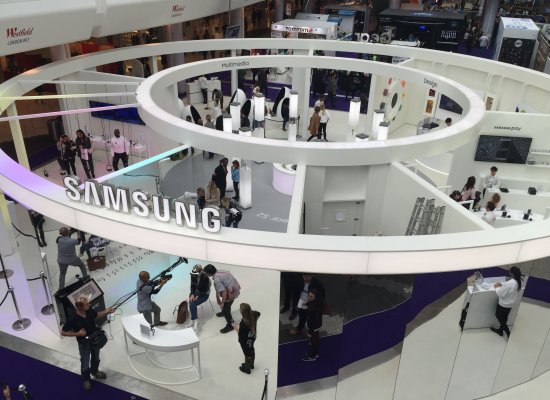 Samsung stand at Gadget Show Live 2015 Westfield
Samsung Pay
Following our features in recent shows on contactless payment, we were able to learn more about a few contactless payment service due to be launching in the UK soon. 'Samsung Pay' supports NFC (near field communication), as well as magnetic payment.
Philips Hue
Change your lighting to suit your mood. We cuahgt up with Philips to find out more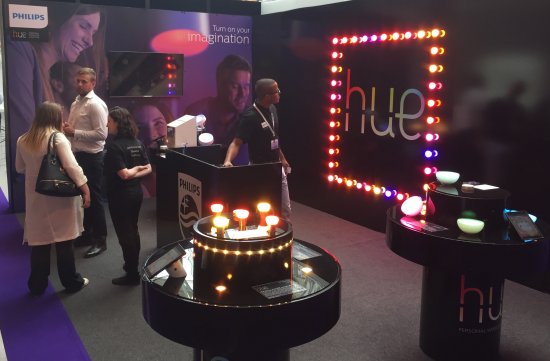 Philips Hue at Gadget Show Live in Westfield
Y-Cam
Home security without ongoing rolling subscription costs - cameras that sense motion and store video online using cloud computing... for a one-off cost. More details at www.y-cam.com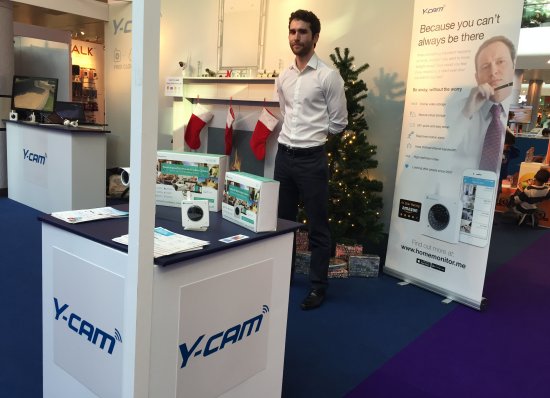 Y-Cam at Gadget Show Live Westfield 2015
Wraps Wristband
Tired of getting your headphone lead in a tangle? Wraps could be the answer... www.wrapswear.uk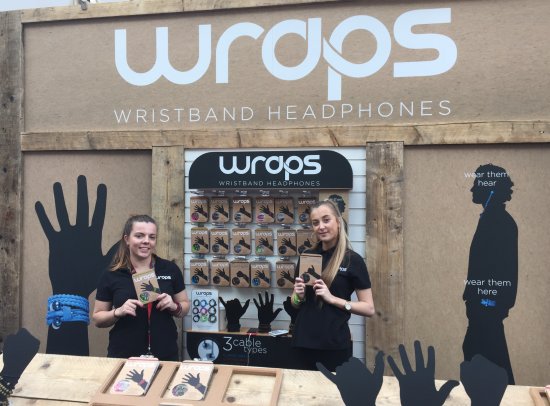 Wraps... Wrist-wearable headphones
Please Use Our Amazon Store!

When you're shopping at Amazon please use the link frequencycast.co.uk/amazon - It won't cost you a penny more, and shopping via our Amazon shop helps to pay for our running costs!
Cast 117: Interaction
Thanks to everyone who got in touch with us since the last show. In this show, we respond to the following mails and calls:
Samsung Wireless vs Seagate Wireless Plus:
Bernhard-Klaus Hodermann got in touch to ask:

"I'm interested in buying a samsung wireless device. It seems, that this one is identical to seagate wireless plus. If there are any significant differences between these two gadgets, i would like to know anything about these. Thanks for your answer and greetings from Berlin."

Both of these storage devices allow sharing of file over wi-fi. sPete recommends the Samsung - it has more storage at a lower price. It does have a shorter battery life, but is better value for money.
USB-C Connectors:
Darren Ney made contact:

" I'm thinking about getting a new smartphone early next year to replace my Nexus 4. Was maybe thinking of getting another Nexus smartphone but I been reading that the new Nexus smartphone comes with a USB type c charger. How will that work and would I still be able to plug the other end of the cable in to my laptop or portable charger that uses USB 2.0. Also will they be bringing out adaptors for USB type c so I can use my new phone when I get it with my Android docking station that uses a micro USB."

The USB "C" is slightly larger than the Micro USB we're familiar with . It supports 10Gbps transfer speeds, has much high power output of up to 20V(100W), and supports bi-diredctional power. Adapters will be available.
The missing Teletext:
Mrs Sue Melville asked:

" I can no longer look at teletext. Have retuned, turned tv off overnight. I get first page but if try to click onto item the whole lot goes off. Can view weather, sport or travel but no news item or anything else."

We're assuming Sue's referring to 'Red button' interactive content. Try a reset of the telly, and make sure you're on the latest firmware. If not, let us know the make and model.
Powerline on key meters:
Charlie Fin asks:

"Will powerline adapters work ok on a mains supply with key meter, which may or may not be a smart-meter?"

That'll be an almost certain "yes"
Problems with Loewe TVs:
Next, an email from achap who wished to stay anonymous:

Bought a new Loewe TV 'Art 40"' in Feb 2015. Told by Loewe and dealer did 3d, supplied with active glasses ~£75. Cost £1299. No 3d as this was error by Loewe and dealer, glasses returned and refund. September, saw item about BT sport 4k service on BT box. Stressed 50hz refresh used for smooth motion. Asked Loewe and they confirmed my new TV could not handle 4k at 50hz and I would get blank screen and no audio. Very unhappy. Complained only a few hours ago. Have latest firmware. Notified dealer. Wanted you to know.
Got a comment or question? You can leave us a voicemail by calling 020 8133 4567 or sending us a message. We'd love to hear from a few more of you, so please get in touch and say "hi" - our shows are driven by your feedback - So talk to us!
Want new shows as soon as they're released?
Get FrequencyCast shows automatically, as soon as we've finished them:
Got iTunes? Add FrequencyCast to iTunes


Otherwise, use Juice or another podcatcher to subscribe to our show feed.
Our feed address: https://feeds.feedburner.com/frequencycast