Echobox - Home Networking Explored
Problems with getting Internet around your home? We look at the Echobox, a clever piece of tech that uses your home's TV aerial cabling for home networking.
What is the Echobox?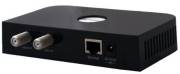 The Echobox, from Asheridge Communications offers a faster and more reliable connection than wi-fi, and it's a handy solution for home networking, especially where wi-fi just isn't up to the job.
Rather than using signals over-the-air, or having to run special networking cables, the Echobox makes use of a cable network that most homes already have - TV aerial cabling.
Two thirds of the homes in the UK already have multiple TV aerial points, and these can be quickly turned into a computer network offering speeds of up to 200Mbp/s. You can use the Echobox system to connect up to sixteen network points, and it's surprisingly easy to set up.
The two key features are speed and reliability. wi-fi can be disappointing, especially if you're in an area where there are lots of conflicting wi-fi signals nearby, and if you need a fast stable connection, this could be the answer.
Why use an Echobox?
As we've discovered, several reasons:
Great in congested wi-fi areas
Less drop-outs than wi-fi, so better for HD video and gaming
Supports long cable runs
Fast data speeds (Up to 200Mbp/s, compared to 50Mbp/s for 'N' wi-fi)
Reliable and secure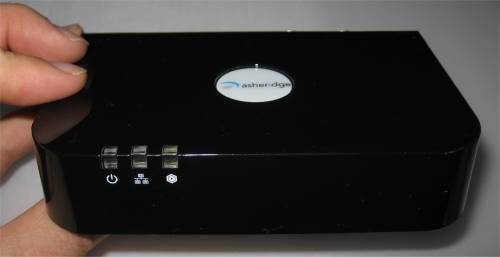 We've been testing the Echobox solution for a few weeks now, and we're very impressed with the results.
Setting up the Echobox
Many of our listeners are familiar with Powerline adapters. which use 240V mains wiring to distribute data. Whilst these do the job, they can cause significant interference to radio receivers, and they're also affected by mains surge protectors, complex fuse boxes and distance. In our tests, the Echobox out-performs Powerline, and doesn't seem to cause any interference to telly or radio.
What Echobox and Powerline have in common though, is the set-up. Just like Powerline, you need two or more units. One connects to your router, using a standard RJ45 Ethernet lead, and you have one (or more) receivers that connect to whatever equipment you want to hook up to the Internet - perhaps a games console, Freeview box or something like the Apple TV.
The only possible stumbling block here, is that you need an aerial point at both ends. Obviously, there's an aerial point close to your TV... but is there an aerial socket where your Broadband router sits? If your router is in a hall, a handy aerial point might be a problem.
If it is, the simple answer could be to move the router, if that's practical. Unless you're on a cable system, you could move your router to a room that has a phone and aerial socket, and re-position it there. Failing that, you may need to use a combination of wi-fi, cable or Powerline to get an Internet connection close to an aerial point.
The good news is that you don't need a direct connection to the router (so any Ethernet socket on your network will do), and you don't need to connect directly to the point that the aerial enters your house - any point will do.
Both units need to be plugged into mains and an aerial feed (a loopthrough is provided), and then via Ethernet to the router or device. The Echobox uses F-Plug for its aerial connection - satellite and cable TV users will be familiar with the screw-thread F-Plug connectors - Each Echobox package contains two adapters so that it can be used with a standard co-ax TV aerial plug.
Once connected, you're away... no software to install - no device pairing or WPA keys to type in - simple plug-and-play!

Echobox Interview
In June 2012, we spoke to Jason Dando from Asheridge Communications to find out more about what the Echobox has to offer, and why it beats a wi-fi network. Here's the full interview:
Interview: Echobox Explored - Jason Dando from Asheridge Communications (13 mins)
Using the Echobox
The technology behind the Echobox is something called MoCA - This was a new acronym on us, but it stands for "Multimedia over Coax", and has apparently been used in the States for a while. Thanks to Asheridge, it's now here in the UK too.
We're pleased to report that we've seen very good results with the Echobox. In fact, it's gone from being a device we tested in our office, to a solution that our team's now relying on for a home office connection in an area where wi-fi deteriorates at certain times of the day.
The Echobox is very easy to set up. There's no software to configure, no buttons, and just three lights to report that there's power, a connection, and data.
As it's using screened co-ax aerial cable, it seems resilient to interference from nearby mains cabling and radio signals, and it's not interfering with our resident radio ham's HF equipment.
Security is not an issue, as you're in a closed loop using shielded cable. One exception being communal TV aerials - If you live in a block of flats with shared TV cabling, you could be sharing your connection with your neighbours. Asheridge tells us that an adapter is available to prevent signals going back into a communal system. Conversely - if you want to share you connection out to others on a communal system, the Echobox appears to support it. We also understand that the system works well with cable TV, so it's usable for Virgin Media customers, as well as those with standard TV aerials.
Supplied with:
The Echobox kit is supplied with an Ethernet lead, mains adapter, co-ax lead and two F-Plug to Co-ax converters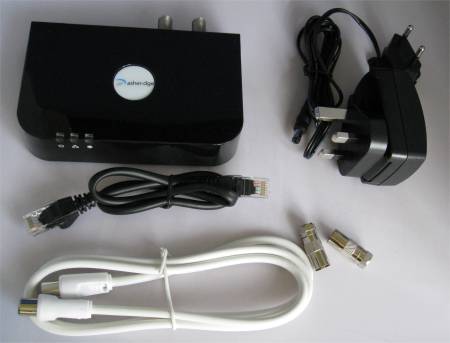 Summary
We're very happy to recommend Echobox, and the system is hard to fault. The only issue is that there may not be TV aerial points where you want them. Echobox isn't as cheap as the Powerline Adapter solution, but for the extra speed and stability, this makes an idea solution.
Related Pages: