Echostar PVR and Slingbox Interview
At Gadget Show Live, we caught up with Mark Goodburn from Echostar about their slim Freeview HD PVR and about our faviurite remote TV gadget, the Slingbox.
Listen to FrequencyCast Show 85 - Includes an interview with EchoStar
Clever TV products from Echostar:
We caught up with Echostar to chat about their new Freeview PVR, and about thie ingenious remote TV service, known as Slingbox. Here's the transcript from Show 85:
Transcript continues from Freeview and 4G interference
Pete:
There you go. Now, while we're on the subject of TV, we just want to take a quick look at a couple of products from EchoStar. Now, we met up with a team from EchoStar a little while ago, didn't we?
Kelly:
Yes, we did - at the Gadget Show Live.
Pete:
And we spoke to Mark Goodburn from EchoStar, about two of his products.
Mark: Well, it's actually the smallest, or slimmest, PVR in the world. It's about the size of an iPad, and it was designed specifically to reduce the amount of clutter that you've got around your television set. So it's a Freeview Plus HD box, so it gives you all the Freeview HD channels. You can also record, pause, rewind live TV, but it's also got Ethernet and internet capabilities, so you can connect to the internet for things like iPlayer.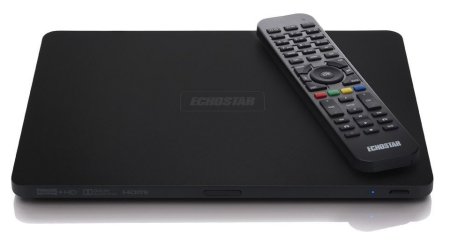 The EchoStar HDT 610R Ultra Slim at Amazon.co.uk
Pete:
So looking at this thickness, it can't have a hard drive and a fan in it, for that kind of thickness?
Mark:
Well, it doesn't have a fan in it, because it doesn't need one. It's been specifically designed so that the top is an aluminium case, so it actually dissipates the heat that way, so you don't need a noisy fan. Also obviously, it's super-slim, but it is actually a small hard disk drive in there, so it's not solid state. It's 500 gig, which gives you ample space there for recording HD or standard definition programmes.
Pete:
Excellent - very, very impressive. Tell me the price point for this?
Mark: You can currently get it through a wide variety of retailers for around £199. Typical partners are Amazon, JLP, also Maplins, and a range of independent stores as well.
Pete:
Thank you very much, Mark. If our listeners want to find out more, do you have a page on your site for this?
Mark: We do. If they go to www.myechostar.com, there's all the details on there, and also information about our other products, like Slingbox as well.
Pete:
Ah - Slingbox, of course we've featured that in the past. That's the very handy device that means you can watch your TV outside the UK?
Mark:
Absolutely, yeah. You plug that into an existing set-top box or PVR, and then it streams the television out on the internet, and then it's password-protected, so you have a log in and a password, and then you can watch TV on a mobile device, PC, Mac, anywhere around the world.
Pete:
We looked at the Slingbox Classic, probably about four or five years ago. I know it's moved on a bit now, and there's Pros and all sorts of other things. How's it migrated over the last couple of years?


Clever kit: The Slingbox Solo (shown here) and the Slingbox Pro HD
Mark:
Yeah, things have changed a little bit since then. We now have two products, so we have a Solo and the Pro HD. Solo allows you to connect one source or set-top box, whereas the Pro HD actually allows you to connect a couple of different devices on there. So if you want to stream a DVD as well as content from a PVR, then you can do that. Things have changed a little bit, so we've got two products now, but also the main area of innovation for Slingbox has been on the player side, so every time a new mobile comes out, every time a new mobile operating system comes out, we have to be there with the latest players, and latest SlingPlayer mobile apps. So that's the major area of innovation for Sling at the moment.
Pete:
Yeah, never easy, I can imagine. And just to be clear, we're not talking about just watching internet TV like the iPlayer, what we're actually talking about is taking remote control of say your Sky box, so you can watch your own recordings and your own content wherever you are in the world - that's the key difference, isn't it?
Mark:
Absolutely, so you plug it into a TV provider's box, and then you connect it to the internet, and you can watch exactly what you get at home anywhere on your mobile device, Mac or PC. So that's also access to all the recordings, so you can actually remotely set the recordings as well, so it's a really convenient, versatile device.
Pete:
Thanks very much to Mark Goodburn from EchoStar for talking to us about the Slingbox and their amazingly thin and sexy PVR. Good, wasn't it?
Kelly:
It wasn't too bad, actually.
Pete:
Well, that's it for today's Focus section. In a moment, we've got your questions and comments coming up, but if you're looking for transcripts, or longer versions of what we've covered, in this or any show, as well as links to the products and services that we've mentioned, please go to our show notes on the website, and Kelly, the address is?
Kelly:
www.frequencycast.co.uk.
Listen to FrequencyCast Show 85 - Includes an interview with EchoStar
More information: