EnergyEGG - Energy Saving Egg Reviewed
We take a look at clever little energy-saving gadget that is the EnergyEGG. When you leave the room, the EGG switches off your tech to save power, and money.
What is the energyEGG?
It's a rather clever gadget that turns off your electrical items when you leave the room, to help you save on your electricity bill.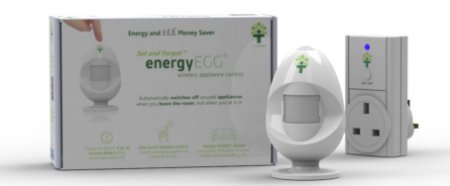 The concept is a simple one - the kit includes a motion detection sensor (PIR) and a special mains socket. When the sensor detects no movement for a specified period of time, it assumes you've left the room, and sends a wireless command to the mains socket - asking it to switch off. When you walk back in the room, the socket switches on again. Simples.
energyEGG UK Availability
EnergyEGG Interview
We met John Sheppard from Treegreen, the company behind the EnergyEGG at Gadget Show Live 2012. Take a listen to our interview to find out more about what the EGG has to offer!
Our interview with John Sheppard from Treegreen - makers of the EnergyEGG
energyEGG Review
The kind folk at TreeGreen in Glasgow supplied us with an early release of this product to get our hands on, and we've been very impressed. We now have one in pride of place in Pete's office here at FrequencyCast, and it's connected to a four-way mains block. When Pete leaves the room or falls asleep at his keyboard, his screen, speakers, iPhone dock and radio all switch off, and pop back on instantly when motion is again detected.
The solution works very well, and there is serious potential for these to be deployed right the way through the house. You can find all sorts of items that consume unnecessary power when you're out of the room:
Lounge: AV equipment, set-top boxes, games consoles, surround sound, etc (but not your PVR)
Office: Unused chargers, monitors, powered speakers, printers and lights
Kitchen: TV, chargers coffee makers, etc
Kid's bedrooms: Games consoles, TVs, DVD players, stereos, screens
Also handy for irons, hair straighteners, etc
From our various test of home electricity meters, we all have so many gadgets that consume power that we forget about or can't be bothered to remember to unplug every day, that the energyEGG could be the perfect solution, and in many cases could quickly pay for itself.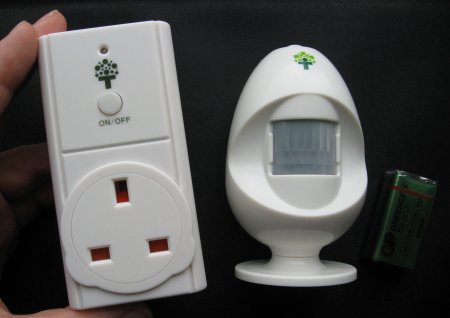 The energyEGG is very easy to set up - plus in the battery, plug in the mains socket, and you're away. The sensor looks like an egg, hence the name, and on the bottom, it has a simple 'egg timer' that lets you dial up a time from 5 to 30 minutes, after which the unit will switch off the socket.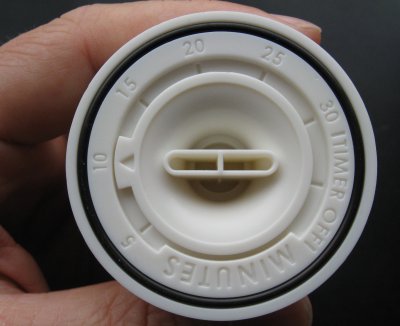 The sensor has something called a 'SitStill sensor' which is able to tell the difference between an empty room and one with motionless occupants, and under our tests, this works very well. Here's our EGG, tucked away on Pete's office shelf,together with some of the gadgets we've reviewed before: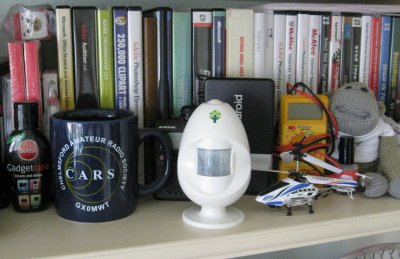 The energyEGG is a simple product that does a simple job well. There's a handy button on top of the EGG to let you override and switch the socket on or off as needed, and we've yet to get a false alarm from our EGG. The EGG also beeps to warn you before it kills the power, and a quick arm-wave will keep the power on. It also beeps on your return to let you know its done its job. The well-thought-out solution also lets you pair the EGG to other receivers, so you can also use one EGG to control multiple sockets and switch off power in adjacent rooms.
We have noticed that some equipment isn't keen on having its power snatched away from it, so be careful. Obviously, removing the power to a computer is not a good thing if you want to keep your documents intact, and we found our HP printer complained about having its power cut ("incorrect shut down"). Devices such as hard drive recorders (e.g. Freeview+ and Sky+) also shouldn't be switched off in this way. The majority of your equipment won't have a problem though, and some serious savings can be had.
In summary, the amount of devices that eat power when we're not using them is huge. As well as the carbon footprint, there's the ever-increasing cost of electricity. This innovative egg could just be the answer!
energyEGG UK Availability
Supplied with?
The energyEGG is supplied with one sensor, one mains plug, a 9V PP3 battery for the sensor and a small 12 page manual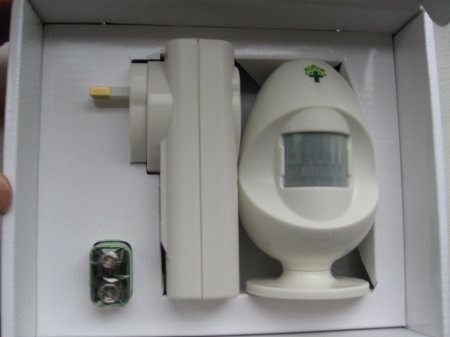 energyEGG Specification
Sensor Range: Approx 2.5 metres from where you sit
Control Range - Up to 20 metres
Consumption: Socket consumes less than 0.25 watts in Off mode
Maximum load: 3,000 watts
Transmission frequency: 433.92MHz
Our interview with the EnergyEGG team, recorded at Gadget Show Live in Birmingham
Related Content: