Hands-on with the Fitbug
Our hands-on look at Fitbug, the online health and fitness programme that put a bug in your pocket. A transcript of our review in show 52.
Listen to FrequencyCast Show 52 - Fitbug Overview
Getting fit with a FitBug:
Here's a transcript of our initial hands-on review of the Fitbug Pedometer
Carl: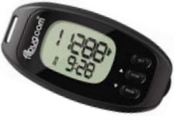 So I'd like to play with this grey thing that you've got in your hand now - what does that do?
Pete:
This is a bug.
Carl:
What - a real bug? - like James Bond bug, a homing device bug? Does it listen to me, or what? What does it do?
Pete:
OK, so we've talked all about photos, and if you're going to have your photo taken, you want to look gorgeous, don't you? So get one of these bugs. Effectively what we've got here is kind of your common or garden pedometer. So you stick it in your pocket, you clip it to your belt, and it keeps track of every step that you take.
Carl:
OK, is that all you get for your money, that little grey thing?
Pete:
Not quite. So this has got a display on it, most pedometers are just little thingies that you clip on your belt and nothing happens, but this has got a nice little display, so that you can see, what's that number there?
Carl:
That's 4,720 ... oh, what's that? - it's a little picture of a foot to the right, isn't that quaint?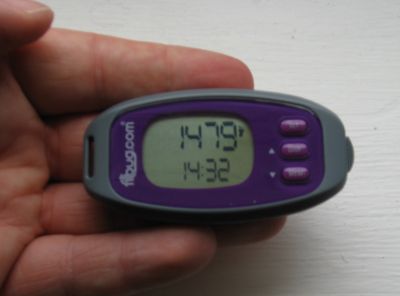 Pete:
There you go, so 4,720 steps I have taken today, the bottom half of the screen there is just the time. You can clip this to your belt, stick it in your pocket or hang it round your neck with this little thingy there, but the clever bit is this USB socket.
Carl:
Well, that's a clever bit, that USB socket.
Pete:
It is, it's a clever bit, this USB socket. So you stick this into your PC, and it downloads all of your footstep information. Where it gets clever though, is the back end of this. It's a service called Fitbug.
Carl:
Right ... a service?
Pete:
Effectively it's a health service, so this records how many steps you take, into the website you put information about what you've eaten, and it does various health checks on you.
Carl:
Oh I see, that's very clever - and that's all automated, is it?
Pete:
It's pretty clever. Now, we've only had this for a couple of days, and actually we haven't really got any serious amount of data out of this. We've got one of the girls in the office, is going to be giving this us a try out for us over the next month. So what we'll try and do is report back in the next show how she's getting on with this.
Carl:
Is it the fit one?
Pete:
At the end of it, she will be, yeah.
Carl:
So what does it come with?
Pete:
Well, it's pretty much this, and this little box here, so we've got a little box, about as big as, what? - a couple of CD boxes bolted together?
Carl:
Yeah.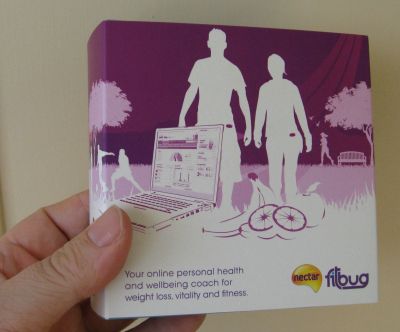 Pete:
And a USB lead, and that is the website that comes with it.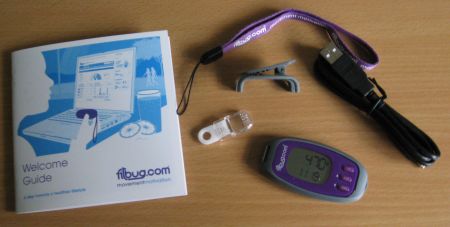 Carl:
Oh right - and this automatically logs on to the website when you connect it to your computer, does it?
Pete:
It downloads all your data, it sends it up to their website, and when you go onto the website, you get all these graphs and things. So there's this sort of energy meter thing here, your calorie intake meter, trends of your fitness and health, and it gives you advice and recommendations, and it's actually intended to be "your online personal health and well-being coach for fitness, vitality and weight loss, movement and motivation".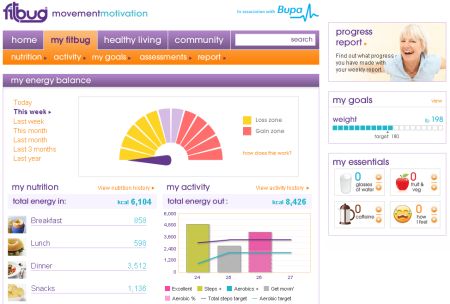 Pete:
The big thing, unlike other sort of diet and health programs, this thing actually motivates you, it sends you text messages, you get weird instructions and things on your computer. It looks pretty impressive actually, and we'll be looking at this in a little more detail. The reason I want to mention it now before we've done a full review is, we've got a 20% off voucher for it.
Get a Fitbug
Fitbug is a subscription service. You can sign up on a monthly basis, but best value is the "12 months" one off fee membership.
Full details and pricing at www.fitbug.com
Carl:
Oh very good - I might buy one. Will it send me sweet texts, like, "You're looking hot today, baby", and "Why don't you try using the stairs instead of the lift, you lazy ..."
Pete:
Yes, we'll let you know. So if you want to try one of these, these are all the rage at the moment - Fitbug is very big business. They've also actually aligned themselves with Nectar, and for every 1,000 steps you take, you get a Nectar point, which is quite cool.
Carl:
Every step you take? - well that's got a bit of a sting in the tail.
Pete:
So there you go - that is the Fitbug, we'll be covering this in more detail, but if you do want one, go to the show notes for today's show, 20% off a Fitbug.
Carl:
Thank you.
Listen to FrequencyCast Show 52 - Fitbug Overview
More information: