Geocaching - The High-tech Hobby Explored
Take your tech out into the open air and explore Geocaching. FrequencyCast takes a look at this new craze, a high-tech twist on treasure-hunting. FrequencyCast is taking part... are you?
What is Geocaching?
It's a high-tech version of the old treasure hunt. There are over a million hidden stashes around the world, and with the aid of a GPS device, you can track them down and find goodies.
It's an engrossing hobby that is growing in popularity at quite a rate, and for FrequencyCast Show 67, we took a look at the Geocache craze to find out more.
Listen to FrequencyCast Show 67 - Geocaching Explored
How to get started with Geocaching
Firstly, you need to register and get a free account on the Groundspeak Geocaching site - at www.geocaching.com
You can then look on the site to see what caches are in your area, and get the GPS co-ordinates for the cache.
Now, get out there and find it!
If you have a smartphone with GPS built-in, then this is tool you need, as the Geocaching app has a map, compass, plus access to clues:
What is a Cache?
Here's an example of a standard cache - it;s the one that we found in Show 67. A waterproof box containing a few goodies, plus a log to sign and say that you found it, and when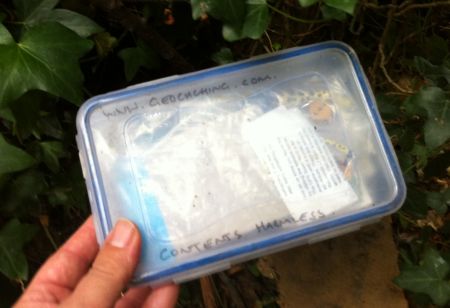 When you're going out looking for Geocaches, take a pen, and a few goodies to leave behind. The rule is, if you take something from a geocache, leave something of equivalent value.
As well as the standard type of cache pictured above, there are also Nano and Micro caches out there, stacked away in very cunning locations.

The Garmin eTrex Pocket SatNav.
Under £65 - eTrex at Amazon

Geocache Nano Container
Things you need to know
There's quite a lot to the hobby, and the more you get into it, the more you discover. Trackables are an important part of the hobby, and there are thousands of trackable items out there - either an item attached to coded dogtags, or special coins that need to be moved between caches.
| | |
| --- | --- |
| Travel Bugs. Each has its own page, and you can track its journey | Garmin Chirp GPS Beacon. These are durable waterproof beacons that can be tracked by compatible wireless-enabled Garmin handheld. They store hints, coordinates, confirm that the cache is close, and keep a tally of visitors |
FrequencyCast and Geocaching
After our little field trip finding our first geocache, Carl and Pete have been bitten by the bug, and we're now active Geocachers. We've placed a few memory sticks out there in the wild. Known as "Travel Bugs", we can track the FrequencyCast memory sticks and see if they're able to travel around the country. We'll keep you updated on the progress.
This is what you're looking for: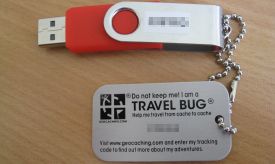 The FrequencyCast Geocache Travel Bug. Can you find it?
Bonus Material: Our full Geocaching Field Recording (15 mins)
Geocaching Questions
Got a question or a comment on geocaching? Get in touch
More information: