iSites from Genwi - iPhone App Service Reviewed
iSites is a service that launched in 2010 to allow creation of iPhone and iPod Touch applications without expensive development outlay. We tried the service, and here are our findings
What is iSites?
iSites is a service from developers Genwi. The iSites service launched in January 2010, offering the chance for companies and services that don't have an iPhone app, to get a presence on the most popular of mobile devices without costly development.
The premise is simple. The iSites team create a 'framework' application with a web interface. Customers sign up, upload graphics and text, and link to their website's RSS XML feeds. The feeds populate the application, and the images and text provide branding.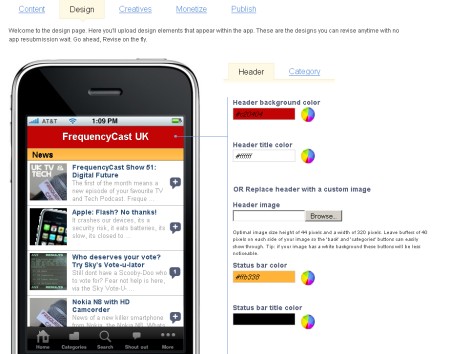 Screenshot of the iSites Application Design tool
The web interface allows the customer to tweak the order of feeds, change colour schemes, add new feeds, and alter the application's text. Once happy, you pay your money to iSites, they package your app with their framework, and submit it to Apple's App Store for approval.
When the service launched in January 2010, iSites was swamped, and had to briefly close the door to new signups - possibly something to do with the low $25 dollar fee.
Clearly overwhelmed, in March 2010, the $25 for an app was replaced with a $299 a year for an app service.
The application design process
Very straightforward using the iSites website - no downloaded apps needed. Assuming you have one or more RSS feeds that you have ownership of, you can build you app very easily. Paste in the RSS address, name the feed, and you're there. It's then a case of picking some colours, adding some titles and texts, then you can see the app in front of you.
You also need to upload three images - an application icon, a splashscreen (shown when the app is loading), and a banner to be displayed on the iTunes store.
The submission process
Once designed, you submit to iSites and they do an initial review of the app. This is to ensure that it stands a chance of getting through iTunes rather strict acceptance criteria.
Assuming they accept it, you're then in a queue for them to submit to Apple. It seems they have a limit of 5 submissions a day, and there can be a 2-3 week wait for Apple approval (or indeed, rejection).
App Advertising
Should you so with, you can have your own adverts inserted into your app - typically this is done using AdMob, the mobile device advertising service, and could be used to re-coup some of the development outlay.
Our Experience
It feels like it's been a long slog, but FrequencyCast finally has an iPhone application, created using Genwi's iSites. The process took longer than we were originally expecting, but this appears to be in part due to the volume of apps that Genwi have been dealing with, and some changes to the iTunes submission policy, which necessitated some changes to the core iSites application.
We originally created our app and paid our money in February 2010. The Android version appeared in a few days, but it wasn't until almost the middle of April until the app finally hit the App Store.
Some of the delay also appears to have been down to a communication issue from Genwi. After a long period of radio silence, and our requests for an update on Genwi's support forum went unanswered, we contacted Genwi by mail, only to be told that our app hadn't been submitted, as they no longer thought that our logo and banner graphics were up to scratch. They appear to have decided to hold off submitting the app because of this, but hadn't actually told us to fix our artwork. Once Genwi were happy with the artwork, they submitted the app two days later, and Apple approved the app just two days after submission.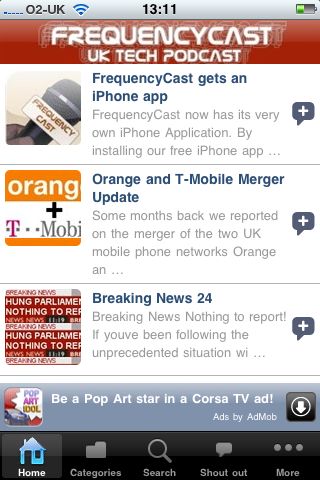 Our app on an iPhone
In summary, apart from the various delays, we've got iPhone and Android apps out there - they work, and our initial feedback from our listeners is a positive one. If you're looking to get onto the two hottest family of phones, the iSites offering is just the ticket.
To judge the quality, search for "FrequencyCast" in either the iTunes App Store, or Google Marketplace
Android Submissions
Obviously, the iPhone is where everyone wants to be. In addition to supporting the iPhone, Genwi also has a framework for the Google Android OS, and can also create an Android application. Submission to Android's Marketplace is a lot less rigid than Apple's acceptance process, and many have reported getting their application into Google's Marketplace in a matter of days.
FrequencyCast has a Genwi-created application available for Android. Search "FrequencyCast" from the Market application on any phone powered by Google's OS.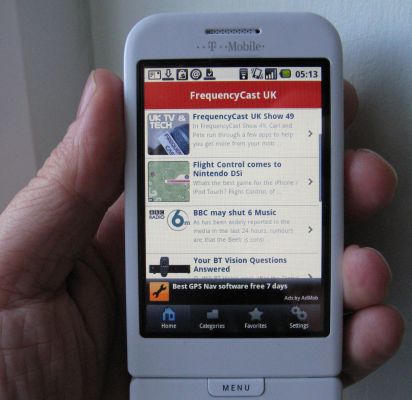 FrequencyCast application created on iSites
More information: