TV and Radio on a Mobile
On this page, we take a look at some interesting products that allow you to get TV and radio services on mobile phones in the UK
Virgin Mobile Lobster 700TV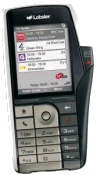 What is it? A mobile phone that offers digital radio and TV from an onboard receiver.
What does it do? Receives up to 50 channels of DAB digital radio, and a small number of digital TV channels. Unlike some mobile TV services, this doesn't rely on downloading streaming TV over an expensive mobile phone data connection - it has a built-in DAB radio, and uses a service from BT Movio to allow TV content to be viewed without an Internet connection.
The BT Movio service on Virgin's Lobster 700TV currently supports five TV channels - BBC One, ITV 1, Channel 4, E4 and ITN News. If you're on contract with Virgin, then the TV service is free - otherwise, if you've got the phone on pay-as-you-go, then after a 3 month trial, TV subscription is £5 a month. Radio is free.
The phone? It's a tri-band phone powered by the Smartphone version of Windows Mobile v5.0, comes with a 1.3 megapixel camera, and supports Internet and email over GPRS. Battery life: 140 hours of standby. 64Meg RAM with micro-SD slot. Connects via USB and Bluetooth support
More details? Carl and Pete took a look at the Lobster 700 for show 07 of our podcast, and you can listen in to the show to find out what they thought.
Summary: An excellent mobile phone, sadly discontinued in July 2007. The Lobster 700 was available free on contract, or for less than £50 on pay-as-you-go from www.virginmobile.com.

Mobile Phone Networks
A number of UK mobile phone networks offer a TV service using their Internet service. Here's a quick summary:
Orange TV - Up to 16 channels of TV content to watch over the Orange 3G mobile network. Find out more at www1.orange.co.uk/entertainment/TV


Vodafone - They've teamed up with Sky to offer an impressive lineup of channels including Sky One, Comedy Central, Discovery, Eurosport, MTV, History Channel, National Geographic and a stack more. Details at www.vodafone-i.co.uk/live/live_tv.html


Three - Various TV offerings including live TV from ITV, and a clips service. MobiTV is worth a look - this offers 17 channels of telly (including ITN, Cartoon Network, CNN, Bloomberg and more), and is available on the following handsets: Nokia 6630, Nokia 6680 and the Nokia N70. Details at www.three.co.uk/planetthree/

The services mentioned above are streamed to your mobile phone using the phone's Internet connection. Your phone network will almost certainly charge you for this service - either by getting you to subscribe, or charging you for the data you download in accordance with your data tariff. Check out the phone network's website for costs.

Know any more phone services that we should mention? Let us know
Slingbox Mobile Player
This application runs on Windows Mobile devices and some Symbian mobile phones, and if you're lucky enough to have a Slingbox connected to your home TV aerial or Sky box, you'll be able to watch your own TV setup on your mobile.
Towards the end of 2006, a version of the Sling Mobile Player for Symbian smartphones was launched - check out UK operator 3's X Series for details of a package offering Slingbox on a high-speed mobile network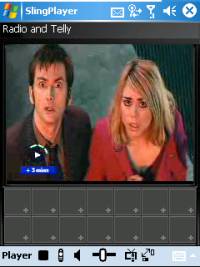 Sling Mobile Player
More details: See our Slingbox page for the full story on using the magic Slingbox
Orb

You can also get TV on your PC, then stream it to your mobile phone, using a service called Orb. A number of the more recent TV cards are now supported by the Orb service. Orb provides a small application that sits on your PC, and acts as a TV server, allowing you to connect in to your PC over the Internet, browse an electronic programme guide, and set shows to be recorded. You can also stream live TV or programmes that you recorded on your PC earlier, over the Internet to an Internet-enabled PDA. Orb runs on most Pocket PCs, Symbian smartphones and the Treo W, and can also be used to access MP3 audio as well as your photo collection, directly from your PC remotely.
The Orb software itself is free, and is downloadable from www.orb.com - Note that there's a special version available for the UK. The standard version makes use of a US TV listings service, which isn't much use for those of us in the UK. Although the software is free, you do need a compatible TV receiver for your PC. In the UK, the PC TV receiver manufacturer has bundled Orb together with a USB PVR USB2 TV receiver, under the name TV Anywhere. At the time of writing, this was priced at £99 from PC World online.
Got a question on mobile telly and radio that we can answer in our next podcast?
Call 020 8133 4567 or send us a message