Living with Nabaztag
In our first show, we took a look at the Nabaztag, and got our hands on one for show 5. This page takes a closer look at this gizmo:
We featured Nabaztag in Show 5
Well, our Nabaztag has finally arrived, and is now firmly a part of the FrequencyCast team. Here's a little look at what our little chap's doing for us...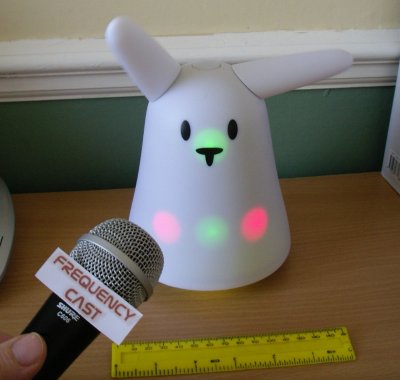 Nabaztag, being interviewed for Show #05
What is a Nabaztag?
It's a wi-fi wabbit with wiggly ears. The Nabaztag uses an existing wi-fi network to connect to the 'net and listen out for messages. This includes email messages, weather reports, stock market news, etc. When it sniffs out a message, it'll wake up, wiggle its ears, read out the text it's found, and flash it's lights in a unique sequence. Here are some of the things that Nabaztag can do:
Email alerts - get your Nabaztag to let you know when an important mail's arrived - use a dedicated email address, or have Nabaztag check your existing POP email accounts
Allow users to send your bunny a message over the Net
Clever use of the front panel lights to alert you of weather, stock news and other key events Text-to-speech services - get your bunny to read news headlines, weather, stock news, and an RSS feed Wake-up call - with an extract of your favourite MP3 track
Random events, such as mood notification, ear exercises, etc
Getting a Nabaztag
Pete, our Technologist, got terribly excited about the Nabaztag back in April, but trying to get hold of one was a problem, as the main UK supplier, Firebox.com, was out of stock, with a long waiting list and no news on availability. We managed to acquire one from online store Pixmania.co.uk, and now have a little chap hooked up the FrequencyCast network, keeping us company while we work. Below is a list of places to hunt out your own Nabaztag:
Using a Nabaztag
Our Nabaztag was shipped in from France by Pixmania.co.uk - and as such, didn't come with a UK mains plug - instead, we had to use a shaver adapter to plug our cheeky chappie in (shopper note). The Nabaztag is pretty self-contained - no manual, no software, no accessories - just the mains adapter, a single sheet of paper as the instructions, and of course, the Nabaztag.
The bit of paper supplied with our unit gives the impression that all you need to do is switch on, then activate at www.nabaztag.com - sounded to easy to be true... and indeed it wasn't. If you're trying to connect to a wireless network, this plug-and-play approach is only likely to work if you have a basic and insecure network. That having been said, set-up's not actually too painful - but you do need to get online and download the setup manual. In summary, here's what you need to do:
Plug your Nabaztag into the mains.
Go to www.nabaztag.com , enter your rabbit's serial number and create a nickname. Their server then tries to find your unit. Our network is secure, so this failed. You then have to set up your Nabaztag to work over a secure network - to do this, you follow the instructions on the supplied Nabaztag PDF, as follows:
Unplug Nabaztag, hold down the button between its ears, plug in power, then release button when Nabaztag turns Blue
From a PC with a wireless network connection, go into "Wireless network connection", and browse for wireless devices. Make an ad-hoc connection to your Nabaztag, that appears as a connectable device Once connected, from your web browser, go to the local address of http://192.168.0.1
On this page, there's the option to enter the details of your wireless network, including network SSID , WEP key , IP address , subnet, gateway , DNS and (if appropriate) proxy server settings
Once you've set up the details of your wi-fi network, the Nabaztag website should be able to 'see' your rabbit and start communicating. Most of the setup is handled on the Nabaztag site. Some of the features require you to purchase a subscription, but the basics are all free.
Our summary? This is a clever little gadget that makes good use of wi-fi to keep you informed. Likely to be of interest to power users that like clever technology - or anyone with a wi-fi network that's ever bought a Furby. We're finding more and more uses for our little chap all the time.
Nabaztag News: Nabaztag Tag
In our February 2007 show, we announced that there's a new bunny on the scene - the Nabaztag Tag. This has the same basic functions of the first bunny, but had a microphone in it's bellybutton for recording sounds and doing speech recognition, and can "smell" objects placed in front of it, using stick-on tags for recognition - for example, it can 'smell' that you're home when you wave your keys near it.
The new version, Nabaztag/Tag is available now from Firebox.com.
Got a question on the Nabaztag that we can answer in our next podcast?
Call 020 8133 4567 or send us a message