Oakley Thump 2 Glasses Reviewed
Here, we look at one of Carl's favourite gadgets, the cool Oakley Thump MP3 Sunglasses. We looked at these briefly in Show 11, and they feature in Carl's Top Ten gadgets.
Oakley Thump 2 - MP3-enabled Sunglasses

Carl explains why these are a must-buy gadget, and just how cool they are (honest!)
These high quality sun glasses have a built-in mp3 player stylishly incorporated into their design. The arms of the glasses house both the head phones and the controls for the player volume, skip forward, skip back, stop, play, pause and the on/off.
If you chose not to the use the mp3 player the head phones can be put in a parallel position to the arms making them almost unnoticeable to the unsuspecting observer.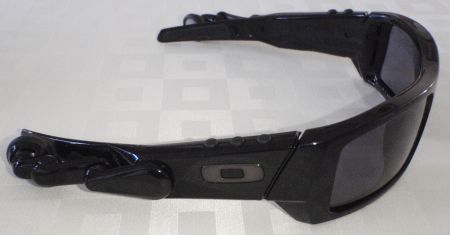 Why these glasses 'rock':
Whilst these 'sound' like the ultimate in gimmicky gadgets these have proved to be one of the best investments I've ever made. I like to go for long bike rides in the summer months more often than not solo, not particularly through choice I might add, however when getting ready to go I have to prepare by going through the check list pump-up tyre's, tighten crank, fill water bottle, baseball cap, sun glasses etc... but then I would question whether I wanted music on my ride and in the past that would have meant a cassette 'Walkman' with a variety of cassettes then I would need a method of carrying it and running the headphone cable up the inside of T-shirts so it didn't get in the way.
Now, no is thinking required, music and glasses in one with a good variety of music permanently available, if required.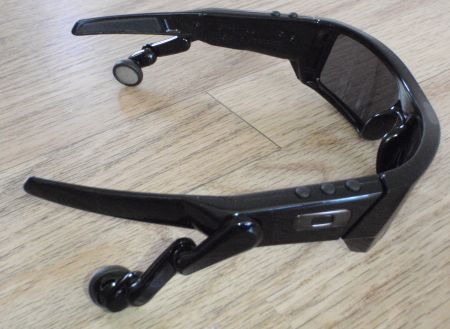 More Information
The stats on the Oakley Thump 2:
No wires or cords to dangle or tangle - Music and shades in one unit
Up to 6 hours of playback time on a single charge
Store up to 240 songs on the 1 GB version, up to 120 songs on the 512 MB version, or up to 60 songs on the 256 MB version
Solid-state flash memory with no moving parts
Lens contours that maximize protection against sun, wind and side impact
Durable and lightweight O MATTER® frame material
Other Stuff Like This: