Social Collaboration - Share and Enjoy
Life's better when we work as a group. Here's a transcript of our look at a collection of PC and mobile phone applications that make use of the power of the collective to make things better
Listen to FrequencyCast Show 55 - Social Collaboration
Be social and share with these apps and sites:
A look at some handy apps and services to help save money, drive around and fix PC bottlenecks. Here's our transcript:
Carl:
Next up, it's time for some social collaboration - or is that actually just you and I, are we going down the pub?
Pete:
Yes. Social collaboration - do you know what that is?
Carl:
Not really ... pub? McDonald's? Happy Meals?
Pete:
So this is something we're going to talk a little bit about today, social collaboration: the idea that you've got a crowd of people out there. If you pull all your people together, you can create something good. The big example of this is Wikipedia.
Carl:
Oh yes, it's where you learn nothing about everything.
Pete:
That's the one. So you can create a Wikipedia entry, other people can edit it, and in theory you've got a very up-to-date and slightly odd database that anyone can contribute to.
Carl:
Right. So how does this get any bigger?
Pete:
Wikipedia's Wikipedia, and that's absolutely fine and dandy, but there are a few other things that some of our listeners might not have actually come across, so I'm going to give you a couple of other examples of other collaboration tools that might be handy things for people to try.
Carl:
OK.
Pete:
The first one I'm going to talk about, just to give you an example of collaboration, is my pet favourite - now, you hate this. When we go out for an occasional drive after recording, I've always got my smartphone on with one application running. Go on - what's that?
Carl:
Waze.
Pete:
Waze. It's a little app, it sits on your smartphone, connects to GPS, and you drive about, and it munches roads, and the idea is we're building up a completely free, user-generated, set of roadmaps with speed alerts and road conditions and all that kind of stuff. I'm a Waze editor, so I drive and create roads for the little area I live in, and update all the maps and everything else. If you haven't tried Waze, give it a go. It's a really cool way of collaborating and sharing road data.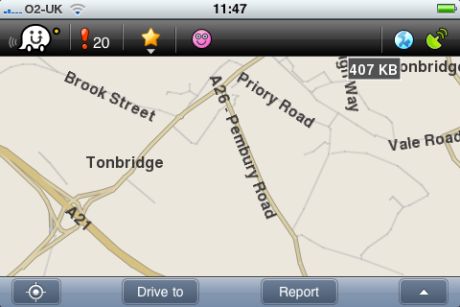 Carl:
And you're working very hard on this, aren't you? - because you only do it on your pushbike?
Pete:
Yes. I've got the special FrequencyCast cycle clips on today, as you can see.
Carl:
Oh, I thought you were trying to bring baggies back in from the Eighties.
Pete:
So that's Waze, a very good example of social collaboration.
The next one I want to talk about is something called Soluto.
Carl:
OK, so what does Soluto do to you?
Pete:
First off, let me spell it, because I've probably pronounced it wrong: Soluto.com. Now, one of life's big frustrations is PCs, and the fact that they're slow, and they crash and they don't do what you want, and and they're a bit of a pain - agreed?
Carl:
Yeah.
Pete:
So the beauty of this is it's crowd sourcing for your PC. So what it will do is it will look at all the applications that start up when your PC boots up. It's got something called frustration detection, so if it sees things going wrong, it can help you out, and basically it will share all of the data it collects about how these machines boot up, what goes wrong with these, and harness the power of the crowd to give other people help with solving their PC problems.
Carl:
Right, I see. So it's a social help network?
Pete:
Pretty much, but there's some automation to it, so it monitors what your computer's up to, and where it sees you getting frustrated, it will see how other people have solved their frustration for the same problem.
Carl:
How does it know that you're frustrated?
Pete:
Oh, it's very clever.
Carl:
It's not got like a Wii camera on you, and sees you smashing the keyboard?
Pete:
It's using this thing called PC Genome to try and work this out, and I think the idea is, if it frustrates you, it probably frustrates other people. So by comparing problems and bottlenecks, you can actually work out where people are struggling. So it's a really nifty idea, and it's just worth a look: Soluto.com, link up on our shownotes, another good example of people helping each other out.
Carl:
Got any more for us?
Pete:
Briefly, I want to mention this one - Foursquare.
Carl:
Oh yeah - it's for you then, it's for a square.
Pete:
This is rather handy - as you go to certain places, you go to a restaurant or whatever, you can see other people's tips, and what people think about a ...
Carl:
Sorry - is this a Hooters' joke?
Pete:
But it lets you see tips about what people have experienced in certain restaurants and certain public buildings. So Foursquare, it's a nice idea, you check in somewhere, put in your tips, put in your thoughts about a certain place, and share that information.
The other two: something called Vouchercloud - now we used this recently, didn't we?
Carl:
Oh yeah, this is where you can sit in a restaurant, and find out whether you can get five pounds off or something, wasn't it? - mid-meal?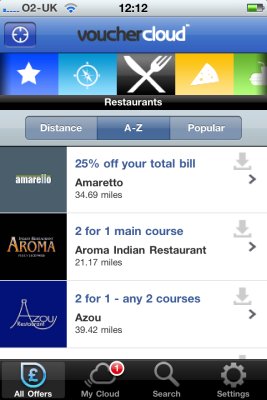 Pete:
Now, we did this at our local Frankie and Benny's, didn't we?
Carl:
We did.
Pete:
There you go. So Vouchercloud, it's on the web. You can also get an iPhone app for it. If you've got a smartphone, you might also want to look at something called Vouchers, which is from Moneysupermarket.com. If you've got an Android phone, VouchAR. All of these little programs give you handy little voucher codes, and it's just a serial number that you show your waiter/server, or the shop that you're in, and it'll give you money off. It's also for things like travel agents, clothing shops - looking down my one here, Moss Bros, Pizza Hut, Superbreak, Tenpin Bowling, Thomas Cook - it's a free application, and you might find you're saving some money.
Listen to FrequencyCast Show 55 - Social Collaboration
More information: