Stoway Charger Tidy
Carl looks at a unique solution to the problem of tangled cables, a product we featured in Show 55...
I Didn't Know I Needed One... 'til I Got One:
We've all bought things in the past, which at the time we wondered whether or not they would be worth it, or just end up collecting dust or in a bin. These items can range in price from a couple of pence to even hundreds of pounds depending on how frivolous you might be feeling at the time of purchase.
The items to which I refer are not fully appreciated at the point of purchase but it's years later when you need to replace it, or think you need another one that's when you truly realize the effectiveness of the product. A more expensive example for me would be my mobile phone. Originally reluctantly purchased for emergency calls only, yet now I don't know where I'd be without it but it's usually the simple and cheap things that surprise me.
As an example, I recently purchased a lap tray designed for either a laptop to go on or any other work you may need a solid surface on your lap for, such as craftwork, art or maybe just your dinner plate. This has a light fitted to the top left, a drink holder top right and a penholder along the bottom. I remember at the time thinking well apart from the light the other fixtures will be superfluous and in fact I was a little dubious about how much I really needed the entire product but sure enough to this day it is one of the best £9 I have ever spent. I'm even using it now! If a sales person had told me to buy one of these when buying my laptop I would not have entertained the idea but if a friend had recommended one at a later date then at that price I would and that's exactly what happened to me the other day with my latest acquisition.
I have to tell you about this because now I have some I really appreciate how simple and effective this invention is yet at the time of purchase I was a little almost reluctant to part with my money yet now I'm currently calculating just how many more to buy.
The Stoway
What could it be? Well to put it quite crudely. It's a piece of plastic that fits over the three prongs of a plug with a plastic fastener slide. The description is not meant to inspire you it's the genius of it's function. The benefits of using one, the simplicity of it's engineering and the way it is so neatly complimented by it's price.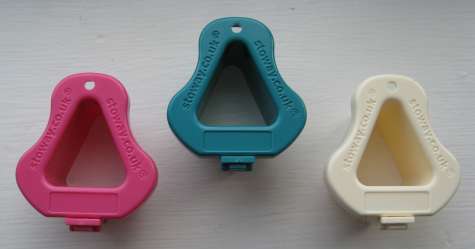 What does it do? Basically, it keeps the cables of your chargers, such as phone, PSP, camera, etc... tidy.
Who, Why and When would it be needed? Most people who own anything that requires a mains lead power charger especially if they own multiple devices each with their own charger.
These clever little gadgets prevent cables getting tangled up, damaged or causing an accident and can be used to identify the correct charger quickly providing an efficient way to both store and transport said charger.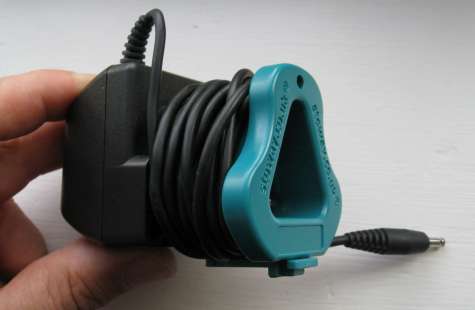 A typical example of this, is a friend of mine who takes her phone to work to charge it. When she got to work, the first thing she would do is plug her phone in. What I found amusing was the fact she had clearly tried to coil it up to put it in her handbag but it always became unraveled on the journey to work. So when she attempted to removed it from her bag most of the contents came out with it each morning. I've seen several people have similar issues what with all the devices we carry around in work bags etc...
A very simple but effective idea, is the fact they come in multiple colours so that you can colour code your power chargers to make identifying them quick and efficient. What's even better is the price - £7.99 for a box of three. These don't seem to be available in the shops (yet), but you can order them online from www.stoway.co.uk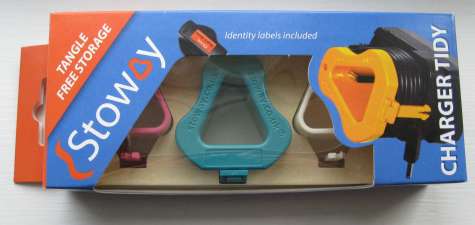 I know this may all sound like a sales pitch, but really I just wanted to share a little bit of wisdom with you about my latest bit of, 'Do I really need one of those?' products and in this case 'I did.'
If you're not too sure, buy one or three and find out for yourself - you might find I'm right!
Carl, August 2010
Listen to FrequencyCast Show 55 - Stoway Review
Related Links: