TalkTalk TV / Tiscali TV Reviewed
This page looks at TalkTalk TV, the digital TV service formerly known as Tiscali TV.
What is TalkTalk TV?
TalkTalk TV is a digital TV service in the UK. It was known by the name Tiscali TV until January 2010, and is available is available in London and a number of larger towns and cities in the UK. It uses your existing phone line to deliver digital TV to your home.
What's on offer from TalkTalk: TalkTalk TV offers over 70 channels of digital TV (including Sky One, FX, ITV2, Sky Sports News and Comedy Central). On-demand content includes 1500 on-demand movies, over 5000 music videos, hundreds of TV series, and a TV rewind service.
The TalkTalk TV service starts from £19.99 including up to 8 Meg Broadband, with free set-top box.
You can find more information at talktalktv.co.uk
Listen to our review of Tiscali TV in Show 32:
More on TalkTalk TV
TalkTalk TV offers a wide range of digital TV channels over broadband. Their TV Variety pack offers over 70 digital TV channels including Sky 1. There's also a seven day catch up service and loads of movies and TV shows available on demand.
Take a listen to our audio review in Show 32, where show listener Alan Hart walks through what Tiscali TV has to offer.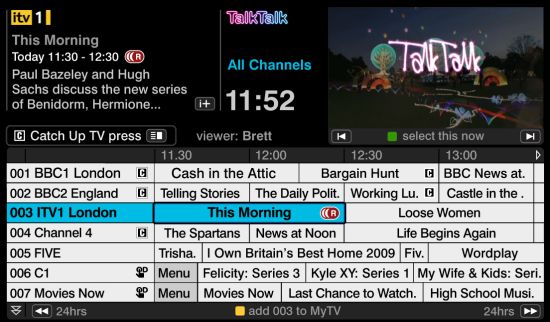 Screenshot of TalkTalk TV's Electronic Programme Guide
The TalkTalk+ box
Instead of the basic TalkTalk TV box, you can opt to get their TalkTalk+ box, which combines a PVR hard disk recorder. This is available for a one-off fee of just £50 (2 month contract applies). Here's what the TalkTalk+ service offers:
Record up to 50 hours
Series Link
Pause and rewind live TV
Record two programmes whilst watching a third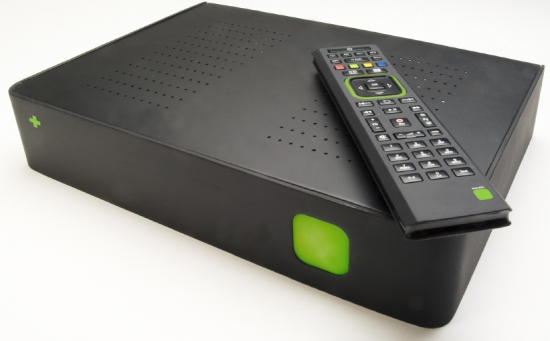 The Tiscali+ set-top box
Listen to our review of Tiscali TV in Show 32:
Got a comment on TalkTalk TV? We'd love to add your voice to our next show - call 020 8133 4567.