VuTV - Subscription TV over Freeview
We talk to the team at VuTV about the subscription TV service available on Freeview, and what channels this service offers.
Listen to FrequencyCast Show 93 - Includes our VuTV Interview
VuTV Coming Soon:
We interview Marie Ellis from VuTV about their upcoming service. Here's a transcript:
Transcript continues from Broadband Britain Report
Pete: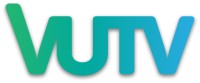 Next, it's time to chat about a new TV service that's on the way. We mentioned this briefly in the last show, and it's a service that lets you access channels such as Comedy Central, History, MTV and Nickelodeon, all over Freeview. The service is spelt VuTV, which we think is pronounced "view TV", don't we, Kelly?
Kelly:
We do, well we hope it is.
Pete:
And to find out for sure, we spoke to Marie Ellis, who's the Marketing Manager for this new service.
Marie:
The name of the company is VuTV.
Pete:
Excellent. Now, this is the new TV service that will be launching in the UK fairly soon. Could you just give us a little bit of a feel for what this service has to offer?
Marie:
VuTV is an exciting new pay TV platform, about to launch for Freeview HD homes. It will air on Freeview channel 238, and it will give a wide range of premium channels from the likes of Comedy Central, MTV, History and a catalogue of kids' programmes, like Nickelodeon, Cartoon Network, Boomerang and Cartoonito. So that'll be available to interconnected Freeview HD homes.
Pete:
OK, so I've got this right, this is going to be delivered over the internet, so you need your Freeview HD TV connected to the internet – is that right?
Marie:
Yes, absolutely right.
Pete:
And presumably you'll go into this particular channel, and there's a list of channels there, and you can watch whichever one of those channels you're after?
Marie:
Yeah, so VuTV will actually as a portal, so the channels won't have numbers. So you'll need to just sign up on the website, and then you'll go to channel 238, and then you'll have access to the wonderful world of VuTV.
Pete:
Excellent, OK, well that sounds superb, and some good channels coming up there. The History channel's one that I'm certainly interested in, and Comedy Central?
Marie:
Yeah, it's fantastic, because we've managed to work with Viacom networks, A & E networks, and Turner Broadcasting to get their portfolio, so we have quite a wide range of entertainment programmes, such as Comedy Central, Bio, MTV. We have CNN providing news, the History, and also Lifetime, which is going to be any networks launched, so that'll be coming onto VuTV, as well as the whole big portfolio of kids' programmes.
Pete:
OK, so the big question – when will this service be available on Freeview?
Marie:
We will be launching in November, which is an exclusive, I think, because we haven't confirmed that to anyone else.
Pete:
Ooh, I like that – excellent! Any news on the pricing as yet, or is that still to be confirmed?
Marie:
That's still to be confirmed.
Pete:
OK Marie, so if someone wants to find out more about VuTV, what will they do at this stage?
Marie:
Simply go to VuTV.com, enter your details, and we will be in touch shortly about the launch.
Pete:
Thanks to Marie from VuTV, for another FrequencyCast exclusive, and we'll be returning to this service once it's launched.
Transcript continues: Odd Tech Gadgets Revealed
Listen to FrequencyCast Show 93 - Includes our VuTV Interview