WeTab - the alternative home tablet
Who needs an over-hyped, oversized iPod touch anyway? There are alternative tablet devices out there. We take a look at the well-specified WeTab tablet device.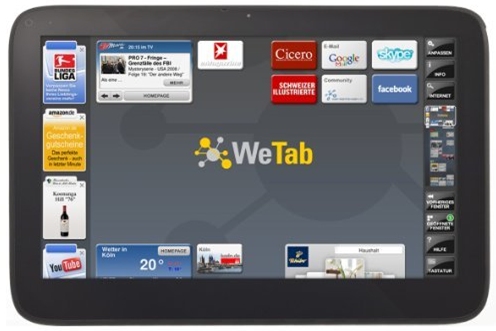 The WeTab - The iPad's European Rival?
What is the WeTab?
From German firm Neofonie, the 4TiiToo WeTab sports an 11 inch touchscreen. It's clearly going head-to-head against Apple's iPad, but has a lot more to offer. It's powered by the MeeGo Operating System (originally, it was meant to be powered by the Android Operating System), it supports USB add-ons, has a front-facing webcam, has multitasking and a faster processor. The potential is huge.
When launched, the WeTab was known as the WePad. In May 2010, they renamed to WeTab, presumably to ensure there's no confusion with Apple's own product.
We'll be adding more info on the WeTab shortly, as soon as we have a little more info.
In early May, the WeTab went on sale in Germany for 449 Euros. No news on UK prices yet.
WeTab Specification
Slightly larger than the Apple iPad, the WeTab is very well specced. Unlike the iPad, the WeTab supports multitasking, has two USB slots and has a front-facing webcam.
Here's a summary of the headline WeTab specs:
Size: 288 x 190 x 13 mm
Processor: Intel Atom 1.66GHz N450 processor
Screen: 11.6-inch touchscreen - resolution 1366 × 768 pixels
Operating System: Meego OS (Linux-based)
Battery: Rechargeable, 6 hour battery life
Connectivity: 2 USB ports, 1.3 Meg web camera, Wi-Fi, memory card reader, and 3G module


WeTab Side View
How do I get a WeTab?
At the time of writing, there's no confirmed price or UK availability. The WeTab was meant to have been released to the UK market in June 2010, but several months later - no news. It's available in Germany for 449 Euros.
If you have any information about a WeTab UK release date, please let us know.
Watch this space!