Yale Home Digital Door Lock Reviewed
For Show 79, we took a close look at the Yale Digital 1 Door Lock, with some expert help. Never be locked out again with a keyless home door entry system from Yale.
Listen to FrequencyCast Show 79 - Yale Digital 1 Door Lock
Hands-on with the Yale YD01Y3CH Keyless Digital Door Lock:
We enlisted the help of door access expert Tom for help with this new product that makes keyless door entry a doddle. Here's the transcript...
Transcript continues from: eBook reader with White Text
Kelly:
Right, so Pete - here it says, "door locks" - what's that all about?
Pete:
Ah - the future of doors. OK, it's out and about time on FrequencyCast, and I'm getting some help here from Tom, who you heard on the last show reading out some questions. Hello there, Tom.
Tom:
Hello, Pete.
Pete:
We're looking at a little product here from Yale. We've been sent this - Yale, of course, very famous for their door locks, and generally they make pretty good locks, don't they, Tom?
Tom:
They do. They are top end of your locks - if you want a good lock, then Yale is the place to go.
Pete:
And just to explain, Tom - when you're not doing stuff for us here on FrequencyCast, what's your day job?
Tom:
I do access control. If you want a way of getting into your property or building or business, then I'm the man to see.
Pete:
Excellent, so who better to help us out with this lock? - and basically this is intended to replace your standard home domestic door lock, and the idea here is, rather than carrying a key, you use a key pad. Now, there's some serious advantages to this - for one thing, if you forget your keys, you can get in, which is, of course, great. If you're out, let's say you go out jogging, you don't have to worry about lugging a bunch of keys around with you, and effectively you never get yourself locked out.
These systems have been around for secure buildings and businesses, but now Yale are getting it into the home market, and with this system here that you install yourself, you get a keypad system.
So this is it, and it installs on the side of your door here, and what you've got is a chrome-coloured unit with a display, and what you do, Tom, is you put your hand - just put your hand on there for me. So you're putting your hand on it, and a little keypad lights up. If I put in the wrong pin number, you get an error, so you can't get in. Palm on there to wake it up, and put the right pin in - there you go, and you heard the little mechanism unlock there, and now ... right Tom, so that's how it works. What do you think?
Tom:
I think it looks quite modern. It's quite stylish - I like the chrome. I think ease of use, it's a fantastic little lock - I would use one.
Pete: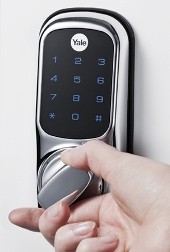 It's got some nice little features. The idea is, you have to put your hand on the panel to make it light up, which apparently is so that you rub off your fingerprints, so people can't see which buttons you've been pressing, and it's quite secure. It lets you programme in your own code, anything from four to twelve digits. If we look on the back side of the door here, let's just shut the door ... if we look on the back side of this, you open the cover there, and this is how you programme it - you press the button here to set it, and then round at the front, you type in the pin number that you want to use, and you press the hash key, and then you type in a guest one, so you can have your own personal pin for you and your family, and then a guest one, so if you've got somebody coming to feed the cat, or something like that, they can get their own pin number.
It's also got this concept of a fake pin as well, so if you've got a guest coming to the house, and they're looking over your shoulder, they can't get a feel for what your pin is - you put in some dummy numbers before it, which is rather clever. Do you think this is fairly secure?
Tom:
Yeah, I mean they're using the same technology in their latch locks there, which most people have got on their doors already, so the security is still there. All you're doing is, you're replacing the key side of it with a key pad, and I feel that they've covered everything. If the batteries run out, and you forget to change them, you can even put a nine volt battery on the terminals at the front, and it gives you access to get in, and you can change them then. So yeah, they've covered everything - it's quite a stylish little unit.
Pete:
If you do put the wrong pin number in, you get five goes to put your pin in, and then it locks you out for three minutes, which is intended obviously to stop people just guessing the numbers. And what about the installation? - this is intended for home installation, so unfortunately, Tom, we won't be calling in the likes of you to come and do the work.
Tom:
No, that's a shame, but no - for installation, I've looked through the details, and it's quite straightforward. You've only got to drill one hole, because you can take your existing lock off, use that same lock hole, and just drill another hole to put your cable through. It comes with a template. For ease of use and fitting, I think it's spot on.
Pete: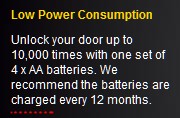 That ends all those worries about going out and forgetting your keys, or having to stick a key under the plastic frog in the garden to let yourself in in an emergency. Yeah, the batteries, four AA batteries go into the back, and they have to be changed every twelve months. If you actually look on the Yale website, and we did that for some research, what does that say there, Tom?
Tom:
It says, recommend the batteries are charged every twelve months.
Pete:
Yeah, we think they mean changed, especially given they're alkaline batteries - there you go. How much would you pay for one of these?
Tom:
I reckon you're looking at probably £100?
Pete:
Current retail price £120. You can get them for about £100, if you shop around online. So, recommended by Tom?
Tom:
Oh, definitely, yeah. If you've got children, and you don't want to issue them with keys to your house, you can just give them a pin, and they'll come back and open the door - it's fine.
Pete:
Thank you very much, Tom.
Tom:
That's OK, cheers Pete.
Transcript continues: Local Digital Radio
Listen to FrequencyCast Show 79 - Yale Digital 1 Door Lock