Facebook Phone – Audio Review of the INQ1 online
As part of our promise to get a new Tech podcast out each week in December – here's this week's show – covering a new handset release.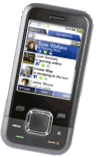 Carl (suffering from a bout of scurvy), sits in a studio with Pete and looks closely at the new INQ1 phone from 3, better known as The Facebook Phone.
Slick integration of Contacts, Instant Messaging and Social Networking, this is a surprisingly powerful little phone. Listen to our 9 minute audio review of this low-priced, high-spec phone.
More details on our INQ Review page.
The INQ1 is available free on a contract, or £79.95 on Pay-as-you-go at www.three.co.uk.
FrequencyCast Update 14 Dec 2008
[ 9:42 ]
Play Now
|
Play in Popup
|
Download