FrequencyCast on Facebook
If you follow the FrequencyCast podcast, find us on Facebook. On this page, we also review the INQ Facebook phone
FrequencyCast - Facebook Fan Page
Show your support for your favourite tech podcast - Add us to Facebook - Become a fan of FrequencyCast
INQ1 Facebook Phone Review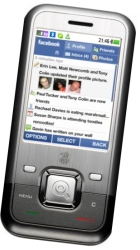 The INQ1 phone, more commonly known as the Facebook Phone, became available on the 3 network in December 2008.
Our podcast team got hands-on with the Facebook phone in front of a microphone, and a little further down the page, you'll find a link to our audio review - please take a listen.
The INQ1 integrates phonebook, Facebook, Windows Live Messenger and Skype, making it easy to keep up to date with what your friends are up to, and provide an easy way to get in touch by phone, Skype, text, picture message, instant message or Facebook. Facebook status messages appear in your address book, and you can also get fast access to your friend's blog entries.
The phone has a capable 3.2 Meg camera (sadly with no flash), a web browser, media player (with Last.FM scrobbling), PC connectivity, Bluetooth and high-speed Internet access. The camera can upload snaps directly to your Facebook account.
The phone is a well-made slider with a clear non-touch screen, that works well as a phone, and is a real bargain, especially as if you get it on contract, you get unlimited Internet access for Facebook, MSN, Skype calls, email and browsing.
Other applications on the phone include: video camera, alarm clock, calendar, calculator, world time, stopwatch, voice recorder, PAC-MAN, Premier Scores, Yahoo Weather, RSS reader.
The phone is supplied with a 1 gig micro-SD card for storage of photos, media, etc. Handily, the phone can also be used as a modem when connected to a laptop.
The INQ1 is manufactured by AMOI in China, and designed by INQ
The INQ1 is available free on a £15 a month contract, or £79.95 on Pay-as-you-go. Details and online ordering at from www.three.co.uk.

We get hands-on with INQ1 Facebook Phone in our December 2008 update
Here's a collection of screenshots from FrequencyCast's INQ1 handset:
The contents of the INQ1 box: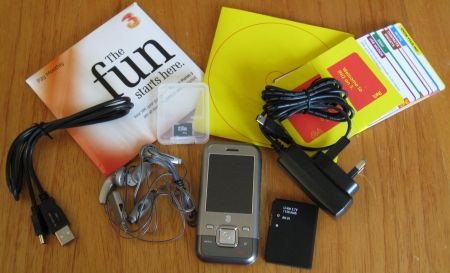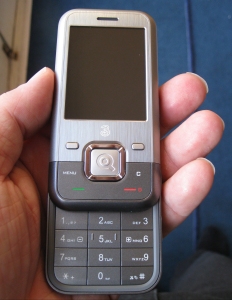 In summary - the Facebook Phone, a.k.a. the INQ1 from 3... nice phone with a bucket-load of social networking features. Don't spend out on a Smartphone - this is very capable phone. More details at three.co.uk.
Got a question on the INQ1 Facebook phone that we can answer in the next show? Call 020 8133 4567 or send us a message
Other links