Boogie Board, the versatile drawing tablet
A cross between an old drawing slate, an Etch-a-sketch and a kids drawing pad, this is a high-tech alternative to pen-and-paper, and it's the perfect gift. He get hands-on with a Boogie Board
Doodling with a Boogie Board:
Our team was at this year's Gadget Show Live at the NEC in Birmingham, and one of the bits of innovative tech that caught our eye was the Boogie Board - impressive technology in a family friendly product: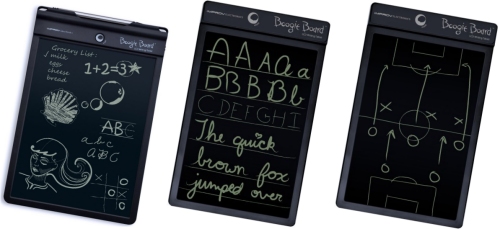 What is a Boogie Board?
There are a few in the range, but they are thin nifty boards that let you write or draw on the black background, then erase what you've drawn with a single button-press. They're suitable for all ages, from 2 to 92.
Great for doodles, without wasting paper
Very handy for long car journeys with the kids
Business meetings and note-taking
Educational uses and games
Not going to break or shatter like a tablet
Our resident artist Carl had a go on a few different Boogie Boards to show off his design skills: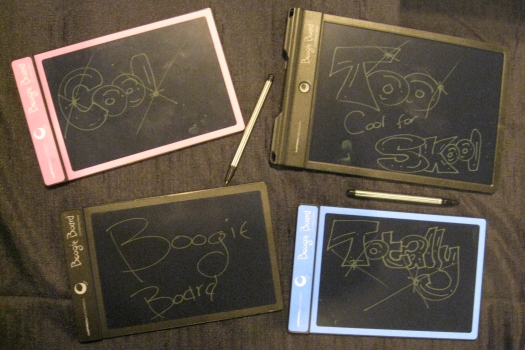 More on the Boogie Board
If you're interested in the Boogie Board, take a listen to our interview with Kevin Oswald, Communications Director for Improv Electronics, makers of the Boogie Board.
FrequencyCast Interviews Kevin Oswald from Improv Electronics
In our interview, we wanted to find out a little more able the under-the-hood technology, and who the product is aimed at. Kevin explains just what makes the BB tick:
"Boogle Board is an LCD writer. It uses a reflex LCD screen made by Kent Displays in Ohio. What's unique about the reflex LCD is that it does not require to write on the surface or keep the image on the surface. It requires a little bit of power to erase it."
We likened it to one of the various eBook readers out there, such as the Kindle, which is very battery-friendly only requiring power to change a page. Kevin confirmed that there are some similarities:
"We make an e-Writer. In both cases they uses reflective display technology. They don;t have a backlight, require very little power and look good in direct sunlight"
The basic model is powered by a small coin-cell battery that's good for 50,000 erases. There are several models in the range, starting from a budget model, to one that lets you save and export images, called the Boogie Board Rip Writer.
Boogie Board UK Availability:
The Boogie Board Range is available from Amazon
The Boogie Board is great for families and as an aid for young children looking for a new way to express their creative and design skills. It's also great for spelling tests, noughts-and-crosses, Pictionary, and much more.
They get a 5 out of 5 from the boys and girls here at FrequencyCast.
Carl's Blackboard Doodles
In our little audio update, Carl was drawing on an old school blackboard - as promised, here's a photo of what escaped from his brain, and ended up on the blackboard....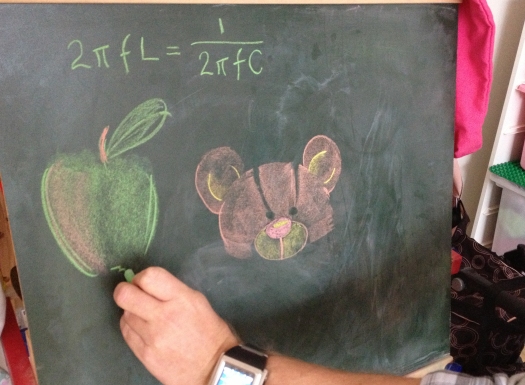 Got a Boogie Board, or a question we can help with? Please get in touch!
Related Links: