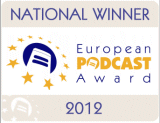 Gadget Show Live 2012 - FrequencyCast Report
The FrequencyCast team was at this year's Gadget Show Live at the NEC in Birmingham. Here's our summary of the top tech that tickled our fancy up in Birmingham
Pete and Carl were at the NEC in Birmingham for the 2012 Gadget Show Live consumer electronics show. We were there on the Press and Professional day on Tuesday the 10th of April, one day before the public opening, and we've been talking to the exhibitors, taking pics and live tweeting!
In Show 75, we focus on some of the top gadgets and products that we tried out at the show.
Gadget Show Live 2012 Report: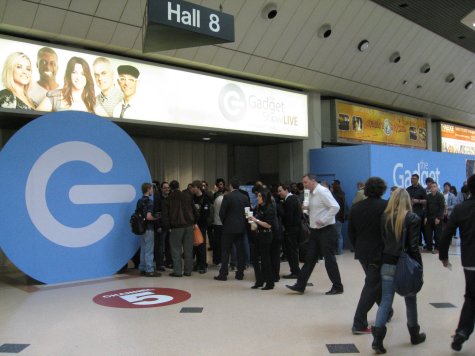 NEC Birmingham Gadget Show Live 2012 - Doors about to open
Gadget Show Live 2012 - Report from Day One! (11 mins)
Loads of interviews and pics from Gadget Show Live 2012 to follow - after we get some sleep. Here are a few pics to whet your appetite
AR Drone 2.0 from Parrot
A very impressive flying gadget - control this Drone from your iPhone, complete with AutoPilot! More details on our Parrot AR Drone 2.0 page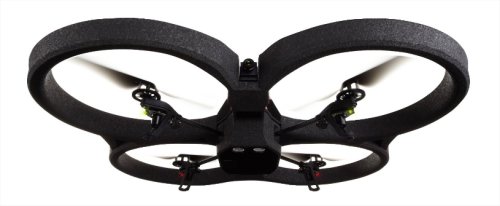 EnergyEGG Electricity Saver
An egg-shaped sensor that's designed to save on your electricity bill. Made by TreeGreen, these switch off your appliances when you leave the room. See our energyEGG Review for the full interview and our review of this cunning product. The energyEGG is available for £40 from Tesco Direct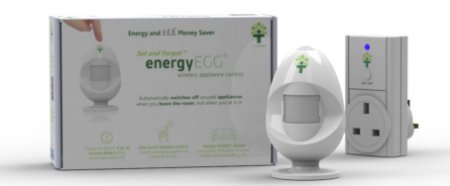 Bubblepix
It's only fair to say that we were blown away by this piece of tech. Attach it to your iPhone 4 and take awesome 360 degree panoramic images and video that has to be seen to be believed. For more, see our Bubblepix Review.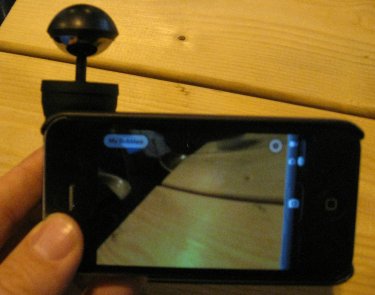 A must see - Bubblepix 360 degree images for iPhone - See it to believe it
QB Mito USB Speakers
Powerful little speakers with an impressive battery life. Get the full story here: Qb Mito USB Speaker. The Qb-Mito is available in the UK from Advanced MP3 Players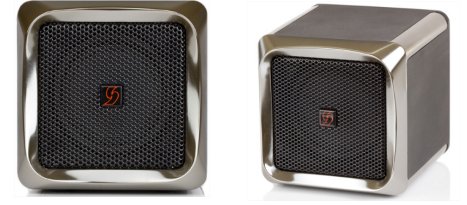 iPieces iPad Games from Jumbo
Four games for the iPad, with some iPawns - Play Air Hockey, Fishing, Snakes & Ladders and The Game of Goose. More details: Jumbo iPieces Games. Air Hockey - Available from Amazon.co.uk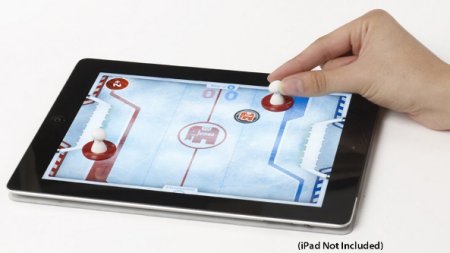 Ayegear Gadget Jacket
As real men don't carry handbags, gadgetwear is the answer, and the smart jackets from Ayegear make toting your tech easy. With 22 pockets and some clever features, these jackets can hold your gadgets in place and help to reduce your airplane carry-on hassles. For our interview with Ayegear, and more information, see Ayegear iFriendly Clothing.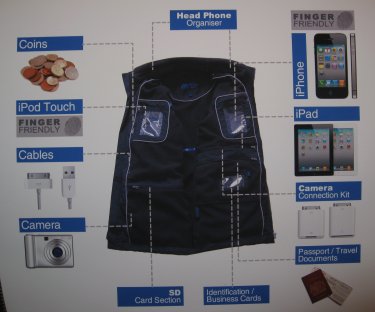 AyeGear - Tech jacket multiple gadget pockets
Slouchmat
Not the most high-tech product we saw at Gadget Show Live, but one of the most useful. This neatly solves the problem of trying to use a mouse on your lap, or on any uneven surface. Catch our interview with Slouchmat's creator, and find out where to get one, here: Slouchmat, the Mouse Mat.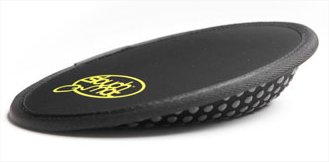 Slouchmat - The sits-anywhere mouse mat
Terrier i-temp
Take control of your home heating bill by replacing your radiator value with a programmable Terrier i-temp TRV
Nextorch
At first, the idea of a USB-programmable torch might seem batty, but there are lots of reasons why this is a damn good idea. Find out why this makes sense: Nextorch Smart Torch Review.


The Nextorch myTorch AA - Smart USB-programmable torch
Fitbit Wireless Tracker
This has to be our gadget of the year - a wireless tracker that counts your steps, checks how much work you do and logs your sleep. Combined with food tracking, a website and a smartphone app, could this be the ultimate health tracker? Fitbit Tracker Reviewed.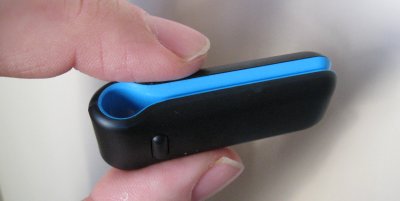 The Fitbit - Wireless fitness tracker - available at Amazon.
Boogie Board Electronic Sketch Pad
One for the family, this is a modern take on a paperless way of taking notes and recording doodles. Using similar technology to eBook readers, this is a great kids present with some educational value. Boogie Board Sketch Pad Reviewed.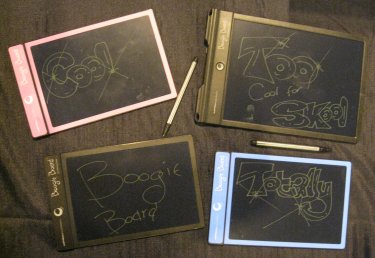 Boogie Board Writing Pads - Perfect for kids and available at Amazon.
Voiceworks v1 Bluetooth Car Kit
If you really must check your texts in the car, this hands-free kit with speech recognition may just help: Voiceworks v1 Car Kit Reviewed.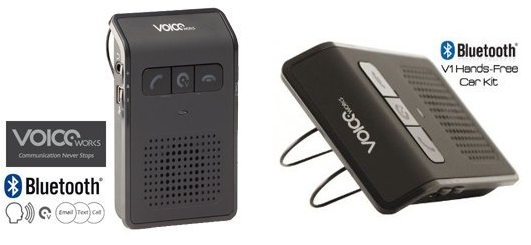 Voiceworks V1 Car Kit with speech recognition - available at Amazon.
Tekview
Three products from this one company - a home security camera that sends images via SMS, a spy camera that records video onto SD card when it senses motion, and a mains socket that you can talk to with a text message. Want to know more? See Tekview Products Reviewed.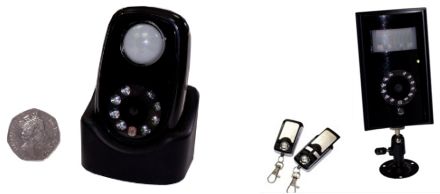 The Video Pal and the Alert Pal from Tekview
X-Pro Tools Spirit Level
Could this be the ultimate spirit level? We talk to the creator of this innovative take on the traditional spirit level. Details here: X-Pro Tools Spirit Levels.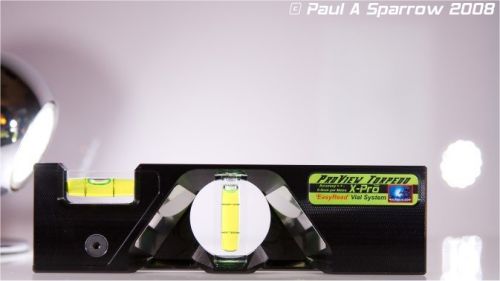 ProView Torpedo Spirit Level from X-Pro Tools
WOWee One Speakers
Clever and powerful gel-filled pocket speakers that pack a punch. Find out more about the WOWee One range here: WOWee One Speakers Reviewed.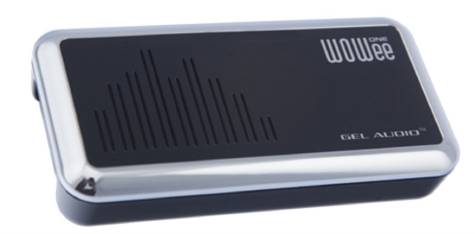 The WOWee One Classic - available at Amazon.
More Products:
We'll be adding more interviews and reviews of the products we found at the show, in the coming days. Here are a few pictures to whet your appetite: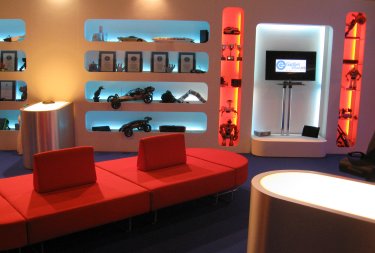 Gadget Show Studio Set - Wanna be a presenter?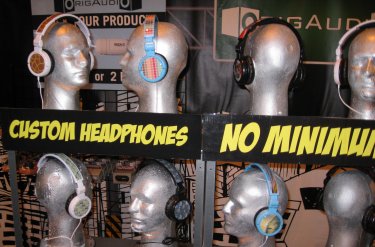 Customisable headphones from OrigAudio
Looking for our coverage of previous years? See: Gadget Show Live 2011 and Gadget Show Live 2010
Related Links: