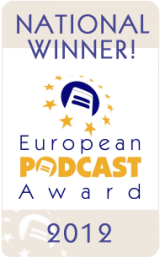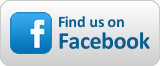 FrequencyCast UK - Show 100
The show notes to go with Show 100 of our technology radio show.
Listen to, or download, FrequencyCast Show 100 (30 mins)
Show 100 NEWS
Here's a look at the news stories covered in Show 100:
eBay Passwords: First up, the story of the moment continues to be eBay. If you haven't already - don't forget that you need to change your eBay password. Password, dates of birth and addresses of up to 145 million customers were compromised earlier this year, and last month, their service was struggling to cope with millions of users logging in to change their details. A helpful article on the inquirer website suggests you also change your name by deed poll, and move house... just in case. Inquirer: Other Ways to prtect your privacy


Skype Translator: Next – could the Star Trek Universal Translator seen be a reality. Microsoft has announced plans to launch a beta test of Skype Translator, following decades of work with speech recognition and translation technology. When launched later this year, it will enable real-time language translation on Skype calls.


New channels on the way: Coming soon - TruTV. This channel is a hit in the US, looking at real-world characters. Expect this to be free-to-view in the UK in the coming months. Also coming soon, this time to Sky, the channel that gives you wings - Red Bull TV is on the way.


Google ChromeCast Offer: Thinking about getting Google ChromeCast - the HDMI dongle that turns your telly into a smart TV? Get £5 off and a £4.99 Play voucher - for a limited time... Google Chrome at Tesco - To get £5 off, use the code TDX-HQ9T




Braille Mobile Phone: Next up, news of the first braille phone. We met the team from Ownphone at Gadget Show , who showed us their range of phones for kids and the elderly, with just a few buttons to call selected contacts. They've now released a customisable braille version with uses 3D printing. www.myownfone.com


Media Podcast Closes: Sad news for fans of the Guardian's Media Talk podcast – it's coming to an end. It launched 8 years back when FrequencyCast launched and has been a great source of media news and gossip. Sorry to see you go...


Freesat Films-on-demand: Good news for Freesat customers next as the first movies-on-demand service has been announced. The service is to be supplied by Curzon Home Cinema, the UK's leading independent cinema group will allow Freetime time customers to watch some films on the same day as they're released at the cinema.


And finally... What's been making us laugh this week? BBC local radio at its best... Have a listen via the following YouTube links:

FOCUS: 100 Shows of Tech
FrequencyCast started back in April 2006 - For this, our 100th show, we look back at what the world looked like back when we started, and at some of the stories we've covered along the way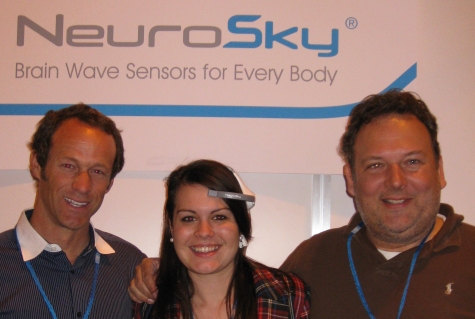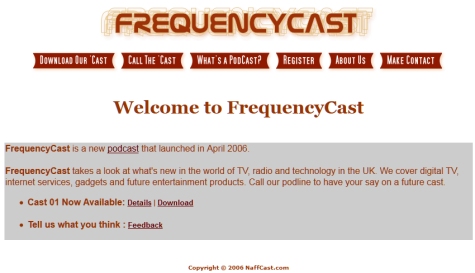 How the FrequencyCast site looked in April 2006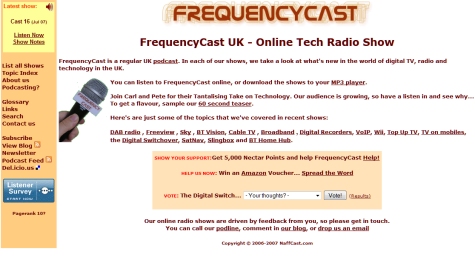 How the FrequencyCast site looked in late 2007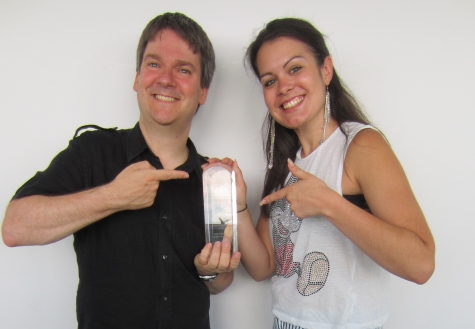 Pete and Kelly with the 2012 European Podcast Award
FEATURED: Samsung Wireless Media Sharing
We looked at a new media device from Samsung - the Samsung Wireless 1.5TB drive - We spoke to David Klenski, Product Linve Director for Samsung...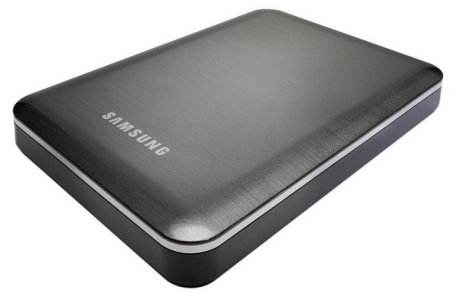 Samsung 1.5TB Wireless Media Device - Available from Amazon
DISCUSSED: Changes to the Dartford Crossing
The way you pay to cross the Thames at Dartford is set to change from October 2014. We =give you a quick sumamry of what to expect. More: Dartford Thurrock Crossing Changes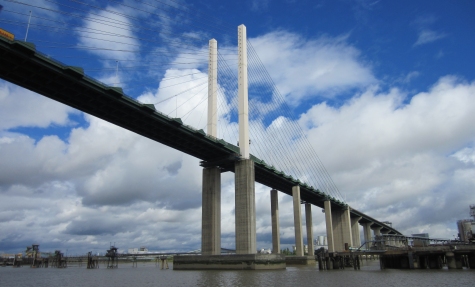 Dartford-Thurrock Crossing
Please Use Our Amazon Store!

When you're shopping at Amazon please use the link frequencycast.co.uk/amazon - It won't cost you a penny more, and shopping via our Amazon shop helps to pay for our running costs!
Cast 100: Interaction
Thanks to everyone who got in touch with us since the last show. In this show, we respond to the following mails and calls:
TV Control follow-up:
First off, George Waterhouse asked: In the last show we heard from George Waterhouse with a complicated question about controlling TV's over the Internet. Yes, and one listener got in touch to say he might have the solution He didn't give his name, but said:

"Not an entire fix, but Red Rat might do part of what George wants.
FrequencyCast Centenary:
Next, Steve from Preston got in touch:

"Congratulations on 100 shows! I'd like to know where you record the show. Do you do it at home, or in a studio? How did the idea for the show come about and whatever happened to Carl?"

Carl and I started out in the radio industry, and after never having worked on a project together, the idea of trying a new podcast was borne. Carl is still a part of the team, and we included a few snippets of him in this show. As for how the show's made, see our "Making of" video:
Kelly vs the Thermal Kettle:
Next, we heard from John Clegg about the Vektra Thermal Kettle we mentioned in the last show:

"I think Kelly was right to be sceptical about the Vektra kettle, but for the wrong reasons! When you boil water you drive off dissolved oxygen. Then if you keep it and boil it again you drive off more, and the taste isn't very nice. For that reason you should use fresh each time, and to do that economically the Breville Hot Cup is the ideal solution."

To help out, we tested the theory...
Got a comment or question? You can leave us a voicemail by calling 020 8133 4567 or sending us a message. We'd love to hear from a few more of you, so please get in touch and say "hi" - our shows are driven by your feedback - So talk to us!
Want new shows as soon as they're released?
Get FrequencyCast shows automatically, as soon as we've finished them:
Got iTunes? Add FrequencyCast to iTunes


Otherwise, use Juice or another podcatcher to subscribe to our show feed.
Our feed address: https://feeds.feedburner.com/frequencycast