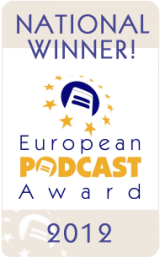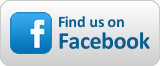 FrequencyCast UK - Show 112
The show notes to go with Show 112 of our technology radio show.
Listen to, or download, FrequencyCast Show 112 (30 mins)
Show 112 NEWS
Here's a look at the news stories covered in Show 112:
Windows 10 Is Coming: Users of Windows 7 and 8 computers have already started receiving pop-up messages about the imminent arrival of Windows 10. This will be rolled out as a free upgrade from 29 July, and brings back the Start Menu, Microsoft's virtual assistant Cortana, a new web browser called Edge, plus a number of other changes. More importantly, this will be the last version of Windows – Out goes the concept of a new OS from Microsoft every few years – Windows 10 is the final version with incremental updates being made over many years. Let's hope they get it right!


Cortana Spreads: Staying with Cortana, Microsoft's rival to Siri – expect this be available on Android and iOS very soon, allowing the virtual assistant to be on your desktop, laptop, tablet and smartphone. There's no escape.


Google News: News from the Google I/O Developers Conference. A new version of their mobile software, Android M can be expected by the end of the year with support for fingerprint authentication and a feature called Doze that can double the battery ;life of Android devices Also in their pipeline, Android Pay, a mobile payments system, and offline versions of Google Maps and YouTube, so you can still watch and navigate when there's no signal - no excuses for getting lost any more guys!


Apple Message Crash: Apple next, and keep an eye out for a software patch coming soon for iPhone users – as it's possible to crash people's devices by sending a text message with certain non-Latin characters


Netflix Trailers: Enjoy Netflix? The video-on-demand service is testing "pre-roll" trailers for the start of their shows. Whilst Netflix has stated it won't have third-party ads on its service, these trailers to promote other Netflix shows will be seen by some as an intrusion, especially if they can't be skipped.


And finally - In a bid to bring better mobile coverage to rural Britain, Vodafone is rolling out booster boxes that can improve a home's reception of signals from nearby cell towers. The boxes are designed to blend into the environment and are disguised as bird boxes. The system, call Rural Open Sure Signal is designed to fix to places such as the wall of a pub in a remote community. According to Vodafone, no birds have yet been fooled into trying to nest in a booster. If you know a bird who's been affected, drop us a tweet… Sorry…


FOCUS: Show 112
Periscope
We tried this month's show live on Periscope - A new app that used live streaming over Twitter. Periscope is available from the Apple App Store and from Google Play.
Smart Meters
This section of the show was inspired by the following mail from Andy in Thamesmead:
"A while ago I contacted my electricity company who informed me the law said ALL electricity companies would eventually be required to fit these to every user. Great you may think, but hang on… a SMART meters is an added expense that is not strictly necessary for everyone, and EVERY consumer will be forced to pay for. This will probably be £500-£1000 on everyone's bill once the meter is paid for and it's taken half a day to fit by two "qualified" union employees. I for one do not need a meter to tell me how electricity I'm using (wasting) as I'm not that STUPID. Some people may want a meter, so I say let them have one if they want to pay for it. For me it would make an expensive "boat anchor" for my terraced house that I was forced to pay for!
We last looked at smart meters a couple of years ago, but with their launch getting closer, it's time for another look. We spoke to Tim Jones from British Gas. For the full version of our interviews, see our British Gas Smart Homes feature.
Augmented Reality cards
We recently tried out some excellent Augmented Reality cards that bring animals to life. In this show, se speak to Stella from Octagon Studio. You can find out more at 4d.octagon-studio.com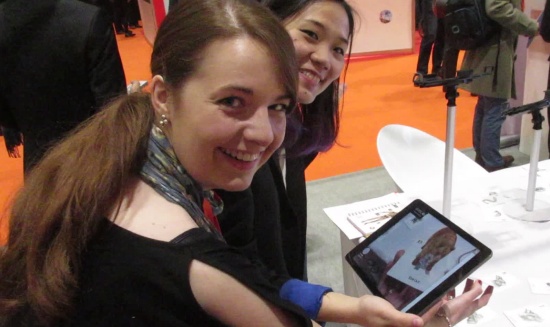 Alice, with Stella from Octagon Studio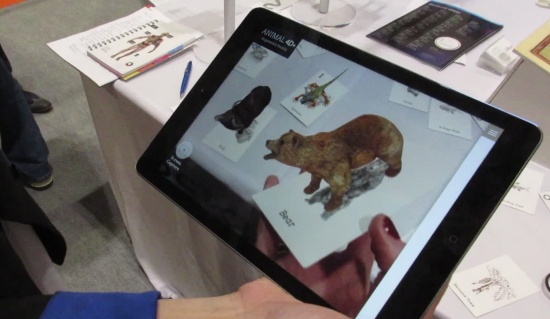 A 4D bear, courtesy of Octagon Studio
Online Amateur Radio Training
For details of a new online training scheme for amateur radio, go to www.hamtrain.co.uk
Tools for entrepreneurs
OK - So a backpack is not a tech product, but we spoke to Sarah from RiutBag about how she used various free online tools to get her product off the ground.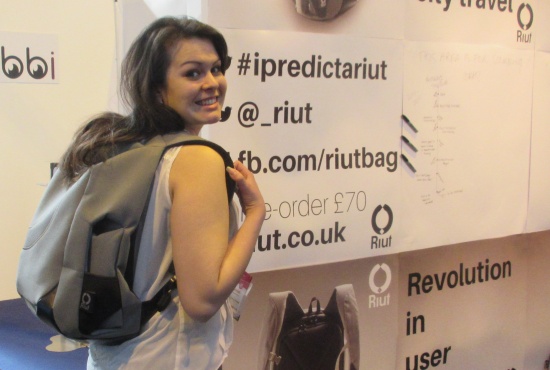 Kelly modelling a Riutbag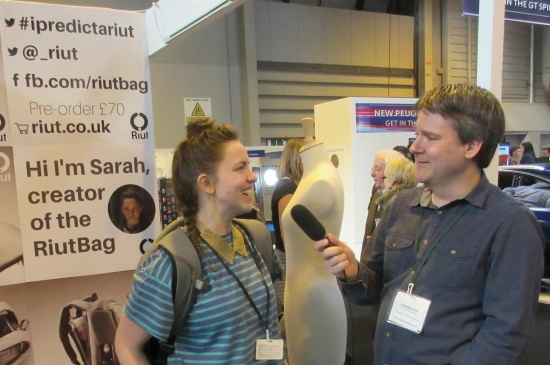 Pete interviewing Sarah, the creator of RiutBag
Please Use Our Amazon Store!

When you're shopping at Amazon please use the link frequencycast.co.uk/amazon - It won't cost you a penny more, and shopping via our Amazon shop helps to pay for our running costs!
Cast 112: Interaction
Thanks to everyone who got in touch with us since the last show. In this show, we respond to the following mails and calls:
BBC Streaming Radio:
Following on from our piece in the last show about the BBC's changes to streaming radio, we asked listeners to get in touch to let us know which radios worked, and which ones don't. Here's the response:

Geoffrey Miller: "In response to your request for feedback about BBC internet radio reception, I have a Marantz M-CR610 unit (purchased earlier this year) which works fine with the BBC internet radio channels. However, I prefer the FM broadcasts as the quality is far superior. By the way, I listen to all the podcasts using the Juice aggregator so I can put them on a USB stick and listen in the car. Great stuff, please do keep it coming. Andrew: I have a Roberts stream 93i, and it does not work with the new codec. I am very annoyed, about this!"

Andy in Thamesmead, who we heard from earlier, said: "I have a PURE-Evoke 1xt Marshall edition, which receives the BBC perfectly."

Peter Howav said: "I was using Rhythmbox in Ubuntu, this stopped working, as well as flash in Firefox. That's because Flash had been updated and they no longer supported old processors until I did a Firefox reset. Don't ask me why. So to get over that I was using a programme called "get_iplayer" a Linux programme. This stopped working too. I've found the following two links for BBC Radio – they seem to work but drop out every now and then and also broadcast a message saying "This programme cannot be broadcast for copy right reasons". Perhaps they are for overseas?

Any more radios working or not working? Get in touch!

FM in Norway:

Peter Howav also highlights the news story that Norway to switch off FM radio in 18 months - This is set to save Norway £17m as year –The world will be watching!

Got a comment or question? You can leave us a voicemail by calling 020 8133 4567 or sending us a message. We'd love to hear from a few more of you, so please get in touch and say "hi" - our shows are driven by your feedback - So talk to us!

Want new shows as soon as they're released?

Get FrequencyCast shows automatically, as soon as we've finished them:

Got iTunes? Add FrequencyCast to iTunes


Otherwise, use Juice or another podcatcher to subscribe to our show feed.
Our feed address: https://feeds.feedburner.com/frequencycast