British Gas Smart Home Meters
We take a look at new Smart Meters from British Gas that report on your gas and electricity usage, and find out how these are being rolled out to customers for free.
Smart Meters Explained:
The FrequencyCast team was at this year's Ideal Home Show in London, where we caught up with Paul Grosvenor from British Gas. He's from their Smart Homes Team, and he told us all about their new range of products. Take a listen to our interview to find out more:
Interview: Paul Grosvenor from British Gas Smart Homes Team (6 mins)
Interview: Smart Meters Explained - Tim Jones from British Gas (8 mins)
The British Gas Smart Energy Monitor is a nifty device that displays information about a home's electricity and gas usage. We've covered electricity meters in the past, but this device does both gas and electricity, to give you the full picture.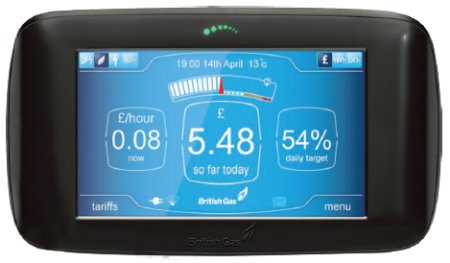 With this Smart Meter, you can compare what you're using right now, against the previous few hours, days, weeks, or months. You can also set targets, and get a warning when you're going over your target or using lots of energy. These meters also do away with meter readers and estimated bills as data on usage is send direct to British Gas.
Smart Meter is just the start of the story. Heating control, control your home from a smartphone app, wireless home security system, and even electric vehicle charging. There's also the option to get solar panels installed, and sell electricity back to British Gas.
For more details, go to britishgas.co.uk/smarter-living.html
Smart Meter Installation
Unlike the electricity monitors that clamp around you electricity meter, this is a meter swapout. By 2019, the Government has mandated that home meters are to be replaced with a Smart Meter to give customers more information on how home energy is being used... and wasted. Meter swapout will be free, and customer's meters will be replaced gradually between now and 2019.
As we mention in the interview, the British Gas Smart Meter sends meter readings automatically using SMS text messaging, although data over the mobile data network is an option too.
Home Security from British Gas
The Smart Homes team have some other tricks up their sleeve too. Given that your Internet-enabled home may soon be equipped with a smart meter, it makes sense to add a few extras. One such product comes in the form of a home security system that keeps an eye on your house whilst you're out.

The system uses sensors around the home to detect door entry, motion or smoke, and can send a message to your phone to alert you. Video camera are an option too, and the system can be controlled from a keyring fob. The system is wireless, and it's an easy DIY installation. We're hoping British Gas will let us give one a try!
Remote Control
Another product we way being demonstrated, is a smartphone app to allow you to take control of your home when you're out and about.
With Remote Heating Control, British Gas customers will be able to check the temperature at home, turn heating on and off, and set the temperature. Features include:
Remote control of your central heating system
Setting a 7 day heating schedule
Automatic frost protection, to prevent pipes freezing
View the status of your heating, set-up and receive alerts direct to your mobile phone
The service will also be expanded to allow customers to switch off individual appliances from the smartphone app too.
Update: We're now taking part in a trial of Remote Heating Control for British Gas!
As discussed in our interview, this represents just one of the latest innovations that British Gas is developing - to not only give its customers greater control, but to encourage everyone to use less energy.
For more details on what British Gas has in store, go to britishgas.co.uk/smarter-living.html
Related links: