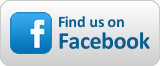 FrequencyCast UK - Show #43
The show notes to go with Show 43 of our online technology radio show.

Listen to, or download, FrequencyCast Show 43 (31 mins)
Show 43: NEWS
This show's news section covered the following stories:
3D TV on the way: Get your 3D glasses on standby. In a few weeks, Channel 4 will be running a week of peak-time 3D programming, including rare colour footage of the Queen's coronation in 1953, a 3D Magic Spectacular, Jaws, and the Greatest Ever 3D Moments. The Danish ColorCode system will be used, and the blue and amber filter glasses will be given away free at Sainsburys in the run-up to the 3D week. 3D fans note that Sky's set to launch a dedicated 3D channel next year.


Tech Round-up: PS3 slim announced. Yahoo.com's search is now powered by Microsoft's Bing, and in rumour news - new iPods (with cameras) from 9th September. Also, the iPhone killing Palm Pre may be out at the end of October on o2.


Freeview news: Price Drop TV has returned, on Channel 43. Also, Sky 3 will be showing some free premium content between the 18th and 20th of September. The Discovery channel Quest is also set for a launch at the end of September, after failing to launch earlier this year.


End of the line: It looks like the International Space Station, still under construction, is set to be "deorbited", i.e. ditched into the Pacific, in 2016. Also, scheduled to be ditched - Big Brother. Channel 4 execs have confirmed that next year's BB will be the last.


eBook Readers: Two new Sony Readers have been announced - the first is smaller than the original Sony Reader, with a 5 inch screen. The second sports a touch screen and support for handwritten notes. There's also been a push to get around half-a-million extra titles available for the Sony Reader family. The new Readers will be out on the 10th of September and are available to pre-order now from Waterstones


And finally: In a recent survey, nearly one in six people said if their remote control was broken, they would continue watching the same channel rather than get up. That'll be 7.3 million who'd rather watch a home shopping channel than get off the sofa. The research, from Nuffield Health, also showed that 59% would get the lift rather than climb two flights of stairs, summing up with "Ready-meals, remote controls and even internet shopping are all contributing to a dangerously lazy and idle Britain. The good news, is, FrequencyCast is a low-fat podcast. However, it does contain nuts.
FOCUS: SWAP Watch
We thought we'd mention the SWAP watch again in this show, as it's just been featured by Five's prestigious Gadget Show - Just none months after we first featured it!
The SWAP watch is also half the price of the LG Touchscreen Watchphone (LG-GD910)
For more, go to Iwantoneofthose.com.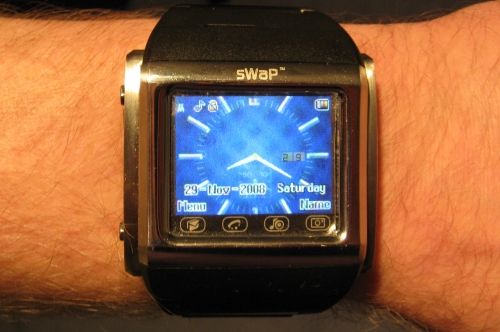 The SWAP watch, featured on The Gadget Show, 8 months after us!
FOCUS: GPS Gadgets
We started off by reviewing the Garmin Forerunner 405 - a pretty impressive GPS watch.
The watch has a touch bezel, and is intended as a fitness watch. Put in your vital statistics, and the watch will track your exercise routine. Measure your heart rate, calorie burn, distance travelled, speed, position, time and pace.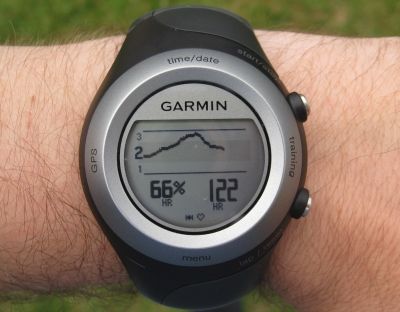 Garmin Forerunner 405 - Heart rate display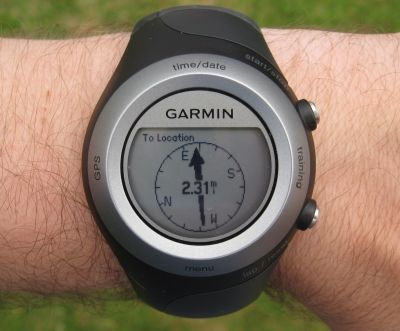 Garmin Forerunner 405 - GPS Navigation mode
The watch can also be used to help you navigate to a location, and it transfers your exercise data to a PC.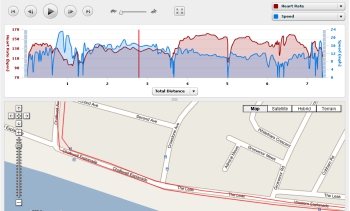 Journey, plus heart rate and speed, overlaid onto Google Maps
Take a listen as our Pete puts it through its paces.
The Garmin Forerunner 405, plus other GPS watches, can be found at a decent price from www.fitsense.co.uk
Hands-on: Sat Nav for the iPhone
TomTom for iPhone
The long-awaited TomTom iPhone Application has now been released, and we took a look in this show. We also compared it to a rival app that's half the price.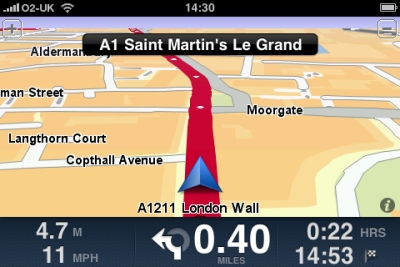 Available from the App Store. Click the icon to open iTunes on the TomTom Page:

Co-Pilot for iPhone
We also tried the rival app, Co-Pilot Live. Like TomTom, this also offers voice assist, easy address lookup and decent navigation on the iPhone. It's also half the price of the TomTom app, which makes it our recommended Sat Nav solution.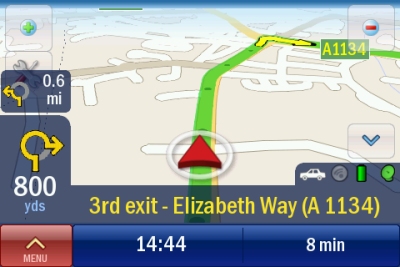 Available from the App Store. Click the icon to open iTunes on the Co-Pilot page:

Other iPhone Apps
We also mentioned a couple of other map-related apps for the iPhone...
| | |
| --- | --- |
| WeatherMaps, from Daniel Tull. Slick scrolling weather maps. Oh, did we say, it's free? | WiFiFoFum lets you check for wi-fi access points in your area, with a nifty radar view. |
Hands-on: GPS trackers
We also mentioned two other GPS-enabled devices - the first lets you Geotag photos, and keep a track of where you've been, and the second helps you to navigate back to a location of your choosing.
Cast 43: Interactive
Thanks to everyone who got in touch. In this show, we respond to the following mails and calls:
Switchover signal: First off, we heard from Karl Goulbourne. He asks: "I'm just wondering if when the Switchover happens, will the signal strength improve? My signal is poor. I'm trying to stop pixelation on my screen. Would a signal booster help this?"

In places that haven't yet switched, Freeview transmitters are not all at full power, and many smaller sites are analogue only. After your region has switched, the signal for many will improve. As for pixelation, a booster won't always help, but there are a number of things you can try - Go to freeviewhelp.co.uk and see their "Reducing Interference" section.


Ceefax: Next, we had a text from Ash, talking about Ceefax. He says "The digital version is pathetic. Also, try watching Freeview in an area that delivers food. The motorbikes scramble da pic... whatever that means. We reckon freeviewhelp.co.uk may help you too.


Virgin on a PC: We took a podline call from Dave asking if there was a way to get Virgin on a Windows Media Center PC without using a Virgin box. We did some checking. First off, apparently using anything other than a Virgin Media box goes against the Virgin Terms and Conditions, and secondly, there doesn't seem to be anything legally available on the market to do this (you'd need a card reader for the PC too). If any of our Virgins out there know better, please get in touch.


Digital DVD Recorders: Hi now to Hilary Keeble. She says "I really enjoy your double act as I listen on my iPod whilst walking my dog on the west Wales beaches! We go digital in August and my analogue DVD recorder will no longer work. Can you suggest a digital replacement please? I already have a digital TV with Freeview built in."

For a basic DVD recorder, we'd recommend one of the Panasonic DMR series. Get one with an HDMI socket to "upscale" for slightly better quality. If you have the budget, look for a DVD recorder with a PVR (hard-disk recorder) as it'll change the way you watch and record Freeview.


Satellite LNBs: Next, Joseph Dowthwaite asks when we'll be bringing out our first TV and Tech video cast? Also, what LNBs do I need to get Free to Air TV?

Video Podcast? Seriously! Have you seen Carl and Pete?. As for LNBs - You'll be wanting a Universal, but which one depends on your dish type. We recommend you check out our friends at Satcure - they have a great overview of what to look for in an LNB, and some good deals. They'll set you in the right direction.


Mobile Broadband: Mark Keane asks "Could you please do a review of Mobile Broadband options, networks, modems and prices. I'm on 3 and the coverage isn't great".

Ahh - You'll be wanting show 38 then? We took a look at Mobile Broadband in that show.


Freeview HD. We took a podline call from John asking when Freeview HD would hit Enfield. Freeview HD will first be available in the Granada region in December 2009. It looks like Enfield gets Freeview from Crystal Palace, in which case our John may get some HD services in time for the 2010 World Cup.


Any questions for Carl & Pete? Got a comment on the world of TV and Technology?
Call 020 8133 4567 and leave a message and be heard on the show, or ask in our listeners forum.


Enjoyed the show? Add us to iTunes, sign up to get email alerts, or consider adding a nice iTunes review
Comments on this show? Please post them in our forum.

Want new shows as soon as they're released?
Get FrequencyCast shows automatically, as soon as we've finished them:
Got iTunes? Add FrequencyCast to iTunes


Otherwise, use Juice or another podcatcher to subscribe to our show feed.
Our feed address: https://feeds.feedburner.com/frequencycast