Mobile Phone and GPS Watch Review
In Show 43 of the FrequencyCast Tech podcast, we looked at the sWaP Mobile Phone Watch, as well as the Garmin Forerunner 405 GPS Fitness Watch.
On this page, you'll find a link to the show, a transcript of the feature, plus pictures of both watches.
Listen to FrequencyCast Show 43 - Mobile Phone and GPS watch reviews
Transcript of Show 43's feature on the SWAP Watch:
Carl:
Do you know what? I really think you're cutting edge.
Pete:
Oh, thank you very much, sir.
Carl:
Well, you know - you're always ahead of the game, aren't you, really?
Pete:
I do try.
Carl:
Unlike the Gadget Show, of course, which is a little behind - and when I say a little behind, I'm not talking about her butt, although that's quite cute as well (Hello Susie, if you're listening). Did you notice that they've only just done the sWaP Watch, and I've got one here ... and it's the best, and we did this when? -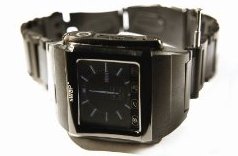 sWaP Watch - Mobile Phone Watch with strap
Pete:
We actually covered this back in November, when we were at a trade show, and we met the guys from Dyal that distribute the sWaP Watch.
Carl:
Anyway, let's have a look at my sWaP Watch whilst we're here - sWaP, which stands for, if I remember: "Smart Watch And Phone", and it is, it's very smart, and it's coming in a range of colours, and apparently they're developing it a little bit more, so let me tell you what it is - it's a mobile phone in a watch, as they very quickly summarised on the Gadget Show, it's a full UK mobile phone, it works with all the UK networks apart from 3, it's got a camera in it, it's got a video player in it, mp3 player in it - you love it, don't you? Touch screen ...
Carl:
Oh yes, it's fantastic - it's got a calendar, organiser - there's no stopping what this thing does. I mean, it's impressive when you just touch the screen to look at the time. But when you actually touch the screen to go into the media player, or you play back an mp3 through the rather loud loudspeaker, actually built in but you can use headphones obviously, you don't have to be a show-off all the time.
Pete:
So if you happen to be interested in the sWaP Watch, as seen on the Gadget Show, go to our website where we have a full review, we have some audio clips of it, and all sorts of other info, and also, if I remember, a 5% off voucher.
Carl:
5% off? - can't be bad. Just before we move on, I must tell you, I was in the Chinese restaurant the other day waiting for my takeaway to arrive, and boy were there some envious faces as I was watching some videos on my watch - people were just sitting there going, "What's he doing then?", and I was like, "Yeah, well you see, you guys - you have to sit there and look at the wall, or read the menu another eight times. For me, I can watch a video."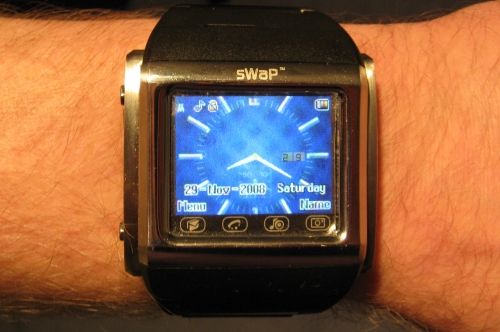 The SWAP watch, in pride of place on Carl's wrist
Transcript of Show 43's feature on the Garmin 405 GPS Watch:
Carl:
Anyway, what are we doing next?
Pete:
So there you go, let's stop talking about your wonderful watch.
Carl:
OK, focus time - so what are we going to navigate our way around today?
Pete:
Funny you say that - we are going to be talking about GPS, not your standard Sat Navs, but some of the more interesting things you can do with a little bit of personal GPS kit.
Carl:
Pershonal?
Pete:
Personal.
Carl:
I thought you were doing impressions of Sean Connery, "It'sh personal". "Yesh, Mish Moneypenny".
Pete:
Who was that supposed to be? It sounded more like an impression of Parker from Thunderbirds. Anyway, the first thing I want to show you is this little watch I have on my wrist.
Carl:
Oh, that's nice - it says battery life's 100%.
Pete:
It does - let me just turn that off for you. So you're into your watches, you've got your - look at it, your sWaP Watch sitting there on your wrist, your mobile phone watch - there we go, lovely, lovely, lovely - I think I've got one better, I think this watch is actually going to beat your sWaP.
Carl:
I doubt it.
Pete:
Well, for a start it goes (beep) - it kind of belches, and an electronic belch. So first of all, I have to confess that I am wearing some rather unusual underwear today.
Carl:
Oh no, no please, don't.
Pete:
OK, I'm going to do a bit of a Superman here, and unbutton my shirt ...
Carl:
I do hope you mean by that you're going to wear your pants on the outside of your trousers, so I don't have to ... oh, good grief! What is that - is it FrequencyCast pants?
Pete:
... and show you, I am wearing a Garmin, just below my breastbone, I suppose that is, sternum? - I'm wearing one of these.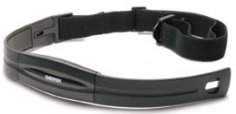 Garmin 405 Heart Rate Strap
Carl:
It's a strap - oh, it's like I'm being measured up for me moobs.
Pete:
So that's how it works - these things strap underneath your shirt, and these two things here are heart rate monitor sensors.
Carl:
Well, that's what you'd call them.
Pete:
Exactly, so if I look at this little watch here, this watch is a Garmin 405, I can switch this on ...
Carl:
Let me just check this out - you are actually touching the outside of the watch face?
Pete:
I am.
Carl:
You cheeky monkey.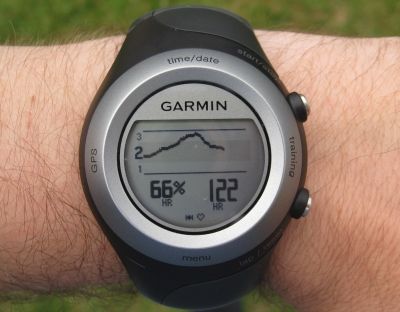 Garmin 405 GPS Watch, showing heart rate monitor
Pete:
So what have we got there - we've got a display with what?
Carl:
"44%, 83 hours" - is that? And a little graph is coming out of the top - what's that doing then?
Pete:
So what we've actually got there, you've got to know a little bit about your fitness here, but there's a formula to work out your maximum heart rate, which is a certain number minus your age, gives you a certain heart rate, and when you exercise, you exercise somewhere in that particular heart rate band, so I've been told between 60 and 80% of my maximum heart rate is where I should be exercising, and this watch and this weird little strap I have underneath me is monitoring this, and that graph is showing I'm in Zone 1, which is the lowest you can get, and it's fairly flat.
Carl:
Yeah, it looks quite static, but with 78 beats per minute, you're hardly a dance track, are you?
Pete:
Now, what I'm going to do, jog on the spot, and I just want you to tell me if this thing actually does anything.
Carl:
OK, and this is going to be exciting - oh, look at that! 45, 46, 47, and you're ...
Pete:
So I'm jogging on the spot, and I'm hoping I should be up into about 50%?
Carl:
Yep, you are, 56.
Pete:
Can you see the graph doing anything?
Carl:
Yes, it's climbing - hold on a minute, it says you're dead!
Pete:
I tell you, I feel it! Have I hit Zone 3?
Carl:
No, not yet - you're on Zone 2.
Pete:
OK, I'll go a little bit faster.
Carl:
Oh yeah?
Pete:
Is it doing anything?
Carl:
No, this is the most exercise I've seen you have in a hundred years.
Pete:
Right, I've had enough of that. What was that - 68, 70? - there you go, Zone 3, just.
Carl:
130 beats per minute.
Pete:
Oh, I'm shattered.


Pete, running on the spot
Carl:
Do you know what? - you're better than me, I wouldn't be talking now! I get tired just getting out of bed in the morning.
Pete:
Ah, I'm nearly out of breath. So this thing is constantly monitoring and recording what I do, and when I connect this to a PC, I can see a graph.
Carl:
I can see lots of games coming out with these things.
Pete:
I tell you what, absolutely. The clever bit about this watch, though, is it also has a GPS receiver in.
Carl:
Oh, that's all right then.
Pete:
So ...
Carl:
So if you die of a heart attack somewhere, they'll be able to find you, yeah?
Pete:
So a great application, what I do is - you see the ring of this, just give us a very quick description.
Carl:
Well, it's a nice black rubber strap - it's some sort of silicon rubber, I think. All around the outside it's got a nice big round face, two buttons on the right hand side, like your conventional digital watch, space age - it's kind of superheroes, X-Men meets something, I like it.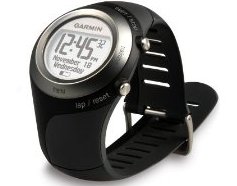 Garmin Forerunner 405
Pete:
So it's a little bit iPoddy, if I put my finger on the bezel and spin it round, it basically changes the modes and the settings of the watch, and the clever thing, there's like a double tap will turn on the rather bright backlight.
Carl:
Nice.
Pete:
So if I wanted to do my exercises, what I'd do is, I have my GPS turned on, then I go into training.
Carl:
I must say, for a watch, this is rather slick graphics.
Pete:
And what I do here is I hit "Options", and I've got the option to do all of these clever little things here, Virtual Partner is quite cool, so what it will do is it will remember a trip I've done, and then play that last trip back when I'm doing a new trip, so if I'm doing let's say a five mile bike ride, this will record my last five mile bike ride, and tell me whether I'm beating myself last time or not.
Carl:
That sounds like fun.
Pete:
Auto Pause is really, really good, so if you're biking and you stop at lights, it stops - won't record while you're stopped, so it's only actually while you're exercising that it holds this information. Auto Lap, Auto Scroll, and Sport Mode - it's got three by default, running and biking and another, which is sort of for indoor cardio type stuff, and when you do a workout, you basically set your settings, and you hit "Do Workout", and basically this will tell you, so this one here is showing me how long I've been exercising for, distance I've travelled, number of calories I've burnt. But the really clever bit, when you take it home, you have that plugged into your PC, which is a standard dongle, and it automatically picks up that you've done something energetic from your watch, and transfers it onto the PC, and this is the software that you get, so you should recognise this route - this is a bike ride I did two days ago, so that'll be my starting point ...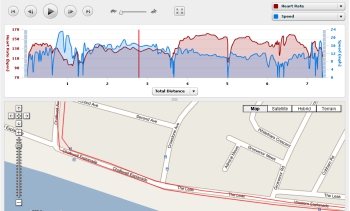 Garmin Connect, showing a cycle route with heart-rate and speed
Carl:
Oh yeah!
Pete:
... and I've travelled along that particular road there, I've gone down to the seaside there.
Carl:
A coastal resort, hey?
Pete:
Indeed, absolutely.
Carl:
Do you often go to Brighton?
Pete:
So what we've got is the heart rate against my speed here.
Carl:
Wow, that looks dangerous.
Pete:
So you can see, for instance, a good indication here - I was actually cycling into the wind, so I had quite an easy journey there, my heart rate's relatively low. On the way back, my speed is generally slower, but my heart rate's higher, because I'm basically pedalling into the wind.
So there you go - that's the Garmin 405, it's got PC software, also it automatically uploads your exercises to a service called Garmin Connect, which gives you your map overlaid onto Google Maps, which is pretty good.
Carl:
Fantastic.
Pete:
The other handy little feature as well is you can use this for waypoints, so a great example, you're in a strange car park, you can use the GPS to say this is where you are, bookmark your current location, then wander off, and then you can use this to show you the compass heading and distance away from that original waypoint.
Carl:
So in other words, what you're saying is, when you go to Disney World and you lose your car in a parking lot, what you're going to actually do is set it up so your watch will tell you where your car is when you come back - is that right? I like it already!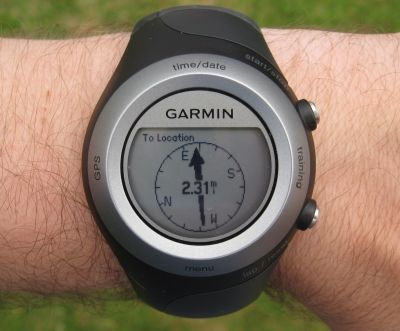 Garmin 405, showing GPS direction-finder
Pete:
Let's get three! So what we'll do, on the show notes, we'll stick a little sample of me exercising, a couple of the screen shots and a watch shot, on the website for anyone that's interested.
Carl:
Wow, it sounds great. You've done quite a lot, haven't you?
Pete:
Yes, exactly - that running on the spot's finished me off though.
Carl:
Right, time for a McDonald's.
The Garmin Forerunner 405, plus other GPS watches, can be found at www.fitsense.co.uk
Listen to FrequencyCast Show 43 - sWaP and Garmin watch reviews
More Show 43 transcripts:
More information: