Digital Economy Act - Our Digital Future
A transcript of our podcast feature following the introduction of the Digital Economy Act in April 2010.
Listen to FrequencyCast Show 51 - Our Digital Future
Digital Future Discussed:
Pete:
Well, we're going to talk about the future of TV, radio and the Internet in the UK. What would you like to start with?
Carl:
TV, because I know all about it. In 2012, we're all going digital, aren't we?
Pete:
Absolutely right, yes we are. And a quick reminder, by 2012 your analogue TV services, which affect your TV and your video recorders and DVD recorders, we'll all be switching to digital, so you need to be digital ready. Now some of the UK's done this - where has had the switch completed now?
Carl:
Wales are all done and dusted, and now we're moving south.
Pete:
Yep, well Wales and Granada have done it, we're finding South West are doing it at the moment. We've got Scotland doing it later this year, 2011 we've got Central, Anglia and Yorkshire, and 2012 we've got Meridian, Tyne Tees, Ulster and London. And you haven't made the switch yet, you need to be looking at www.switchhelp.co.uk for some friendly advice.
Carl:
So - what are we going to do next?
Pete:
Well we've done TV - what about the next one?
Carl:
Radio.
Pete:
OK, before I start diving into radio, have you heard about the Digital Economy Bill?
Carl:
No - should I have done? What will it do for me?
Pete:
Where have you been then?
Carl:
Eerm, bathroom?
Pete: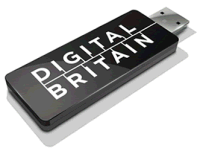 OK, well do you remember last year, we talked about something called Digital Britain?
Carl:
Vaguely.
Pete:
So the Digital Britain report talked about analogue radio being switched off by 2015.
Carl:
OK, why? - is it too loud? Shall I turn it down?
Pete:
So analogue radio being switched off by 2015, that was the proposal. Now the Digital Economy Bill went through its final sitting at the House of Commons on 6th April 2010, and now it's law.
Carl:
6th April? - wasn't that with the major clear out of government, were they dissolving people, or something?
Pete:
Absolutely, so that was the date that Gordon Brown decided to announce the date of the general election. So basically there was this thing called the wash up, where all these bills that were kind of half way through going through government were sort of rushed through at the last minute. This one actually went through at 11 o'clock on the evening of 6th April, and really has not had a huge amount of debate.
Carl:
Hold on a minute - if this went through on the dissolve day, or whatever - who was there for it?
Pete:
Yeah, interestingly enough - right, have a look at this.
Carl:
A photograph of the House of Commons, with about 30 people there. Is that the day? Oh, there's the date, great.
Pete:
Yeah, there you go, so about 30 MPs bothered to turn up to discuss the future of TV, radio and the internet in the UK - wonderful.
Carl:
Obviously another important issue, after that they went on to the NHS, yeah?
Pete:
I think they went home for lunch at about midnight, but anyway, that's another story. So yes, this is now law, the Digital Economy Bill is now the Digital Economy Act, and one of the parts of that is to do with the FM switch off, and the plan is, by an undisclosed date (they haven't actually announced the date yet), FM radio will switch off.
Carl:
Right, so - why? And what will happen to all the radio stations?
Pete:
OK, the reason why is everyone should be going digital, there's more choice on digital, and exactly the same as they've done with TV, the intention is, no more analogue, switch to digital.
Carl:
Right, so everything will still be available, but a digital service.
Pete:
So any station that's on FM and AM at the moment will be switching over to digital. That will free up FM for something called ultra-local radio.
Carl:
What, you mean like the next-door-neighbour broadcasting?
Pete:
Yeah, pretty much, community-sized, town-sized, little itty-bitty radio stations. There's one big problem though - can you see what that problem's going to be?
Carl:
Not immediately, no.
Pete:
Right, your car radio, with FM in it - if You've got ultra-local radio stations, it means every time you drive a couple of miles, you'll lose the station that you were listening to, and you're going to have to retune. Either that, or you rip out your old car radio, and pay for an expensive new DAB radio.
Carl:
Oh dear, and I can see manufacturers really milking that for their benefit, aren't they? I mean, you have to pay through the nose for a Ford radio as it is - can you imagine what they're going to do then? So the other thing is, you're going to be driving along, if you're listening in FM, it's just going to keep changing stations, so you're not going to get that all-important traffic report, which means if you're relying on the information ... well this all seems to have been well planned, whose choice was this?
Pete:

It gets worse than that though, there's a few other problems with DAB. For a start, not that many people have actually got a DAB radio. DAB radios are rather expensive, and the broadcast industry is still kind of mixed about DAB. So I don't know if you remember, but last year a whole bunch of stations switched off DAB, Global Radio decided they didn't want to do DAB as well as FM, and of course the recent BBC announcement ...
Carl:
About 6 Music, you're going to tell me, and then pulling out? - because they can't afford it? So lots of stations can't afford it, and on top of that, wasn't DAB Plus out, so a lot of those new devices that we've all bought are all ready for the skip.
Pete:
Well that is a biggie - we've got DAB, the rest of Europe have got DAB Plus, and we've finally made the decision to go with DAB Plus, which effectively means a lot of existing radios that people have got that are DAB enabled will be obsolete when we go DAB Plus. A lot of problems, and a lot of reasons why the FM switch off hasn't been overly well thought out.
Carl:
Great. So, how else am I going to be affected?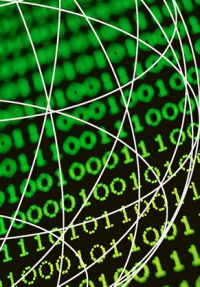 Pete:
Well, what about the Internet - shall we talk about that one?
Carl:
Go on then.
Pete:
OK, so the big thing that's coming is this business about infringement of other people's copyright, and protection against peer-to-peer file sharing. So tell me what you know about that.
Carl:
Well, if You've got something on your computer, you can share it with someone else, ie, TV, music, movies, you can file share with someone else, that's all I know.
Pete:
OK, fair enough, I'm kind of on the fence about this one, because there's a lot of copyright infringement and a lot of downloading of movies and music illegally, and fair enough, something has to be done. Unfortunately, I think what they've done is not going to help anyone, it's going to make matters far worse. So there's a bunch of different types of these copyright infringers out there. You've got people that steal movies, and fair enough, you shouldn't steal a handbag, you wouldn't steal a whatever, as all the ads say.
Carl:
I've seen that trailer.
Pete:
But things like TV shows, maybe, where You've got a TV show that's on in America, like Lost, it's going to be six months before the UK gets some of these TV shows, so people have found a way of downloading an American TV show and watching it in the UK. Now, is that as bad as stealing a movie?
Carl:
Well no, you can go to America and watch it, if you want, can't you? You'll still get to see it, just go and watch telly in America for two weeks.
Pete:
And You've got the same issue with music, what about if you want a piece of music that's not available on CD any more, or is yet to be released? Is it theft to actually download that piece of music, if it's not commercially available somewhere else at a reasonable price?
Carl:
Well now, there's a problem there, because if you want something and you can't get hold of it, what do you do to get hold of it? There's got to be some way. Maybe we need to start a new shop that can provide that sort of service. I mean, wasn't there someone that was actually going to start compiling your own CD, you could actually request what ended up on your CD and they'd make the album for you there and then - what happened to that?
Pete:
Yeah, I remember that one. Well, that's been replaced with things like Last FM, where you can actually listen to your own type of music, but there's still a bunch of people that want content, are prepared to pay for it, if it's available, but just can't get hold of it, so they will take the shortcut of downloading it from a peer-to-peer website. So the government is going to start getting a bit draconian about this, and policing it. They're now going to force the internet service providers to enforce copyright protection, so if a copyright owner sees something that's gone wrong, they can talk to the government, and talk to the ISPs, and get a couple of things done. One is sites banned, so the government can force the ISPs to shut down certain websites, if they're deemed to be doing something that infringes copyright.
Carl:
Oh I see - 1984 censorship?
Pete:
Yeah, that's it. And the other one is if a user is seen to be downloading copyright material, the ISP can be forced to switch that user off the internet completely.
Carl:
Oh, alright, OK - so off with his head, or at least his internet connection, is that right?
Pete:
So this is where it's all rather frustrating. This bill that has gone through, the Digital Economy Bill, which is now law, it's now an official Act of Parliament, has not been overly well thought through, so there's a whole bunch of little loopholes here. So for a start, where we sit in the studio, if I look at my iPhone, and I switch the Wi-Fi service on, I can see one unprotected wireless network, yes?
Carl:
Yep.
Pete:
Now we know that's a building about two buildings away from where we are now, so I can connect, for free, onto that person's connection, and start downloading content.
Carl:
So you can get them all arrested?
Pete:
Absolutely, so that will show up as their IP address, and I can do what I want on their IP address.
Carl:
Well, that's jolly nice of you.
Pete:
So what's going to happen now is, any service that offers free internet, so you get lots of airports and coffee shops and bars and things that offer free wireless internet, now they're going to have to start being really careful.
Carl:
So they're going to have to police their own Wi-Fi connections? Well, surely it'll just be easier to stop providing the service for the customers though?
Pete:
Absolutely, so we're going to lose our free internet in hotels, coffee shops, libraries, cyber cafes, all that kind of thing, because these little companies that provide this free service aren't going to want to be taken to court, because someone's done something dodgy.
Carl:
that's crazy. Is anyone doing anything about this?
Pete:
Well TalkTalk, they haven't really been our favourite internet provider here at FrequencyCast, but they have actually stood up and said, we will fight this, if we get requests from the government to cut off our customers, we'll take it to court and fight to protect our customers.
Carl:
Hear hear, TalkTalk.
Pete:
And the ISPA, who, for those that don't know, is the Internet Service Providers' Association, have described these clauses relating to the policies as unworkable and serving only to preserve failing business models.
Carl:
Oh great, so actually, what would be easier is if they revised the business models - there must be a way forward. What would you do?
Pete:
Well you see, this is it. There's a whole bunch of people that want their interests protected. Those that make TV shows want to sell it first to America and then sell it to the UK and make double the advertising, so the US advertising, the UK advertising.
Carl:
And make double the amount of money on selling the movie in the first place.
Pete:
Yeah, the film companies, they're going to do the film release, the DVD release, the box office release, the pay TV release and the free to air TV release, so they want all their different chunks for showing it in different regions and in different formats.
Carl:
And all that revenue.
Pete:
And then, of course, You've got the music providers. Now this is a nice little discontinuity - how much does a CD cost in the shops?
Carl:
£10.99, £14.99 - somewhere around that.
Pete:
Right, and if you're buying it from an online music store?
Carl:
£7.99?
Pete:
So you think, given that there is no need to physically press a CD and print off a label and stick it on a lorry, and take up shelf space in shops, and have people to physically sell it, you'd think it'd be a lot cheaper, but it isn't, and that's because everyone is protecting the old business model. The record companies want their cut, the retailers want their cut, the distributors want their cut, and so on.
Carl:
that's just craziness.
Pete:
So personally, what I think should be happening, is the music companies, the film companies, the TV companies, rather than forcing governments to force through this unworkable legislation, should find better ways of making people pay for this content. So things like micropayments, that we see with iTunes, where you can just buy things for a few p, you don't have to worry about filling in credit card forms and the like, something that makes this stuff easier to buy. If you do want to watch an American TV show, make it available, but at a premium, so people can buy it legitimately.
Carl:
That makes far more sense, because if You've got people willing to pay, why not let them pay? It seems like they're making a rod for their own backs really.
Pete:
Let me give you an interesting story. Sweden - you're a fan of Sweden, aren't you?
Carl:
Oh yes, oh the music from Abba (I don't know what accent that was), but hey, yeah, all of the above. I like a sauna with a bit of Abba music.
Pete:
So Sweden was the home of Pirate Bay, who's one of the big file sharing websites out there. April last year, Sweden decided to crack down on it, and they brought in very similar laws to the ones that we've got.
Carl:
Right, and did it work?
Pete:
Well, yes it did - the internet traffic dropped by about 30%.
Carl:
Oh well, that's the end of that.
Pete:
However, a couple of months later, that number started to go back up again, and now there's more internet traffic than there was before.
Carl:
Sneaky, very sneaky - how and why?
Pete:
Well, one important difference - the traffic that's now being swapped around between internet providers and users has all been encrypted. So basically users have found out that there are some nice technical workarounds, changing your IP address, masking, encrypting your traffic, to make it much harder to police.
Carl:
Right, but ... that won't happen with us, because the person that's dealing with it, our Member of Parliament, is obviously an expert in computers and shareware and software and files and he's a computer man, isn't it? Who have they got, Bill Gates? - or who did they hire in?
Pete:
Yeah, you're remembering the story I told you a little bit earlier - Stephen Timms.
Carl:
Oh - Tim Berners-Lee, oh yes, I remember him.
Pete:
No, Stephen Timms ...
Carl:
Tomkinson?
Pete:
... that well-known chap is the Minister for Digital Britain, and he sent a letter to an MP where he completely mucked up the difference between intellectual property and internet protocol. He was talking about an IP address, which is what the computer addresses, as "intellectual property address". So the minister in charge of this new legislation doesn't know the difference between intellectual property and internet protocol.
Carl:
Oh, that's just super.
Pete:
Having said that, there is one piece of good news, one bit of legislation that was going to go through isn't, which is rather nice. When the Digital Britain report came out, there was talk of every home getting two meg internet access.
Carl:
Seems like a good idea.
Pete:
But the downside to that was everyone with a fixed landline would have to pay £6 a year for the infrastructure changes.
Carl:
that's not very helpful.
Pete:
That one didn't go through. Now, can I get a little political here?
Carl:
No.
Pete:
Oh go on, let me. We are a few days away from a general election. Before you think about who you're going to vote for, do us a favour - go to this website, www.votethemout.co.uk. When you're there, put in your postcode, it will tell you what your MP did about the Digital Economy Act - did they bother turning up, and how did they vote?
Carl:
That'd be helpful.
Pete:
One other address for you: www.openrightsgroup.org is the campaign for the freedom of the British internet.
Listen to FrequencyCast Show 51 - Our Digital Future
Other links: