Disposable Digital Cameras Reviewed
Disposable cameras have been around for a while - you may have been issued with one at a wedding or other family gathering. These use good old 35mm film, and need processing.
Now, you can get a disposable digital camera. We take a hands-on look at a throw-away digital camera.
Listen to FrequencyCast's March Update - Disposable Digital Camera Overview
Listen to FrequencyCast Show 62 - VistaQuest Disposable Digital Reviewed
Disposable Digitals... why?
The first time you're introduced to the concept of a disposable digital camera... you'd be forgiven for asking "why?". Digital cameras are by their definition reusable and cheap to use, so what's the point of a use-once digital camera?
Well, there are several reasons why one of these could be handy. First, let's look at when a disposable snapper might be useful:
Weddings - Cheap way to allow guests to capture the day's events
Out-and-about - Use a camera where the risk of camera damage doesn't matter
Keep it in the car or at work for times when you wish you'd got a camera with you
So why a digital?
Well, a couple of reasons leap to mind:
No need to take the camera to Boots to get the photos printed
Easy to hook up to a computer and download instantly, without the wait.
Granted, many of us now have a digital camera with us at all times - our mobile phone cameras... but we can still see a use case where a disposable digital could come in handy.
Vistaquest Disposable Digital Review
Our friends at Advanced MP3 Players kindly sent us the Vistaquest Disposable digital camera to play with. Here are the headlines:
Single use fixed focus
Takes 40 digital photos
Built-in battery and flash
Disposable and recyclable
Bearing in mind that these camera cost less than a tenner, under test, they're not bad. Sure, they feel "cheap", and they lack the killer feature of a digital camera - the ability to review the picture you've just taken - but they do exactly what they say on the tin, are incredibly easy to use.
The Vistaquest disposable is worthy of consideration should you have the need to take digital photos cheaply and easily.
If you want to get yourself one of these cameras to try, you can order them online from here: Vistaquest Digital Single Use Camera at AdvancedMP3Players
We put the camera through its paces, taking a variety of indoor and outdoor photos, then hooked it up to a PC to download the images. It's important to point out at this point that you have to be careful when to connect it up. The camera has a USB port hidden below a sticker, and when you connect it to a PC for the first time, you're no longer able to take any more pictures. So, you need to take the full quota of images (approx 40) before downloading your snaps. Also note that USB lead is not supplied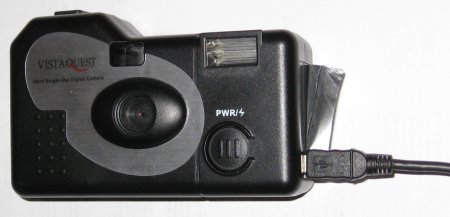 Transfer complete, we looked at what we'd taken.
To be honest, expectations on picture quality weren't high (given the price of the camera), and on indoor images, the results weren't particularly great. Outdoor images were significantly better, but still at the lower-end of what you can get from a cheap digital camera or phone camera. The pics were fine for "capturing the moment", or for uploading to Facebook, but, as with disposable film cameras, won't set the world alight.
Here's the spec of the images taken on our test camera:
Size: 1280x960 pixels
Filesize: Between 75kb and 205kb
Resolution: 96dpi
Bit depth: 24
Model: "SUDSC01 Camera"
F-Number: F/2.8
Speed: ISO-100
And here's a selection of four images captured with the camera. Click on each thumbnail for a full-screen version. These haven't been edited or re-compressed.
To hear what Pete and Carl thought of the camera, take a listen our March audio update:
Listen to FrequencyCast's March Update - Disposable Digital Camera Overview
Listen to FrequencyCast Show 62 - VistaQuest Disposable Digital Reviewed
Thanks to Advanced MP3 Players for supplying the review camera
Other Links