EZ View Wireless HD Transmitter Explored
Need to connect your PC to a high definition TV set without using wires? EZ View could have the answer
Laptop to TV with EZ View:
This handy product can be used to connect a laptop to a high definition TV set without the need to run wires. It's ideal for being able to display content from your PC.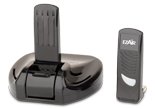 Use the EZ View Kit to watch movies from your laptop, connect up for presentations, or show family movies and photos from your laptop wirelessly. It works from up to 10 metres away and supports the 720p HD format
Listen to FrequencyCast Show 61 - Quick Review of EZ View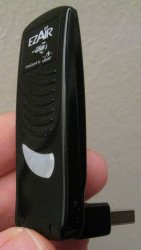 We looked at the EZ View as part of our review of home media streaming in Show 61.
We're very impressed with what the solution offers, and how easy it is to use.
Here are the basics:
On your laptop, install the supplied EZ View software, then plug in the USB dongle


Plug the receiver into your TV (using the supplied HDMI lead, or connect using the VGA monitor socket)


Connect the receiver using the mains transformer


Get your PC to transmit its screen without wires to your TV set
Setting up the EZ View wireless laptop kit was very straightforward, and under test, we've been very happy with both the video and audio quality.
Availability:
The EZ View kit is available direct from www.ezairwireless.com

Update: A full HD version, the EZView+ is now available too
More on the EZ View:
Here's a photo of the EZ View receiver - a small box that connects to your TV's HDMI socket. It also has a connector for a VGA monitor lead, and a small headphone socket for audio. Note that the unit sends both audio and video using the HDMI socket - the headphone socket can optionally be used for audio if not using HDMI.

When in use, the EZ View software allows you to mirror your laptop screen to the TV set, or use the TV as the master monitor. Once installed, two small icons are added to your Windows System Tray, to allow control of the wireless link, and to adjust the display options

Here's a show of us using our Dell laptop to show what we're typing on a large LCD HD TV: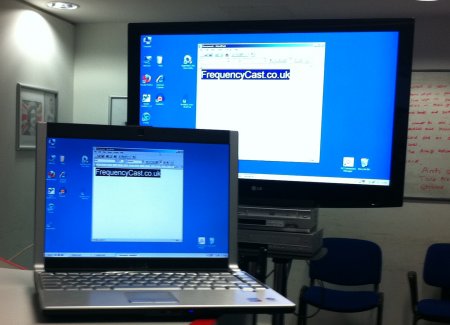 The EZ View Kit comes with an HDMI lead, mains plug, manual and a software CD. It can be used on a Windows XP, Windows Vista or Windows 7 PC. It supports HD to 720p and a maximum resolution of 1400 x 1050.
More information: