FrequencyCast's Field Challenge
For Show 80, we sent Kelly into a field to try to connect some mains powered CCTV kit to a power supply and the Internet. Have a listen to see if she achieved her mission.
Listen to FrequencyCast Show 80 - Portable Power Challenge
FrequencyCast in a field:
Here's the transcript of the Kelly Challenge, recorded out in the fresh air...
Pete:
Wow! - we're at show number 80 of FrequencyCast, and today's show comes from a rather unusual location. Kelly?
Kelly:
We are currently in a field by a leisure centre.
Pete:
All will be explained in a few minutes. Now, in the last show, we talked about a Kelly Challenge, and asked for your suggestions as to what we should put in this show. Well, you all must have been asleep, because we were pretty underwhelmed with challenges. In fact, we only got the one. Kelly, can you read it for us?
Kelly:
Yep, absolutely - well, top marks to MaidBloke for the following suggestion: "Virtual Assistant competition - Apple Siri versus Android's Speak To It assistant. I did it the other day, Android won. Love the podcast."
Pete:
There you go, so to MadeBloke, which I still think's a very unusual name, he's suggesting that we put the Android and the Apple phone head-to-head. Now, at the time we're recording this, we haven't actually managed to get one of these new long shiny iPhone 5s, so I think we're going to hold that, just until we've got the new phone. We're not going to try it with the 4S - there doesn't seem a lot of point. Let's wait for the iPhone 5. Kelly, are you going to get yourself a 5?
Kelly:
No, I'm still going to stick with my BlackBerry - I'm sorry.
Pete:
Even though the 5's shiny and tall, and got a lovely screen and everything else?
Kelly:
I have no desire to get an iPhone 5.
Pete:
You weren't inspired by all the marketing hype that goes along with an Apple launch?
Kelly:
Nope - not at all, not at all!
Pete:
And of course, the beauty with your BlackBerry phone is, you don't have to go and queue with thousands of Apple fans.
Kelly:
No, I don't have to deal with that, I don't have deal with touchscreen. I just generally do not have to deal with anything.
Pete:
So, because we can't do the Kelly challenge that we were proposing, we're doing something a little different, and this ties up with another interest of some of the FrequencyCast team. We're actually out doing some radio. We're actually at a community radio station, seeing what they do for the day, chatting to some of their staff, and we're also talking to some amateur radio people, including one of the voices that you might have heard on a previous show. So the challenge, Kelly, is to do something that the radio people here have been doing, which is connect a whole bunch of equipment together, and see how technical your skills actually are. You're looking a tiny bit worried, but I'm confident here.
Kelly:
Well, I have an audience today, which is a little bit more difficult than usual.
Pete:
Absolutely, and an audience of very very technical people as well, so good luck. The challenge is, we're going to be reviewing a home security product. Now, this follows on from the review of the Yale door lock that we did in the last show. Tom, the security expert we caught up with in the last show, is here with us, but he's not willing to talk to us about how these products actually work until we've set it up for him, so Kelly, that is your job.
Kelly:
And a wonderful job to have, when in the middle of a field.
Pete:
Right, so what we've got is a display. This is a seven inch display, it's a touchscreen, and it's connected wirelessly to a security camera. So if you could hold that for me? - a quick description?
Kelly:
It literally looks like a very large TomTom.
Pete:
OK, that's fair enough. And on the other end, if I hand you this ... ?
Kelly:
A camera, with lots of lights.
Pete:
OK, now this camera is the kind of camera that you secure to the outside of your house with this little bracket that's on the back here, and it points down to your front door, and it's also got these little thingies round the edge, which are?
Kelly:
LEDs.
Pete:
So the idea here is, when somebody walks past, or up to your front door, the camera activates and sends the TV and the video to the thing that you called a large TomTom.
Kelly:
Fantastic!
Pete:
So, we need to connect this together. Can you see any potential problem with that challenge?
Kelly:
Well, we need a mains, and as we're in a field, I don't see anywhere we're going to get some mains from.
Pete:
Have you got any thoughts?
Kelly:
Well, I'm going to guess - as there is a big yellow box here that seems to have nothing to do with the two products you've previously handed me, that it may have something to do with that.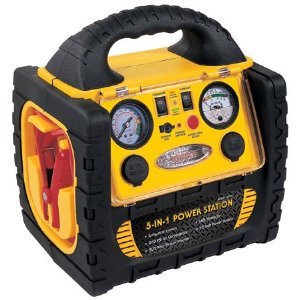 Power Station, from Maplin or Amazon
Pete:
Right, I now need you just to describe this product. First of all, try lifting it up.
Kelly:
OK, right. Blimey!
Pete:
You can put it down now.
Kelly:
Can I thank you? - oh dear, I wish I hadn't gone to the gym this morning. OK, so that is very heavy.
Pete:
Now, this is a clever little piece of kit. It's actually called a PowerStation, which you probably haven't come across before. What have we got on the side there?
Kelly:
Crocodile clips.
Pete:
Right, why would you think you might use these little beasties?
Kelly:
For your car?
Pete:
Yes! - this is an emergency jump start for your car, so if you are stranded somewhere, you can clamp that to your car battery, and the other end to the chassis of your car, and jump start your car.
Kelly:
I actually needed one of those, last time I was stuck in a field.
Pete:
Wasn't that when you were stuck in the mud at some concert?
Kelly:
Yeah, at The Secret Garden Party, completely stuck all evening.
Pete:
Well, not only does it jump start your car, it also has some other nice little features. I'm going to blind you now - mind your eyes. That's actually a lot more impressive when it's dark!
Kelly:
I was going to say - that really didn't blind, I felt like I'd closed my eyes for dramatic effect, and nothing happened!
Pete:
OK, right, the other thing this little beastie does, if I take the connector out of the back ... any guesses what that is?
Kelly:
No. Is it to pump your tyres? So basically, you've given me a car kit - this is what you've given me! Is there anything else? Is there a compartment for oil?
Pete:
Sadly not, no. So it has an air compressor in it, so you can pump up your car or your bike tyres with this, which makes it a rather handy little unit. The other thing it's got, which is rather impressive, is you can actually run equipment that is powered from a cigar lighter, because it's basically got a large 12 volt battery in here. So you can actually run all sorts of equipment from this socket. The socket says there, Kelly?
Kelly:
12 volt, 11 amp.
Pete:
So you can run up to 11 amps at 12 volts from these little sockets here, which is great for powering portable equipment. It's being used here for powering some amateur radio equipment, which is rather cool. But if you look round the back?
Kelly:
Ah - OK.
Pete:
Something you might recognise?
Kelly:
A mains socket.
Pete:
Yes. What it does, it's got something in it which is rather clever, and it's called an inverter. What that does is, it takes the 12 volts from the battery, and steps it up to 240 volts to power mains equipment.
Kelly:
That's quite impressive, for a little box.
Pete:
What I need you to do now is work out how to plug my camera and my screen into this, to see if we can get some power from it. So, over to you.
Kelly:
OK.
Pete:
Right, the first thing Kelly's doing, I'm watching the challenge here - she's picked up a mains extension lead. She's worked out she needs to feed two things into it, so she's correctly inserted a mains adaptor with a two-out and one-in into the back of the inverter on this PowerStation. She's about to plug in two mains adaptors. She's now going to plug one of those adaptors into the back of the camera. She's worked that out correctly. She's now plugging the monitor into the other one - well, hey, I'm impressed! How easy was that?
Kelly:
Ridiculously easy.
Pete:
OK, so let's do the next bit. Let's turn on the inverter - pretty quiet. Now, if you hold down the top button on the monitor there ...
Kelly:
Aaah! - oh, how lovely to see myself on camera!
Pete:
So, we've got a closed-circuit TV system in a field - impressed?
Kelly:
I'm very, very impressed.
Pete:
OK, now the hard bit - how do we connect this to the internet? I'll give you a clue: there's no internet socket, and there's no Wi-Fi.
Kelly:
Great, so we need something wireless - MiFi?
Pete:
Well done, yes - we've seen one of these before, and I think you've set one of these up in the past, haven't you? This is a little MiFi adaptor now - if you press the button on the front there for me? - anything happening?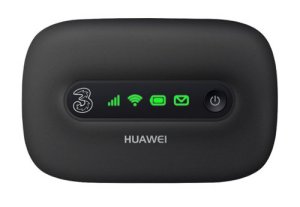 The Huawei MiFi unit, Pay-as-you-go or contract from 3 Store
Kelly:
Just a little green light has just come on.
Pete:
Right, and just for the benefit of our listeners, what exactly is a MiFi?
Kelly:
Well, a MiFi converts 3G into WiFi remotely - it's wireless.
Pete:
Absolutely right - so it's got a mobile phone chip in it, which picks up an ordinary 3G network connection, here we're using the 3 network, and turns it into a WiFi hotspot. If we look at the screen on our camera there, you can see it's now correctly got a WiFi connection, which means anybody from anywhere in the world can log on, and see video from us sitting in a field - how cool!
Kelly:
Very, very cool - although I really don't know why we'd need security in the middle of a field!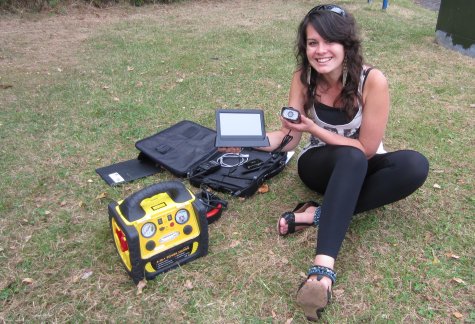 Pete:
And you'll find details of the versatile PowerStation, as well as the low-priced MiFi unit we used there, up on our show notes, for today's show, Show 80. You'll also find a link to the other item that made all of this possible, that's a small device that allows something with an Ethernet socket to connect over WiFi.
Also on today's show notes, you'll find a picture of a very smug-looking Kelly sitting in our field, with all the kit around her - do have a look. Also on today's show notes, you'll find a picture of Kelly sitting in a field, looking rather pleased with herself, and in a few minutes, we'll be looking at the security system that Kelly put together in some more detail.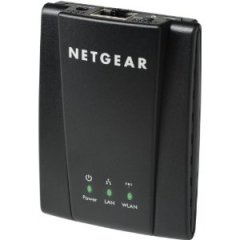 Netgear Wifi Internet Adapter, from Amazon.co.uk
Transcript continues: Show 80 Transcript Part 2
Related Links: