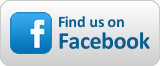 FrequencyCast UK - Show 80
The show notes to go with Show 80 of our technology radio show.
Listen to, or download, FrequencyCast Show 80 (30 mins)
Show 80 NEWS
Here's a look at the news stories covered in Show 80:
The end is nigh for the Digital Switchover: England completed the Switchover in September, with the North East being the last to pull the plug on analogue telly. The switchover will be fully complete in late October, once Northern Ireland completes the transition to digital. Welcome to Digital Britain!


iPhone 5 Hype: The usual queues and hype accompanied the launch of the new iPhone 5, although it's sold less than pundits expected. The much-reported problems with the new Apple Maps app that replaces Google Maps have done neither Apple nor TomTom many favours, with Apple boss Tim Cook apologising and suggesting Bing, MapQuest, or our favourite, Waze, as alternative mapping solutions until it sorts out the problem


Galaxy Note 2: Talking of new smartphones, the new Samsung Galaxy Note 2 is just out, and with a 5.5 inch screen, it's half-way between a smartphone and a tablet. First impressions are very good... and Google Maps works a treat.


BT and YouView: BT has announced its plans for YouView. From this month, you'll be able to get the Humax YouView box, normally £300, in return for a £49 activation fee, if you subscribe to BT Broadband and BT Vision. We hope to be reviewing the service in more detail in the next show.


Local TV Licences: Staying with TV, well done to Brighton and Grimsby - the first two areas to be awarded local TV licences. Expect "Latest TV" and "Lincolnshire Living" to go live in 2013. Expect another 17 local services soon.


TalkTalk Tops Charts: Next up, TalkTalk is top in the polls for Broadband and home phone. Top of Ofcom's most complained about providers list, continuing to hold worst place in Ofcom's charts since 2010. Three came out as worst for mobile phone complaints, beating T-Mobile. For the full picture, see the OfCom Complaints Report.


New FitBits: Next, fans of the FitBit, as covered by Kelly in the last show, note that two new fitness trackers have been released. The Zip is a budget model, and the One is an upgrade to the Ultra offering a Silent Wake function so's not to disturb your partner. Both models now support sync to your smartphone via Bluetooth


Bye Bye Teletext: Teletext Holidays has left the Freeview platform after being available on TV sets for 15 years. It's set to be replaced by a service called Holidays TV, for anyone who's ever booked a holiday from their telly.


You Hoo Wii U: Gaming fans note that the Wii U now has a confirmed release date of the 30th of November. The new console is around 20 times more powerful, supports full HD, and has a new touchscreen tablet controller... plus a guestimated UK price tag of £270.


End of Regional DAB? Shareholders of the regional DAB multiplexes have decided not to renew their license. From, Summer 2013, regional DAB radio services operated by MXR for the North West, North East, West Midlands, South Wales and the Severn Estuary will cease. It's not all bad news, as freed spectrum will be used for local DAB services ahead of the analogue radio switchoff.


And Finally: In the US, ABC TV star Jimmy Kimmel went out on the streets to find out what people thought of the new iPhone 5. Trouble is - he didn't have one... so he handed them an iPhone 4S, and pretended was the new 5... So, if you're desperate for a 5... just pick up a second-hand 4S...you'll love how it out-performs the last iPhone. Check out the YouTube video:

Challenge: Portable Power
For our tech challenge this month, we looked at ways to power and connect your tech from a field:
Power Station: This impressive portable power supply supplies either 12 volts or 240 volts from its built-in battery. It also can jump-start a car, pump up tyres and shine alight. Handy for any boot or field day!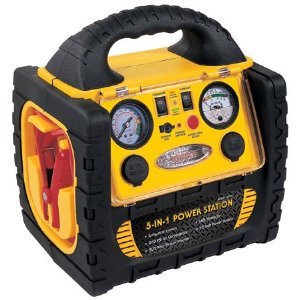 Power Station, from Maplin or Amazon
Mi-fi: Create a wireless hotspot with this small device that converts 3G mobile data into wi-fi: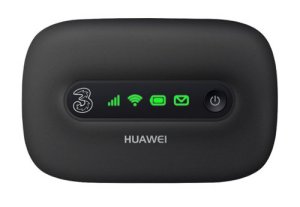 The Huawei MiFi unit, available on pay-as-you-go or contract from 3 Store
Wireless Internet Adapter: As used in our challenge, this allows devices with an Ethernet socket to be used to connect to a wi-fi basestation or hotspot: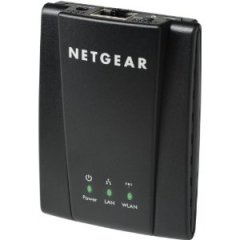 Netgear Wifi Internet Adapter, from Amazon.co.uk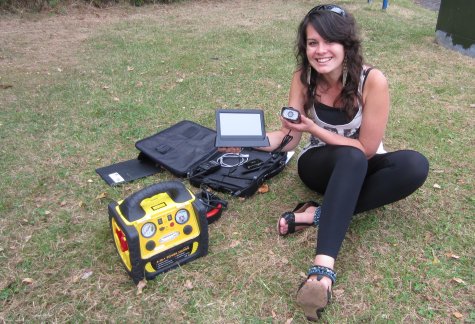 Challenge complete: A smug-looking Kelly, on the FrequencyCast Field Day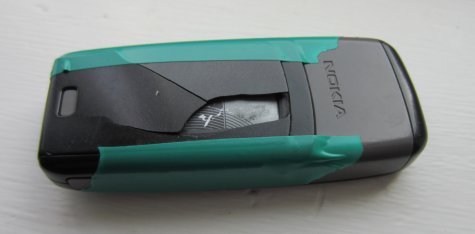 As promised, a pic of Carl's battered old Nokia
Hands-on: Home Security CCTV
With the help of our access control expert Tom, we looked at a wireless digital home security that lets you keep an eye on your front door from your lounge, office, or anywhere in the world.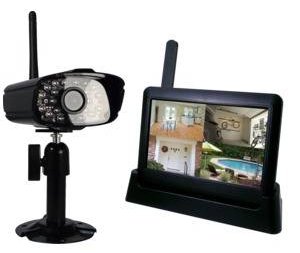 Digital Wireless CCTV system, with camera and screen, from Maplin
Feature: Community Radio
Much of today's show was recorded outside a local community radio station. To find out more about community radio, Kelly caught up with presenter Scott Ross. Read the transcript here: Show 80 Transcript Part 4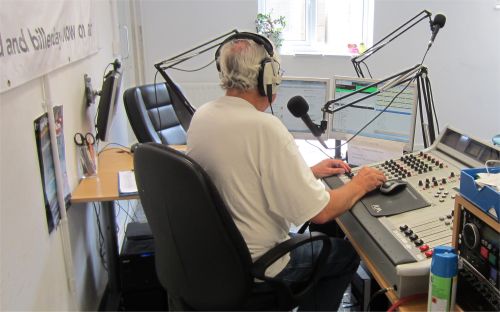 Scott Ross, on-air on Phoenix FM
Please Use Our Amazon Store!

When you're shopping at Amazon please use the link frequencycast.co.uk/amazon - It won't cost you a penny more, and shopping via our Amazon shop helps to pay for our running costs!
Cast 80: Interaction
Thanks to everyone who got in touch with us since the last show. In this show, we respond to the following mails and calls:
Slow connections over Fibre?
The first message was sent in by Mike on Canvey Island: "I recently had BT Infinity Broadband installed at home and my iPad and iPhone both get in excess of 30Mbps download speed, but my desktop pc's only manage between 4 to 6 Mbps. What can I do?"

Assuming Mike's connecting wirelessly, it's most likely to be something to do with his wireless adapters. His BT Home Hub, and Apple kit all support the faster 802.11N speeds, but we bet that the PC wi-fi dongles are the older 802.11G type. You'll get best results with a wi-fi "N" dongle, which will cost from £20 from Amazon.
Your thoughts on DAB:
Thanks to you if you got in touch about our piece on DAB radio. Here's just one of the message we had, from Dave Kirk:

"I usually have several radios around the house tuned in to the same FM channel, such as Radio 4. This isn't possible with DAB as they'd all be out of sync. My favourite DAB radio station, Chill FM, was recently removed from the local Birmingham transmitter, so I now only use DAB for occasional BBC Five Live listening."

That's one of the common downsides to DAB. As receivers have to use a processor to decode DAB into audio, the sound from two different DAB radio can be out of sync. Also, the Radio 4 pips will be late!
We also heard from Roger TCB. He said: "The DAB coverage in my house can be temperamental as things like thick walls & large silvered mirrors seem to scramble it. It seems that it could be sorted if only they'd just boost the transmitter power a bit."

He also says that he does listen to some radio via Freeview, as he can use his Freeview recorder to record radio while he's out.
YouView Comments:
Thanks to Stuart for his comment on the Humax Youview box:

"I find that while the Youview box is slick looking, it is ergonomically poor and currently lacking many essential features. It does not even output digital surround sound for example!"

Any more comments? Please get in touch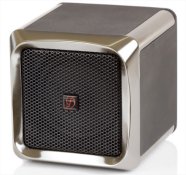 QB-Mito SoundScience Availability
This one from Alan Malarkey: "Back a few shows I loved the SoundScience Mito Portable Speaker but it has been out of stock since almost day 1 - any thoughts on this?"

Our sources at Advanced MP3 Players tell us that this impressive 25 watt Bluetooth speaker should be available by the time you hear this. Price £59

The Qb-Mito can be found (hopefully) at Advanced MP3 Players
Got a comment or question? You can leave us a voicemail by calling 020 8133 4567, or sending us a message. We'd love to hear from a few more of you, so please get in touch and say "hi" - our shows are driven by your feedback - So talk to us!
Want new shows as soon as they're released?
Get FrequencyCast shows automatically, as soon as we've finished them:
Got iTunes? Add FrequencyCast to iTunes


Otherwise, use Juice or another podcatcher to subscribe to our show feed.
Our feed address: https://feeds.feedburner.com/frequencycast