Flip MinoHD Camcorder Interview
We caught up with Chisti and Paul from Cisco to discuss their new Flip Mino HD Camcorder. Here's a transcript of our chat recorded at Dabs Live in Wembley.
Listen to our FrequencyCast Special from Dabs.com Live 2010
Flip Mino Interview starts around 12 minutes into the show
In March 2010, the FrequencyCast team were out and about at the Dabs.com Live Gadget show in London's Wembley Stadium. Here's a transcript of our interview with Chisti recorded at the show.
MinoHD Flip Hands-on:
Pete:
OK, I'm here at the Dabs Show in Wembley. I'm now talking to Chisti who's from FLIP, who's got a very nice little box to show me.
Chisti:
Yeah, this is the new MinoHD second generation, it's a very simple device, it's your hand-held HD camcorder, and what it does, it records in HD, it's very easy to use, there's no menus, there's no difficult things to play around with, it's only got eight buttons on the whole thing, it's simply point and shoot, so you press start, and you record whatever you want, press stop, you play it back on the screen, or you can connect it to a HD TV via the HDMI cable and you can watch it back in 720p HD, excellent quality, you get excellent sound quality as well.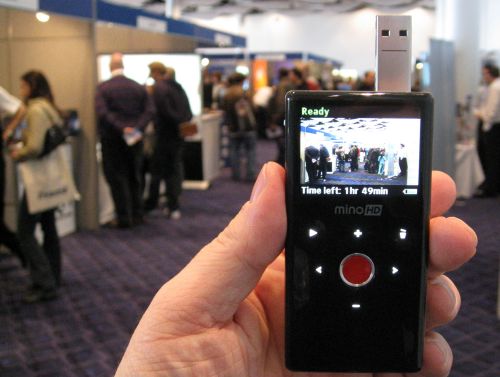 Pete:
OK, show me how easy this is, let's just put this into record from cold, let's see how long it takes to do.
Chisti:
OK, as you can see, to start it up, it starts up in under three seconds.
Pete:
Wow, that was quick, OK.
Chisti:
So if you're going out and about, you want to record something really quickly, take that out, in under three seconds, you can start recording. As you can see, we're recording now, just zoom in, it's got two times digital zoom, then we press stop, and I'll play back, that's it, so as I said, that's the principal idea.
Pete:
Wow, that is quick. So we're looking at a box that's about the size of an average mobile phone, the top third or so is a screen, and there's a nice central red button in the middle, which is obviously the record button. So we've taken our video, how much will this hold, hours-wise?
Chisti:
Two hours' recording, it's got 8 GB internal.
Pete:
Great, and what about battery life?
Chisti:
Battery life, you get about two-and-a-half hours.
Pete:
OK, excellent. And when you want to connect this to your PC or your telly, you've got an HDMI socket at the bottom for your TV?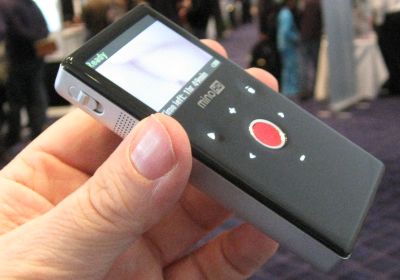 Chisti:
Yes, for your PC, you do a little, you press down on this button here, it flips out with a USB.
Pete:
Oh wow! A James Bond little flick knife just popped up.
Chisti:
Yeah, a little 007-style flip there, you put that into any PC or Mac, it works on both. It comes out with its own unique software called Flipshare. Now with that software, you can edit those videos that you've already taken, so you can merge those videos together, you can put your own kind of music at the back, you can put titles at the beginning, credits at the end. With that video, you can upload that straight to YouTube or My Space, or with that video you can send that to anyone in the world straight away, attachment-less, and what it does, it sends a quick hyperlink to someone via email, they just click on that link, and you can view your video straight away.
Pete:
So it'll hold the video your server somewhere?
Chisti:
On our server, on our website. It's a secure website, you just click on it and you can be there straight away.
Pete:
And what about the formats? - is it AVI, or DivX?
Chisti:
It records on mp4.
Pete:
OK, perfect. Average retail price?
Chisti:
This is coming out 8th April, a UK launch, and it's going to be priced at £169.99.
Pete:
Excellent, superb - thank you very much.
Chisti:
No worries, thanks very much.
You can get a Flip MinoHD handheld camcorder from Dabs.com , Amazon.co.uk or Play.com
Listen to our FrequencyCast Special from Dabs.com Live 2010
More information: