Unofficial Guide to Freesat
Freesat is a digital satellite TV service that launched in May 2008 as a joint venture from the BBC and ITV. This page provides more information on the service.
What is Freesat?
If you're looking for satellite TV in the UK, Sky Digital is the main provider, but many of their channels require a subscription. Freesat offers a range of free channels, all for a one-off installation fee.
Freesat is a joint venue with the BBC and ITV - You'll get over 170 TV and radio channels for a one-off installation fee.
Many of the channels you can get on Freeview are present, including Channel 4, Channel 5, E4, ITV2, ITV3, BBC3, BBC News, CBBC and CiTV. Other channels include Film 4, True Movies, Movies4Men, Euronews, plus the English Al-Jazeera service. Freesat Channel list
There are also subscription-free HD channels from the BBC, ITV and Channel 4.
Listen to Show 27, covering Freesat:
Freesat launched on 6th May 2008 and is available across the UK now.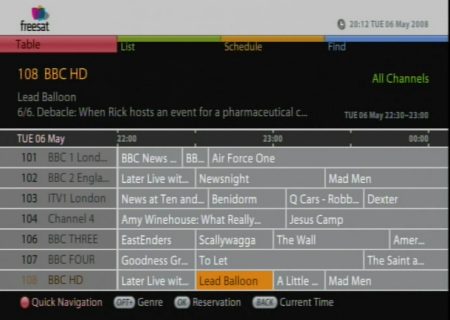 Freesat EPG on a Humax FoxSat
Freesat receivers
There are four types of receiver on offer - standard definition, high-definition, PVR receivers and TV sets with a built-in Freesat receiver. Freesat receivers are available from Currys and Argos .
Here's some info on the range of Freesat set-top boxes:
Bush BFSAT02SD


High-Def: No
PVR: No
Connectors: 2 x SCART, LNB in/Out, Ethernet

£30 - from Argos (Cat no: 532/1557)


Humax Foxsat HD


Recommended

High-Def: Yes
PVR: No
Connectors: 2 x SCART, HDMI, Component, USB, Ethernet

More info below


Humax Foxsat HDR


High-Def: Yes
PVR:Yes
Connectors: 2 x SCART, HDMI

Available now for around £240 from Play.com



Goodmans GFSAT100SD


High-Def: No
PVR: No
Connectors: 2 x SCART, LNB in/Out, Ethernet

£54.99 - from Argos (Cat no: 532/1571)


Goodmans GFSAT200HD


High-Def: Yes
PVR: No
Connectors: 2 x SCART, LNB in/Out, HDMI, Ethernet

£94.99 - from Argos (Cat no: 532/1588)


Panasonic PZ81


The Panasonic TH-50PZ81B is the first TV set with a built-in HD Freesat receiver. The Panasonic PZ81 plasma TV is available in 42", 46" and 50" versions.

Available at a decent price from Currys at the time of writing, but it's worth checking prices at Pricerunner or Kelkoo.


Getting Freesat

To get Freesat, you need a dish pointing in the direction of the Sky Digital satellite (Astra / Eutelsat). If you have an existing Sky dish, chances are this is good enough, otherwise you'll need to get a dish installed.
To get a satellite dish installed, contact a local satellite TV installer, or you can install a dish yourself with a DIY kit. You'll get a 45cm to 80 cm mesh-type dish.
You'll also need a special Freesat set-top box to receive Freesat's channels and the Freesat Electronic Programme Guide. We list the main boxes below:
The Humax FoxSat Receiver
As rare as hen's teeth on the day of launch in May 2008, but we found one, and took a look at what Humax's HD receiver had to offer.
You can hear our initial comments in our Audio Update released on the 6th May 2008:
Freesat Launch: Audio Update (8 minute mp3)
Here's a quick photo of the Humax Foxsat in situ:


Front view of the Humax FoxSat HD Freesat receiver
And a shot of the connectors on the back:

Rear view - LNB, 2 x SCART, HDMI, Ethernet, USB, Component, Video, Stereo, SP/DIF
Alternatives to Freesat?
Here's some information on other satellite services available in the UK
Sky Freesat: This is a cheap way to get around 200 basic free-to-air channels. For a one-off payment, you get the kit installed. No monthly fee. More details: Freesat from Sky.


DIY Satellite Kit: If you fancy installing your own dish and digibox, get this DIY kit. This includes satellite dish, digital TV receiver and LNB, and will allow you to get the free-to-view channels offered on Sky's satellite. No subscription, no cards, no recurring fees - For a list of the free satellite channels available, see Sky's Free-to-air channel list. Available from Maplin.


For the widest choice of satellite channels, consider signing to Sky - Details at www.sky.com/skycom.

Listen to Show 27, covering Free Satellite TV:
Freesat Questions
Can I use a Sky dish to get Freesat? Yes, almost certainly. Freesat Dish Info


Can I use a different receiver? Possibly, but you won't get the Freesat EPG. Freesat Receiver Info


Can I get Freesat outside the UK? Possibly, if you're in the Astra and Eurobird satellite footprint. Freesat outside UK


Am I in coverage? 98% of the UK population should be able to get Freesat - you need to be able to have a dish attached to your property pointed in a roughly South-Easterly direction with clear view to the sky - not always possible. Freesat coverage


Which HD channels are available and what are due? At launch in May 2008, only BBC HD was available. Now, BBC One HD, BBC Two HD, ITV 1 HD, Channel 4 HD and NHK World HD are available. We've also found Luxe TV broadcasting in the clear on our Humax Foxsat, but it's not yet an official Freesat channel.


What HD format does Freesat use? Top resolution is 1080i


Does Freesat support Pay-TV, or on-demand content? Not at present. Boxes don't even have card slots, so can't be used with a subscription card in the future. Consider Pay Once, Watch Forever if you want a subscription-free service that you could upgrade to pay TV in the future.


Receiving non-Freesat channels: With some boxes, you can scan for other free-to-air services. On a Humax Foxsat box, go to Menu > Setup > Manual Tune. In May 2008, our scan revealed 370 TV channels and 106 radio channels including: Business Channel, Baby Channel, Wine TV, Film 24, UCB TV, Sky News, Nuts TV, Bloomberg, CNN, JJB Golf, Fight Network, Luxe TV (in HD!) and Rockworld TV. There were also quite a few religious channels, a stack of shopping and quiz channels, plus a collection of free-to-air adult tease channels (such as Babestation, Essex Babes and Playboy 1)


Disk recorders for Freesat? At launch, no DVRs were released for Freesat, but in November 2008, the Humax Foxsat HDR was released.


Communal dish? Yes, Freesat works with community satellite dishes. You will need a dedicated feed from the LNB (the block in the middle of the dish). Typically a domestic dish can cope with four LNB outputs, suitable for 4 receivers. The dish must be pointing in the right direction.


Can I use Sky and Freesat together? Technically, there's no reason why you can't connect both a Sky Digital and a Freesat receiver to the same telly - there is an issue about both boxes sharing the same dish though. See our 2 receivers, one dish question


What type of connector do I need? We had a message from a site visitor asking what kind of connectors were needed to connect from a communal satellite dish socket on the wall to a Freesat receiver. Freesat uses co-ax cable and connectors called F Plug and F socket. These have a screw thread, and screw together. Pictured to the right is an F-Plug and an F-socket.
Leads in various plug-and-socket combination are available from maplin.co.uk. Assuming the socket on the wall is a screw socket, and the connector on the satellite TV receiver is also a screw socket, then you'll need an F-log to F-Plug lead from Maplin


Does Freesat support Dolby Digital? Yes - The BBC HD channel is broadcasting some of its content with Dolby Digital 5.1. To get surround sound, look for a Freesat receiver that has a digital audio out, such as the popular Freesat HD receiver, the Humax Foxsat, which has an S/PDIF digital audio output suitable for Dolby Surround Sound 5.1 .


Two receivers, one dish? Some Freesat boxes have an RF In and RF Out sockets, allowing the feed from the dish to "loop through" the Freesat box off to a second receiver. There are some issues with this though - A satellite receiver needs to take control of the LNB (the bit of the dish that does the work), and it's not possible for two receivers to control one dish LNB - one or other will have to control the voltage to the LNB, and the LNB polarity.
If you don't have a loopthrough, the Maplin 2-way satellite switch may be of use.
Best option is to use a multi-LNB and have a separate cable run for each receiver, allowing each box to control its own LNB.

Got a question on Freesat?
Call 020 8133 4567 or ask in our forum