Sky Digital Explored
This page explains the basics of what Sky Digital has to offer, and answers our listener's common questions about Sky's UK satellite TV service.
Listeners to our free podcasts will know that we're often covering Sky Digital in our shows. Our full Sky Digital review was in Show 16 and we looked at Sky+ HD in Show 23.


Sky Digital set-top digibox and minidish
Listen to Show 16, covering Sky Digital & Sky HD:
What does Sky offer?
Sky has been in the business of providing TV to the UK since the 1980s. They now offer a satellite service beaming hundreds of channels into home in the UK and Ireland, including a large number of Sky's own channels.
The UK is due to switch to digital TV by 2012, and Sky is at the forefront of that switch - they're also offering cutting edge viewing services such as high definition and Sky+.
Sky Digital offers the widest selection of digital TV channels in the UK - admittedly, there's an awful lot of tat, channel-wise (quiz shows, Babestation, shopping channels, etc), but there's a high number of quality channels too. Here's what we think are the key benefits of signing to Sky:
Channels: Sky offers the widest range of channels of any other digital service in the UK. Channels include: Sky One, Sky Atlantic, Comedy Central, SyFy, G.O.L.D, Disney, Sky Living, E4, More 4, BBC Three, Film4, Discovery, History Channel, MTV, BBC News and EuroSport.


Sport & Movies: You can optionally subscribe to 10 channels of movies, or the various Sky Sports channels. There's also Sky Box Office, where you can watch latest film releases on a pay-per-view basis. More on Sky's Sporting offers here: Sky Sports Packages.


Quality: Sky covers 98% of the UK population (far greater than the UK Freeview coverage). As it's delivered digitally by satellite, the quality is excellent, and not susceptible to interference or the same level of pixelation that you may see on standard TV or Freeview. The boxes are well equipped, supporting widescreen, surround sound, two SCART sockets, and two aerial feeds for other TV in the house.


Technology: Perhaps consider paying a little extra and going for Sky+. A Sky+ box records TV shows onto a built-in hard disk. It really will change the way you watch TV. Record two different channels at the same time, pause and rewind live TV, and take advantage of the EPG, to browse and select shows to record up to 7 days in the future.


Sky HD: Sky's now offering over 50 channels in stunning Hi Def. If you're serious about your TV viewing, consider going for Sky+ HD to get High-definition TV.


Extras: There's quite a few little extras available to Sky subscribers, such as Sky's Movies-over-Broadband service and Sky TV on a mobile. If you have Sky+, there's remote record that lets you send your box a text message to get it to record a TV show. There are some optional goodies you can buy, including a Sky Link, which lets you switch channels from another room. There's also the Sky Player - Sky content over the Internet.


Free Broadband: Sky now offers free broadband to its TV subscribers, which is a pretty good offer. You'll need to take out Sky Talk to get inclusive Broadband.
Should I subscribe?
If you're thinking of signing up with Sky Digital, here's why now's a good idea:
TV, Broadband and Phone in one package - Sky is offering a package deal - Over 200 digital TV channels, Broadband Internet access (wireless router included), plus free UK evening and weekend landline phone calls... from £21.50 a month, plus line rental.
Free digibox: You get a free Sky+ HD digibox and dish when ordered online.
Free Internet: Sky Digital is offering free Broadband to Sky subscribers.
Extras: You can optionally sign up for a Sky+HD box, or Sky Multiroom

More on these offers at www.sky.com/skycom
Alternatives?
Consider the BT Vision "TV Pack". Over 7,200 on-demand TV shows over Broadband, plus movies and sport. More on BT Vision
How to get Sky or Sky+ HD
Getting Sky Digital is pretty straightforward - you can phone up and arrange a booking, but you're better off booking online at www.sky.com/skycom, as there are some Internet-only offers, and you can see what packages you're selecting.
Want a basic guide on how to get Sky? Sky Basics
Once installed, you'll be able to use the free digibox to select from any of the hundreds of channels - you also have access to pay-per-view movies, and a wide selection of radio stations. A top selling point, is Sky's Electronic Programme Guide, which is even more powerful if you go with the Sky+ option (explained below). Here's a screenshot of the Sky programme guide: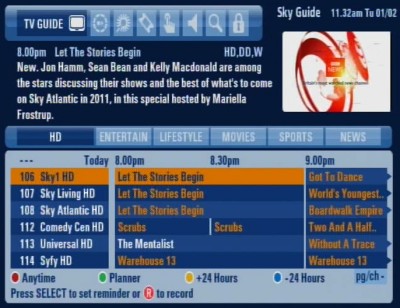 Sky's on-screen Electronic Programme Guide
As reported on our podcasts, TV in the UK will be all-digital by 2012, and if you're going to go digital, Sky's offering will give you the widest number of channels currently on offer in the UK.
Sky's offers:

Looking to get Sky? Sky's always running offers to get you to sign up - these include free set-top boxes, free installation and vouchers for High Street retailers.
Details of Sky's current offers are at www.sky.com/skycom (or Sky Ireland)
Getting Sky Digital installed:
To get Sky, you'll need to pick which package you want and arrange an installation date (which includes weekends).
Package: You build a custom subscription based on their channel packs - the basic package is Entertainment with the optional Entertainment Extra package covering the full range of channels. You can also pay an additional monthly fee to sign up to Sky Sports and/or Movies packs.


Equipment: You can opt for a basic receiver, or go for the Sky+HD box (which has a built-in hard disk recorder, for recording shows, series link and live pause). You can also get an extra box for elsewhere in the house, with Sky Multi-room


Installation date: When ordering from Sky, they'll be able to confirm the earliest installation date. In our area, the first available day was four days after ordering. In many areas, Saturday and Sunday installation is available. Installations will typically take place between 8:30am and 5pm on the day of your choice, and you get a call from the installer on the morning, to let you know what time to expect them.
To order, you can either phone Sky and arrange sign-up over the phone (dial 08705-800 874), or take advantage of their online specials by signing up over the web at www.sky.com/skycom.
Details of Sky's Extras
Sky+ HD

HD offers a higher quality picture with more vibrant colours, greater detail, crisp clarity and amazing sound quality. Sky is currently leading the field, offering a Hi Definition set-top box and subscription, and the strongest lineup of HD programming currently on offer in the UK.

At the time of writing, over 60 channels of HD are available, including: BBC One HD, BBC Two HD, ITV1 HD, Sky One HD, Channel 4 HD, Five HD, Sky Atlantic, Sky Living, National Geographic HD, SyFy HD, Discovery HD, the History Channel HD, 3 Sky Sports HD channels, ESPN HD, several screens of Sky Movies HD, Sky Arts HD, plus pay-per-view Box Office movies in HD.

To get Sky's HD, you'll need a Sky+HD Box (free on some packages), you'll need to sign up to the monthly HD subscription, and have an HD-Ready TV set.

With Sky HD, you get a top-of-the-range Sky HD box that has Sky+ functionality and a huge hard disk.

Sky+

You've probably heard the hype about Sky+. This is described as something that will change the way you watch TV. It's a combined satellite TV receiver and a digital TV recorder that automatically records TV onto a built-in hard-disk. This gives you a huge amount of control over how you watch TV. The Sky+ box lets you:

Watch one Sky channel while recording another
Pause and rewind live TV
Record two different channels at the same time, while watching a recorded show
Use the Electronic Programme Guide to set up seven days of TV viewing. You can also set up recordings remotely via text message
Series Link - From the programme guide, press the Green button, and the box will record all future episodes of the selected show, avoiding repeats.
Copy off recordings of programmes onto DVD or video

The Sky+ box is normally available for free when ordering online. There is no ongoing subscription cost for using the Sky+ service if you subscribe to any package.

More information on Sky+ at www.sky.com/skyplus
Common Sky Questions
Connecting Sky

We've had a mail from one of our listeners who's having problems connecting her Sky box to her. Here are a few notes:

The cable from the satellite dish needs to be connected carefully into the screw-thread terminal (or terminals if Sky+) at the rear of the Sky digibox


The output of the Sky box should be connected to your TV via a SCART lead. You should connect a SCART lead from the 'TV SCART' socket on the Sky box, to a spare SCART socket on the TV.


Then, set your TV to view the output of the Sky box - Your TV's remote should have an AV / Line In or Ext button to allow viewing of the external socket. The button may be labeled with an icon like the one to the right.

High-definition: If you have a Sky+HD box and an HDTV, you can get high-definition TV by connecting between box and TV using an HDMI cable, and not a SCART cable.

More help? There's a lot more information on how to connect set-top boxes on Radio and Telly's Connection Help page

Sky TV in multiple rooms

If you want to watch Sky TV in more than one room, there are two main ways. One way is to send the output of your Sky box to the other TV set(s). There are two ways of doing this:

Aerial lead: Connect an aerial (co-ax) cable from one of the Sky box RF output sockets, to the aerial input on the other TV in the house. You then need to tune the other TV set into the output of your Sky box. To check the channel number that your Sky box is transmitting on, Press 'Services' on the Sky remote, then type 4 0 1 (or 0 0 1 on a Sky+HD box) and press 'Select'. Select "RF outlets". For co-ax connectors and extension leads, try maplin.co.uk



With these options, you'll be limited to watching what's being shown on the Sky digibox. If you want to be able to watch different channels in different rooms, then you'll want Sky Multiroom. With this, you'll have a digibox for each room.

Note that each box will be connected directly to your satellite dish. Each Sky dish can cope with a maximum of eight feeds (with a suitable octo LNB) - so the maximum is eight standard Sky boxes, or four Sky+ boxes.

For more information about Sky Multiroom, or to order, go to sky.com/shop/boxes/sky-multiroom

Recording from a Sky box

If you have a Sky set-top box, you might want to record Sky programmes onto a DVD recorder or a video recorder. Some things to note:

Outputs: Sky boxes only have one output feed. although a Sky box has lots of output sockets (SCART, aerial and in some cases HDMI), Sky boxes are only capable of letting you watch one Sky channel at a time. In other words, you can't record one Sky channel onto a connected DVD recorder, while you watch a different Sky channel on your telly.
If you want to be able to watch one Sky channel while recording a different Sky channel - you need either: two Sky boxes connected to your dish, or the better option - Sky+ which lets you record onto the built-in hard-disk. More on Sky+


Copy Protection: Some Sky content is copy-protected, and you can't record it - the applies to content such as Sky Box Office

Subscription-free Sky

If you like the idea of getting extra digital TV channels via satellite, but don't fancy paying a monthly subscription to Sky, there are some other options. There are several subscription-free channels that can be received with a dish and decoder - See Sky's list of free-to-air channels.

Here are the ways of getting some satellite channels without a subscription:

Freesat (the BBC and ITV), which launched in May 2008. This service offers around 140 channels of subscription-free TV and radio.


Sky's Pay-once, Watch-forever: Get around 200 free-to-air channels by satellite. For a one-off payment, you get a dish installed and a basic set-top box. No monthly fee. More on Freesat from Sky.


DIY Satellite Kit: If you fancy installing your own dish and digibox, get this DIY kit. This includes satellite dish, digital TV receiver, and LNB. No subscription, no cards, no recurring fees - Available from Maplin from £99.99



A lot of Sky's channels require a subscription though - see www.sky.com/skycom to find out which channels are on subscription, and which are not.

More information: See our page on subscription-free TV

Connect to a phone line

To get a free or discounted Sky digibox, it's a requirement that you have your Digibox connected to a phone line for at least 12 months. Why is this?

Sky will provide you with a free or discounted box in return for you keeping the box connected to a phone line and signing their "Interactive agreement". There are several interactive services on Sky, using their Sky Active service, and you need a phone line for this functionality. Additionally, you can order movies on demand, or watch pay-per-view events, which require a phone line, so they know you've viewed a film/event. More at www.sky.com/skycom

If you're getting Sky to install a box for you, they'll typically run a phone extension (shortish distances). Otherwise, you can use a Wireless Telephone Extender to use your home's mains wiring as a phone extension. If you really don't want to connect to a phone line, Sky will still let you, but you won't qualify for the discounted box, and it'll cost you more. You could also consider Freesat as an alternative to Sky - they don't require you to connect to a phone line.

Sky on your PC

It's possible to connect the output from your Sky Digital or Sky+ box to your PC, so that you can view and record Sky TV on your PC (or a Windows Media Center PC).

To do this, you'll need a TV receiver for your TV. There are two types - a box that plugs into a spare USB port on your PC, or a card that slots into the casing of your PC (into a spare PCI card slot). PC TV receivers are available online from Maplin , PC World, Play.com or Dabs.com. PC TV products made by Hauppauge, AverMedia or V-Stream tend to be fairly common.

There are a few ways to connect from your Sky box to a PC TV card:

Aerial: The most straightforward way is to take a feed from one of the Sky box RF output aerial feeds and use standard aerial co-ax cable to connect to the input of a TV card. Note that you'll need a TV card that supports an 'analogue' input, as this is what's sent from the Sky box aerial socket. Some PC TV receivers are digital (DVB-T) only, so won't work. Analogue cards are getting more rare, so consider looking for a dual digital and analogue card, such as one from the Hauppauge HVR range - we recommend either the Hauppauge HVR1100 (PCI card) or Win-TV HVR900 (USB).


S-Video: If you're looking for slightly better quality than using the modulated output of a Sky box and aerial cable, then you can consider using S-video. Look for a TV card with an S-Video input. If you need S-Video cables, or a SCART-to-Svideo converter, we recommend TV Cables or Maplin Electronics. Note that an S-video connect only handles video, so you'll need to connect an audio feed too (from the phono outputs on your Sky box to your PC soundcard).


Video sender: If you don't fancy the cable run, consider getting a video sender to send output wirelessly. AV senders are available from Argos and Maplin. Note that these normally transmit to a SCART socket, so you may need a RF modulator to convert an AV Sender's output from SCART to co-ax aerial input.


Network: If you want to view your Sky Digital box while away from home, you can - over the Internet. Consider a Slingbox

Note that in the solutions mentioned above - all you can do is watch the output of your cable TV box from a PC. As the Sky box is only capable of outputting one channel at a time, you can't watch one channel on your PC, while watching another channel on your main telly. Two workarounds: 1) Get Sky Multiroom, or 2) consider getting a Hybrid PC TV receiver and connect a TV aerial - Assuming you can get a Freeview signal, you'll be able to watch Freeview channels on your PC.

One other option exists - and that's to get a PC card that's got an onboard satellite decoder - with this, you take the feed directly from the dish into your PC card, bypassing the Sky box. the downside is that, as your PC doesn't have a subscription card slot, you can only view the free-to-view Sky channels.
You'll find answers to some of your Sky questions on our Questions page, as well as in many of our podcasts
Listen to our show covering Sky Digital & Sky HD:
Got a question on Sky? Call our podline on 020 8133 4567
Other Links: