Hitchhikers Guide Radio Show Live Review
Fans of the classic series, the Hitchikers Guide To The Galaxy need to check out the 2013 tour of the Radio Show Live. Catch our review, and our interview with Mitch Benn.
Listen to FrequencyCast Show 92 - Extract of Hitchhikers Guide Radio Show Live Review
Hitchhiking around the UK:
Until the end of November 2013, the Hitchhikers Guide is on the way around the UK. Here's a transcript of our review:
Transcript continues from Gadget Show Live Xmas 2013 Preview
Pete:
Right, now Kelly, last show – you know what I'm going to say, don't you?
Kelly:
I know, I know!
Pete:
You wussed out, didn't you? – admit it?
Kelly:
Well, I wasn't so much of a wuss! Unfortunately, I had other commitments.
Pete:
Well, I went without you.
Kelly:
I know. I'm proud of you, going alone.
Pete:
I didn't go alone, I'll have you know! I've got a queue of people that wanted to go with me, thank you very much. The feedback we got here was from Mark.
Kelly:
He says, "The problem with presenting The Hitchhiker's Guide to the Galaxy on stage is what the actual story is. The original radio plays, books, LP, TV and film versions differ considerably. This show seemed, unsurprisingly, to take the radio version as the master, but because of the length of the theatre show, was a bit of a Hitchhiker's Greatest Bits show."
Pete:
And a great show it was.
Well, here we are, about to go into The Hitchhiker's Guide to the Galaxy live radio show, and I'm here with, Kelly?
Alice:
No, I'm sorry to say, Pete – it's me, it's Alice.
Pete:
Yes, no Kelly tonight, so you're my hot date for this evening, here at The Hitchhiker's Guide Radio Show.
Alice:
And I just can't wait – it's going to be fabulous.
Pete:
A big Hitchhiker's' fan?
Alice:
Yes, I listened to all of the audio tapes when I was younger, and I think I've still got them hidden away somewhere, so I can't wait to see it again.
Pete:
I'm very impressed – you've turned up in a towel tonight, not in a towel, but you know what I mean!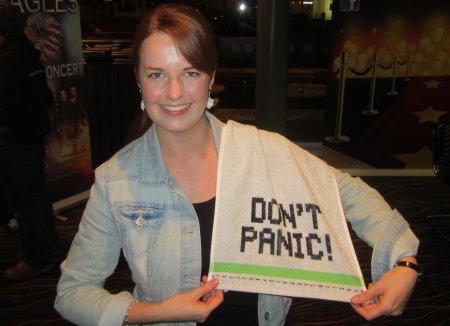 Alice, out with Pete, and not panicking!!
Alice:
Yes, I've got my "Don't Panic!" towel, and I'm going to dip it in a Pan Galactic Gargle Blaster in the interval, and we can enjoy that later on in the show.
Pete:
Excellent, well I'll be sticking a picture of you in your stunning towel up on the website.
Well Alice, it's just finished. What did you think?
Alice:
I thought it was absolutely fabulous. I absolutely loved it. I think for me actually, it's just how spectacular it all is, because I've seen other radio plays of other productions, and they've all been very simple, and it's wonderful actors in costumes reading things, but this was just an extravaganza of special effects and things going on, and so many actors running around on stage. Marvin was absolutely fantastic, and the special effects that made his face light up whenever he spoke, I just thought that was so clever.
Pete:
Was I well-behaved in the audience?
Alice:
You were very, very good, even after a few Pan Galactic Gargle Blasters.
Pete:
The original cast members were there: Simon Jones, Geoffrey McGivern, and Susan Sheridan. Unfortunately, though, Mark Wing-Davey, who plays Zaphod Beeblebrox, wasn't available. In his place this year, though, was comedian, musician, and sci-fi lover, Mitch Benn, and I caught up with him for an exclusive interview, to find out what it's like playing the best bang since the Big one.
Mitch:
Well, Zaphod Beeblerox at the moment, certainly. I can do the Zaphod voice if you like?
Pete:
Oh, go on – give us a free yowl.
Mitch:
Yeeaowl! This is great fun. I've been a Hitchhiker's' fan since I was like nine, and a particular fan of Zaphod, even though I kind of got the impression I wasn't supposed to be, and they're a great bunch of people. Again, I'm working with some actual childhood heroes here.
Pete:
Simon Jones, Geoffrey McGivern?
Mitch:
Absolutely, yes – Simon and Geoffrey and Susan are there. They're kind of the core of the company, because they're the original radio guys, and of course it was supposed to be Simon, Geoffrey, Susan and Mark, but Mark Wing-Davey, as in proper Zaphod, is now Professor of Drama at New York University. Certainly the response from the fan base to the announcement that it was me was very positive, and that was hugely encouraging, but I think I'm kind of regarded as legit in Hitchhiker terms, because I'm a Radio 4 guy, I'm a comedy guy, I'm a sci-fi guy. I've got my own science fiction novel out now, Terra, which people keep mentioning Douglas in the reviews of, which is ludicrously flattering. I think the connection is there, so I think I'm regarded as proper.
Pete:
Thanks very much to Mitch Benn for chatting to us, and there's a longer version of that interview up on our website, www.frequencycast.co.uk, and to find out when the Hitchhiker's Guide Radio Show is in your town, go to www.hitchhikerslive.com.
Listen to our FULL Hitchhikers Guide To The Galaxy Live Report (12 mins)



We also have a YouTube version: