Amazon Kindle in the UK - Hands-on Review
The Kindle is Amazon's ebook reader. The first version was released in November 2007, and a new version was released in August 2010.
Listen to FrequencyCast Show 55 - Hands-on with the Kindle
Also, try our 28 minute UK Kindle Review!
Amazon started shipping a new version of their eBook Reader, the Kindle, from the 27th of August 2010.
The new eBook reader is smaller, lighter, has double the storage and improved screen contrast. One charge will give you a month's reading and 400,000 books will be available.
The new, third-generation Kindle, is a UK version, not a US import as before.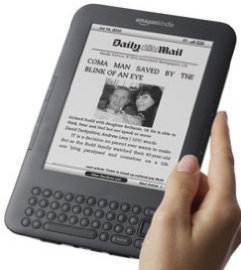 The Next Generation Kindle, released in August 2010
New Kindle in the UK
There are two versions available:
wi-fi and 3G: For getting books and content on the move. The 3G is using Vodafone and is subscription-free. Price: £152


Wi-Fi only: No built-in 3G. Price £111.

Ten reasons why the new Kindle kills:
Over 400,000 books from the Amazon UK store, plus UK papers and magazines


Download a book in 60 seconds


Built-in 3G (Vodafone) - no subscription


Preview books without buying


Small and thin, and can be viewed in direct sunlight


Holds 3,500 books, one month of reading on one charge


Newspapers delivered over-the-air automatically


Text-to-Speech book reading, plus MP3 music, audio books and podcast playback


Share with Facebook and Twitter


Dictionary, Wikipedia, blogs and experimental web browser access
Kindle Review - As featured in FrequencyCast Show 55
Also, try our 28 minute UK Kindle Review!
Pictures of the UK Kindle
Here's a small collection of images of the UK 3rd generation Kindle, taken from our Day One Kindle review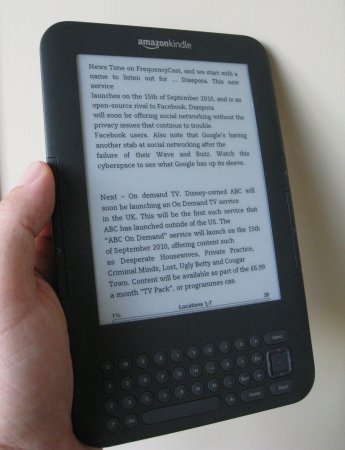 The underside of the Kindle, showing the volume up/down, 3.5mm headphone jack, microphone (not currently used), micro-USB connector, on/off slider switch and charging light

Supplied with a Kindle - A slim "getting started" guide (the main manual is on the Kindle), plus a USB charging lead with UK mains plug.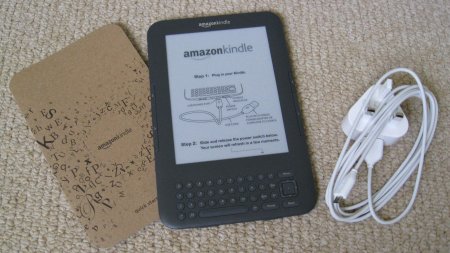 Web browsing with the UK Kindle. Here's our site, in landscape mode: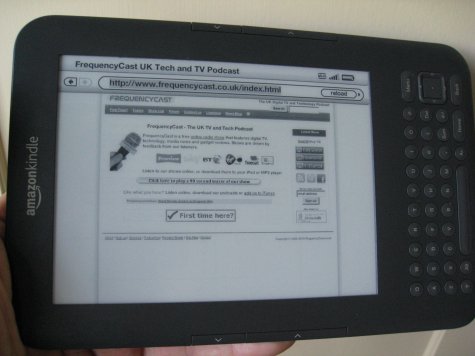 The two rear-mounted speakers on the UK Kindle: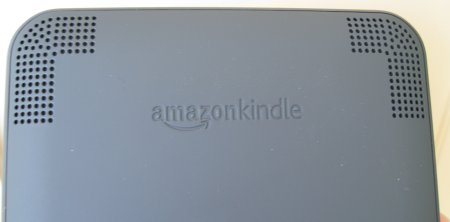 The Kindle, next to the rather dated-looking Sony Reader PRS-505: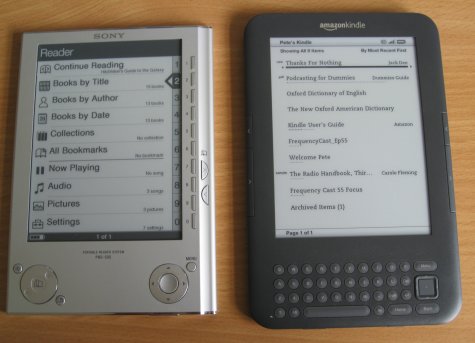 Your Kindle Questions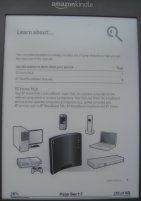 PDF Quality: Thanks to listener Ijaz for this question: "Could you please review that how quality/response etc of PDF books on Kindle. I have already bought some PDF books and these books have large number of Images /diagrams. I would appreciate if you could review a PDF book on kindle that has loads of diagram or images"
Our reply: From our initial tests, we've found that PDFs view flawlessly on the Kindle. We've tried with the Sky+ manual, a TomTom manual, a couple of eBooks and the BT Home Hub Guide. Below is a photo of the Kindle showing one of the more complex pages in the Home Hub manual, showing hi-res images, tables and shading. Click here for a larger image
Hidden Shortcuts for the Kindle
Some hidden Easter Egg shortcut keys for the Amazon Kindle:
Press Shift Alt and M from the Kindle homescreen to get to the hidden Minesweeper game.
Press Alt Shift G to take a screenshot
Thanks to listener Sungmin Shaun Kim for the tip!
Got a question on the Kindle? Let us know!
More Information: