UK Kindle - Full Review and Unofficial Guide
The UK Kindle launched in August 2010, and our team has put together a special 25 minute hands-on review of the Amazon Kindle.
Take a listen to our free guide to Amazon's UK book reader.
Amazon UK Kindle - Audio Review
Listen to our 28 minute audio review of the Amazon Kindle, recorded in September 2010.

Download the MP3 file, or listen online using our pop-up player.
Listen to Pete and Carl put the first UK Kindle through its paces, as we time how long it takes to download a book, look at the web browser and MP3 player, try the text-to-speech, and answer our listeners questions.
We present our free 25 minute audio "Unofficial Guide to the Kindle".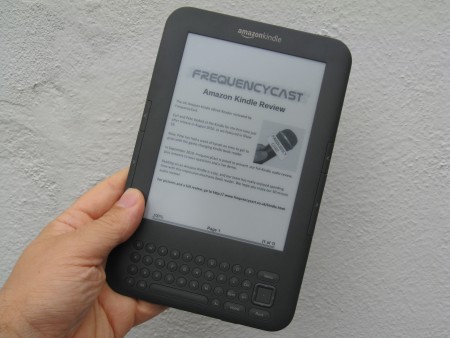 We discuss all things Kindle in our Unofficial Guide to the UK Kindle
More information: