Hands-free Control with Leap Motion
The Leap Motion Controller is a novel way to manipulate your PC without a mouse or keyboard - how close does this gadget come to hands-free computer navigation?
Listen to FrequencyCast Show 91 - Leap Motion Controller Discussed
One Giant Leap:
Our transcript from Show 91 were we take a first look at the Leap Motion controller:
Transcript continues from o2 TU Go Review
Pete:
Right, now this one here, this next little thing on our to-do list today, was actually from our interaction section, but it's such a good little thing to talk about, we've pulled it forward. What is it, Kelly?
Kelly:
This is Leap Motion.
Pete:
Yes, and we had an email in from Steve Abbey.
Kelly:
Yes – he's asked for comments on Leap Motion, which he says sounds like an interesting device for hands-free control. Is it all it's cracked up to be? Have you had a play with it yet? And can you control Windows with it successfully?
Pete:
Well, if you remember, Kelly, we did have a quick look at some similar technology earlier this year, when we were at Gadget Show Live. If you remember, it's like the Minority Report, where you sort of swipe your finger at a screen, and it does clever stuff – do you remember that?
Kelly:
I do, though I was more focused on Tom Cruise.
Pete:
Ah yeah – that doesn't surprise me at all. Well, this is rather clever technology, and this is a little tiny box that you plug into your Windows computer, and you can use your fingers to do all sorts of controlling. Now, what we've got in front of us is our tablet device. We're just going to watch the ad. I know you've already seen this, but just for the benefit of our listeners – just talk me through what's going on on this little video here.
Kelly:
OK, so they're squiggling with their finger at the moment, kind of writing a few bits and pieces on the screen.
Pete:
It's not actually on the screen – this is just in the air, near the screen.
Kelly:
Well, you know what I mean – it comes up on the screen. They're kind of zooming into Google Earth; now smashing some fruit – it looks like a bit of a game.
Pete:
And it's just waving your finger, and waving your hands about. Apparently, it can cope with ten different fingers doing different things at the same time.
Kelly:
Always useful, if you have two hands. They're now rotating the screen. You can play games on it as well, so you can use your fingers as a gun.
Pete:
I've always wanted to do this – two fingers together, using your thumb as a trigger – they're actually doing that on the screen, and it's working.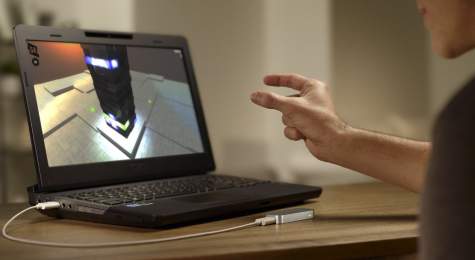 Kelly:
Fantastic! You can fly a plane, using your hand motions. It almost like hands are coming out to grab you.
Pete:
Angry Birds!
Kelly:
Angry Birds with chopsticks, it looks like here. So it's not just your fingers that can control it – it's also like a pencil, a stick – anything along those lines.
Pete:
So it is pretty clever. It's nice technology going on behind here, recognising what your fingers are doing, and effectively trying to replace the mouse, so you can manipulate things on screen without having to click around with the old mouse. It's clever stuff. Apparently, it can support all ten fingers, with up to one hundred of a millimetre accuracy, and no latency, which is rather good. However, it's had some less-than-favourable reviews. We've gone poring through all the reviews for this, and it's one of those Marmite things – people either love it or hate it. A lot of people are saying it's unresponsive; it's affected by light – if you've got a different kind of light in the room, it can't quite read the fingers properly, and another issue is, you have to have special apps that are geared up to support this, and of course, not all the apps do. So a lot of people have said, brilliant idea – it just doesn't work. Other people, however, have come along and said, you have to give it time. You have to learn how to use it. It takes a while to get used to, and it isn't a mouse replacement. So it does sound at the moment, it's kind of good for gadget geeks, but it isn't really a mainstream product.
Kelly:
I think it's a really, really interesting device to have, and it would be great to use your computer that way. I think, if it's causing that many problems at the moment, it's probably not for mainstream use at home, but then it's only £70, isn't it? – so I mean, it may be worth a go, if you're willing to invest the time to use it.
Pete:
I'm toying with the idea of getting one, just to put it through its paces, because you know me – I love all my little gadgets.
Kelly:
Yeah, well you are the definition of a gadget geek.
Pete:
True enough. The only thing I think I don't like is the idea that you have to use their Airspace app store to buy apps, and of course, they're not cheap.
Kelly:
No, and I don't think that that will last, to be honest.
Pete:
Nonetheless, it's worth a look. We'll put up a link to the YouTube clip up on our show notes. Do go and have a look – it does look very impressive, if you can get it to work.
Kelly:
Ooh – good luck, Pete!
Pete:
OK, now it's time to point the finger in the direction of interaction.
Listen to FrequencyCast Show 91 - Leap Motion Controller Discussed
More information: