Sky Wifi Smartpen from Livescribe
We take a look at the Sky Smartpen from Livescribe. This impressive tech pen captures your written and spoken notes, and makes them available on the cloud.
What is the Sky Smartpen?
This is the newest of the smartpen range from Livescribe. We reviewed the original smartpen, the Livescribe Pulse, back in show 40.
Here's what the Sky does:
Captures your handwriting and audio as you write
Shares your writing and audio online with Evernote
Syncs to your Evernote account using wi-fi
The Livescribe range of pens uses special notebooks to allow you to take notes, then tap the pen on those notes to hear what was being said as you were writing. Perfect for lectures, meetings, conference calls, seminars and business get-togethers. This new pen adds wi-fi and integration to the popular free notes application Evernote.
We'll be putting the Sky Smartpen through its paces in a full review for an upcoming podcast! Sign up for updates from the team here at FrequencyCast.
Livescribe Sky Pen Review
We've just got our Sky and will be reviewing it in the next few days.
We're working on a review of this new smartpen that appeared on the market in November 2012. We're testing out the pen at the moment and will be publishing a hands-on review in the next few days. Meanwhile, this page will contain various notes and screenshots.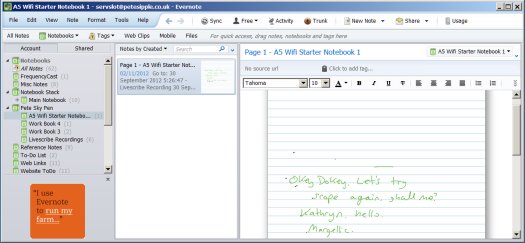 Some text entered in a Livescribe notebook, rendered on Evernote on a PC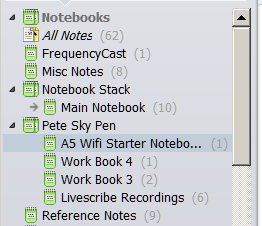 Livescribe Sky Smartpen integration on Evernote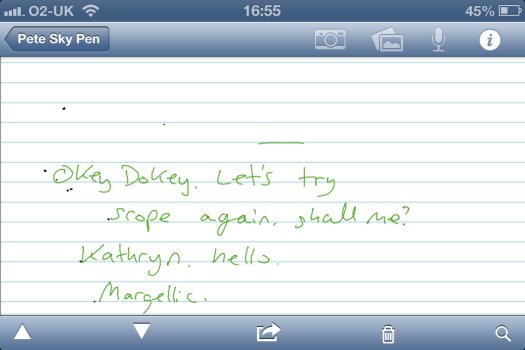 The same text from a Livescribe notebook shown on the Evernote iPhone app
Have a Pulse or Echo?
if you have one of Livescribe's existing pens, should you upgrade? Here are our experiences:
On the positive side, the pen itself is great. Feels nice in the hand, writes well and looks the part. As for functionality, here are some issues:
The Sky pen doesn't worth with Livescribe Desktop. The Pulse and Echo pens use Livescribe Desktop for sorting and storing notes, but with the Sky pen works with Evernote, and not Desktop. This means that you can't keep Pulse/Echo and Sky notes together. Currently, Livescribe Desktop reports that a page full of Sky notes is blank, when it isn't. We understand that in due course, it'll be possible to migrate Desktop to Evernote.
There is currently no support for other applications on the Sky pen. The Pulse had a Translator demo, and the option to convert handwriting to text (MyScript). There are currently no apps for the Sky, and no support for MyScript, but Livescribe is planning to have software developers kits for iOS and Android by mid-2013, apparently.
Livescribe Desktop would allow Pulse and Echo users remove sessions from the pen but keep them on desktop. Currently there is no way to archive data from the Sky pen. We're told that there will be a way to archive data from the Sky smartpen at some point in the future
The Sky pen only supports wi-fi sync to Evernote, not sync over the supplied USB cable. This is another feature that is coming soon though, apparently.
There are monthly limits with Evernote (60Mb a month), which could be an issue with a 8Gb pen! Heavy users of the Sky may have to opt for the £4 a month Evernote Premium service which allows 1GB to be transferred a month.
Livescribe Sky supplied with:
The Sky comes with the following: Two Black ink cartridges, two pen caps, one micro-USB lead, 50 sheet A5 lined notebook, Basics guide and two sheets of stickers.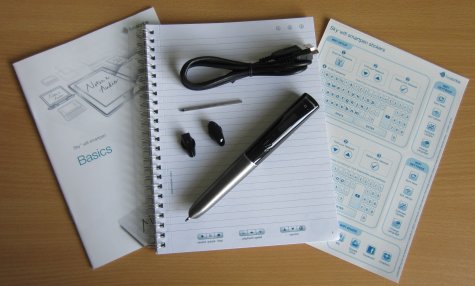 Your Sky Livescribe Questions
Got a question? Please get in touch
Livescribe audio quality
Click here for an mp3 audio sample: Test audio from Livescribe Sky Pen (converted to mp3)

The built-in microphone does pick up the noise of the pen writing on the paper. If you want to avoid this, then you can get optional 3D earbuds that have built-in microphones that are far enough away from the nib not to get the paper sound: Livescribe 3D Recording Earbuds
More information: